---
Todavía Me Amas: Lo Mejor de Aventura (Deluxe Edition) Aventura
Album Info
Album Veröffentlichung:
2016
HRA-Veröffentlichung:
28.03.2019
Das Album enthält Albumcover
1

Obsesión (feat. Judy Santos)

04:14

2

El Perdedor

03:35

3

Dile al Amor

03:49

4

Ella y Yo (feat. Don Omar)

04:27

5

Todavía Me Amas

04:45

6

Su Veneno

04:00

7

Los Infieles

04:17

8

El Malo

03:58

9

Un Beso

04:23

10

Por un Segundo

04:15

11

Enséñame a Olvidar

05:48

12

Mi Niña Cambió

04:33

13

Amor de Madre

05:50

14

Cuando Volveras

03:30

15

Hermanita

04:37

16

La Boda

04:49

17

Llorar

04:10

18

Yo Quisiera Amarla

05:06

19

Mi Corazoncito

03:54

20

Te Invito

03:33

21

Angelito

04:53

22

Lágrimas

03:45

23

My Voy (Live)

04:25

Total Runtime

01:40:36
Info zu Todavía Me Amas: Lo Mejor de Aventura (Deluxe Edition)
'Aventura' has been one of the most recognized names in Bachata music. Being the first boy-band from the Bronx to fuse the essence of Bachata with traditional American music, Aventura fever spread like wildfire. Their biggest barrier on their road to success was their very own audience, who didn't want the traditional Bachata music to be tarnished with modern hip hop and other R&B sounds. But it wasn't too long before their unique music changed the face of Bachata forever. The group was formed in 1994 by a bunch of teenagers, who struggled for almost eight years in the Bronx, before detonating the music scene in 2002 with a smash hit "Obsession" from their album We Broke The Rules.
The four members, Anthony Romeo Santos, Leny Santos, Max Santos and Henry Santos Jeter, all began their love affairs with Bachata at a very early age. The Santos boys formed a band "Los Teenagers" in high school and performed in local events. They catered to a specialized fan base which consisted of friends, and other local youngsters, who were children of Dominican immigrants, who spoke more English than Spanish, and shared a broader Latin American culture than a strict Dominican one. Their local success caught the attention of a producer who helped change the name of their band and signed them to a long term contract. Thus Aventura was born.
Despite the pressure to keep up with other successful boy bands, Aventura stood firm with their style of music, holding the elements of the Bachata close to their heart. After all it was the foundation of their music. Aventura's style of Bachata gained massive popularity among Latinos not only in the US and Latin America, but in Europe as well. However, they had only lukewarm response from Bachata's traditional listeners, despite their international success.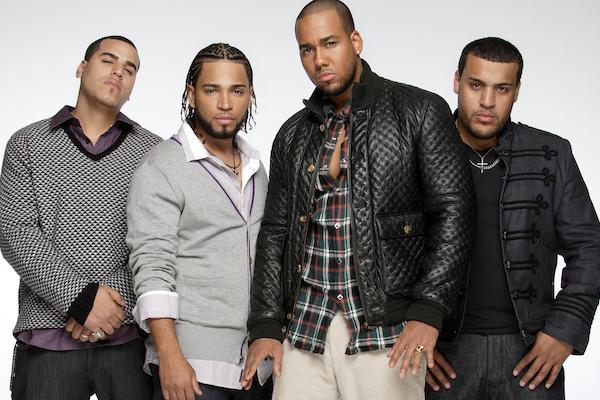 Aventura
Die Bachata Band Aventura wurde 1996 in dem New Yorker Stadtteil Bronx von den Brüdern Anthony und Henry Santos und Lenny und Max Santos gegründet. 2 der Bandmitglieder haben ihre Wurzeln in der Domenikanischen Republik. Ihr erstes Album erschien 1997 ( Generation Next - La nueva generación de la Bachata ) und machte die Band in der Dom. Rep. bekannt. Der grosse weltweite Durchbruch kam mit dem Album We Broke The Rules aus dem Jahre 2002. Der darauf enthaltene Song Obsesion war ein weltweiter Hit nicht nur in der Salsa- und Bachata-Gemeinde. Seitdem landete die Gruppe mehrere Hits und hat insgesamt 7 Alben veröffentlicht. Das letzte Album aus dem Jahr 2009 heisst The Last, was Spekulationen um die Auflösung der Band mit sich brachte. Aventura spielen nicht nur traditionelle Bachata. Auf The Last arbeiten sie mit vielen international bekannten Künstlern zusammen ( wie z.B. Wyclef Jean ), was zu ungewöhnlichen Arrangements führte. Auch die Texte sind nicht immer Bachata-Herz-Schmerz-Liebe-kompatibel. So beweint in No lo perdona Dios ein Mann das von seiner Freundin abgetriebene Kind. In Hermanita bedauert ein Bruder seine Schwester, die einen gewalttätigen Ehe-Mann hat usw. Das sind für Bachata-Verhältnisse revolutionäre Ansätze. Trotz oder vielleicht gerade deswegen erfreuen sich Aventura sehr sehr grosser Beliebtheit.


Dieses Album enthält kein Booklet