---
Album Info
Album Veröffentlichung:
2019
HRA-Veröffentlichung:
25.01.2019
Das Album enthält Albumcover
Entschuldigen Sie bitte!
Sehr geehrter HIGHRESAUDIO Besucher,
leider kann das Album zurzeit aufgrund von Länder- und Lizenzbeschränkungen nicht gekauft werden oder uns liegt der offizielle Veröffentlichungstermin für Ihr Land noch nicht vor. Wir aktualisieren unsere Veröffentlichungstermine ein- bis zweimal die Woche. Bitte schauen Sie ab und zu mal wieder rein.
Wir empfehlen Ihnen das Album auf Ihre Merkliste zu setzen.
Wir bedanken uns für Ihr Verständnis und Ihre Geduld.
Ihr, HIGHRESAUDIO
1

Nocturnal Promenade

05:51

2

To the Unknown Man

05:14

3

Mythodea - Movement 9

03:48

4

Moonlight Reflections

03:10

5

Through the Night Mist

05:12

6

Early Years

03:32

7

Love Theme (From "Blade Runner")

06:05

8

Sweet Nostalgia

03:48

9

Intermezzo

03:45

10

To a Friend

05:23

11

La petite fille de la mer (From "L'Apocalypse des animaux")

04:45

12

Longing (From "Blade Runner")

03:45

13

Main Theme (From "Chariots of Fire")

05:26

14

Unfulfilled Desire

04:23

15

Lonesome

05:50

16

Conquest of Paradise (From "1492: Conquest of Paradise")

04:51

17

Pour Melia

01:11

Total Runtime

01:15:59
Info zu Nocturne
Vangelis' new album will be released on 25th January 2019 on Decca Records and is a soothing collection of solo piano pieces, recorded in his inimitable style. There are 11 new tracks as well as brand new versions of his iconic hits including Chariots of Fire and the 'Love Theme' from Blade Runner. Vangelis himself records on a grand piano for the first time.
'Nocturne' is Vangelis' first new album in two years and includes a host of new piano compositions inspired by night time and his long-held passion for space. Among the new tracks are such beautiful pieces as 'Nocturnal Promenade', which opens the album and is the first single, as well as 'Through the Night Mist', 'Sweet Nostalgia' and 'Lonesome'.
Vangelis' music is often linked to themes of science, history and exploration. Alongside his Academy Award-winning score for Chariots of Fire and his acclaimed Blade Runner music, he has written the choral symphony 'Mythodea' for NASA's 2001 Mission to Mars, as well as films including Antarctica, 1492: Conquest of Paradise and Alexander. His music has also been used in the documentary series Cosmos by Carl Sagan.
Recently, Vangelis collaborated with the European Space Agency (ESA) on his 2016 album 'Rosetta', which was inspired by the Rosetta Mission to land a probe on a comet for the first time in history.
With millions of sales worldwide, Vangelis remains at the top of his game thanks to his masterly ability to compose stirring music that fuels the senses. But to Vangelis, music is a sacred, basic force of the universe, its purpose to elevate, inspire and to heal humankind. His new album 'Nocturne' aims to give listeners the chance to relax and reconnect with the world around us.
"A peerless pioneer… capable of producing enduring masterpieces" (BBC)
Vangelis, piano
Zur Info: wir bieten dieses Album in der nativen Abtastrate von 48 kHz, 24-Bit an. Die uns zur Verfügung gestellte 96 kHz-Version wurde hochgerechnet und bietet keinen hörbaren Mehrwert!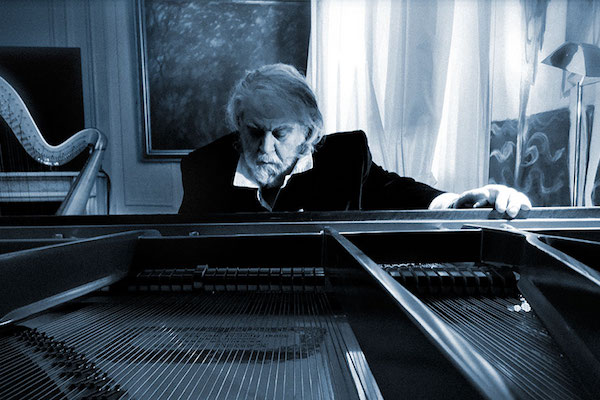 Vangelis
The world renowned composer Vangelis has played an influential part in the development of different musical genres. He has also contributed to the widespread use of electronic music. In the early nineteen seventies he pioneered the use of electronic devices and musical instruments to express his musical ideas. Vangelis produced seminal albums that contained key elements which set him on a magical journey of his own. His pioneering works have gained him worldwide acknowledgement as the master of electronic music.
In order for Vangelis to bring his musical discoveries to life and pursue his creative ideas, he has always looked for the shortest distance between the moment of inspiration and the instant of execution. This was sought to retain the freshness of his music, and keep it unadulterated by the influence of rational thinking, or logical analysis. Vangelis' music was created on instruments that were always situated nearby, so he could compose spontaneously in an instantaneous fashion, without prior plans for a melody, or expectations of any outcome.
The general public usually know of Vangelis' music through one of his stunning film scores such as 'Chariots of Fire', 'Blade Runner', 'The Bounty', '1492: Conquest of Paradise', or 'Alexander'. However his involvement in film music has been very limited, as Vangelis has always considered himself first and foremost a servant to music. He composes every day to serve music, not to seek a career as a film composer.
Among his other contributions to musical outlets, he produced music for ballet, theatre, grand public events, and humanitarian causes. His music is universal, as he is able to create musical portraits of different countries, and landscapes. To Vangelis music transcends all borders and all languages.
Vangelis always held the belief that music can have an intrinsic and extraordinary power to elevate, heal and inspire the human race, or, if misused, can destroy it. With this strong conviction came a great sense of responsibility towards his music. As Vangelis' music received more global appeal and it attained a wider success, he felt an increased burden of responsibility because of this mass exposure.
Throughout his numerous musical endeavourers, Vangelis received many awards. The recognition came from institutions in the arts and sciences, and he was honoured by nations and governments from all corners of the globe. Perhaps Vangelis' biggest satisfaction comes when he learns that people turn to his music because they really want to, and not because it was the latest trend or commercially promoted. While he has remained an immensely private man and stayed away from mass public exposure, the appeal of his remarkable music attracts a global following, reaching millions of people with different musical tastes and backgrounds.
Whether scoring for a major motion picture or composing personal works, Evanghelos (Odyssey) Papathanassiou remains a true musical genius, the genius that is simply labelled as VANGELIS.


Dieses Album enthält kein Booklet