---
Album Info
Album Veröffentlichung:
2019
HRA-Veröffentlichung:
06.09.2019
Das Album enthält Albumcover Booklet (PDF)
Entschuldigen Sie bitte!
Sehr geehrter HIGHRESAUDIO Besucher,
leider kann das Album zurzeit aufgrund von Länder- und Lizenzbeschränkungen nicht gekauft werden oder uns liegt der offizielle Veröffentlichungstermin für Ihr Land noch nicht vor. Wir aktualisieren unsere Veröffentlichungstermine ein- bis zweimal die Woche. Bitte schauen Sie ab und zu mal wieder rein.
Wir empfehlen Ihnen das Album auf Ihre Merkliste zu setzen.
Wir bedanken uns für Ihr Verständnis und Ihre Geduld.
Ihr, HIGHRESAUDIO
1

Poor Man's Shangri-La (2019 Remaster)

05:35

2

Onda Callejera (2019 Remaster)

03:52

3

Don't Call Me Red (2019 Remaster)

05:02

4

Corrido de Boxeo (2019 Remaster)

03:23

5

Muy Fifi (2019 Remaster)

04:05

6

Los Chucos Suaves (2019 Remaster)

03:12

7

Chinito Chinito (2019 Remaster)

04:53

8

3 Cool Cats (2019 Remaster)

03:01

9

El U.F.O. Cayo (2019 Remaster)

08:26

10

It's Just Work for Me (2019 Remaster)

06:21

11

In My Town (2019 Remaster)

05:44

12

Ejercito Militar (2019 Remaster)

03:18

13

Barrio Viejo (2019 Remaster)

04:44

14

3rd Base, Dodger Stadium (2019 Remaster)

05:45

15

Soy Luz y Sombra (2019 Remaster)

03:18

Total Runtime

01:10:39
Info zu Chávez Ravine (2019 Remaster)
Ry Cooder ist Kult. Sein Soundtrack 'Paris, Texas', seine Produktionen mit Ali Farka Touré oder das Jahrhundertereignis 'Buena Vista Social Club' sind durch sein Wirken entstanden und mit Grammys gekürt. Nun ist es Jahre her, dass Ry Cooder unter eigenem Namen veröffentlicht und auch gesungen hat! "Chávez Ravine" ist eine musikalische Hommage an eine ehemalige Mexican Community in Los Angeles. In Gedenken an den Sound der 50er und 60er Jahre hat Ry Cooder alte Sänger, wie die Commagere- und Arvizu-Geschwister oder den jüngst verstorbenen Lalo Guerrero, gewinnen können. Die Musik hat den Schmelz der alten Tage, wartet aber auch mit einigen neuen Sounds auf. Der Sound bleibt jedoch typisch Ry Cooder! Und wir wissen: Ry Cooder hat einen guten Riecher für große Themen.
"Das von Chicanos be- wohnte Armenviertel. Chávez Ravine, so der Tenor dieses bisweilen zum Sozialromantischen und Heimeligen neigenden Songreigens, war ärmlich, aber kein Ort des Elends. Musi- kalisch ingeniös umgesetzt, mit englisch wie spanisch ge- sungenen Liedern jener Epoche, mit einem fast vergessenen Tune der Herren Leiber / Stoller sowie eigens für das Album geschriebene Songs." C. Böhm in Audio 7 / 05: "Zu hören ist eine Art "West Side Story": Song- und Klang-Bilder mit Chicano- und Texmex- Klängen, Latin-Pop, Rock, Slide-Gitarren-R&B, Soundscapes und mehr - packend jazzig, melancholisch. Ebenso viel- fältig geriet bei Sound-Freak Ry Cooder der Klang: ex- zellent." M. Schlüter in stereoplay 7 / 05: "Ein leuchtendes Denkmal. In 15 Songs voller Lebensfreude, aber auch Wehmut erweckt Cooder hier, quasi wie in einem mit Spielszenen durchsetz- ten Dokumentarfilmen, zubetoniertes Kulturgut wieder zum Leben." (Rolling Stone)
"Aus Ethnologensicht muss es so etwas wie der Untergang von Atlantis gewesen sein, als im Jahr 1959 Bagger und Planierraupen anrückten und für den Neubau des Dodgers-Stadions den L.A.-Stadtteil Chavez Ravine dem Erdboden gleichmachten. Zuvor war der Fotograf Don Normark durchs Quartier gestrichen, hatte Menschen und ihre Häuser, ihren gesamten Einwanderertraum auf unzählige Filme gebannt. Als Normarks Bilder Ry Cooder in die Hände fielen, schien er nach Kuba endlich wieder eines jener verlorenen multikulturellen Paradiese aufgetan zu haben, die es zu regenerieren galt. Und so, wie die aus Chavez Ravine vertriebenen Mexikaner ein halbes Jahrhundert später beim Betrachten der Bilder in Tränen ausbrachen und Normark hunderte von Anekdoten erzählten, hat Cooder mit ihnen nach der Erinnerung an ihre Musik geforscht. Dramatische Schwarz-Weiß-Abzüge und ihre melodramatische akustische Entsprechung: Sie schmerzt, die Erinnerung." (kulturnews.de)
Digitally remastered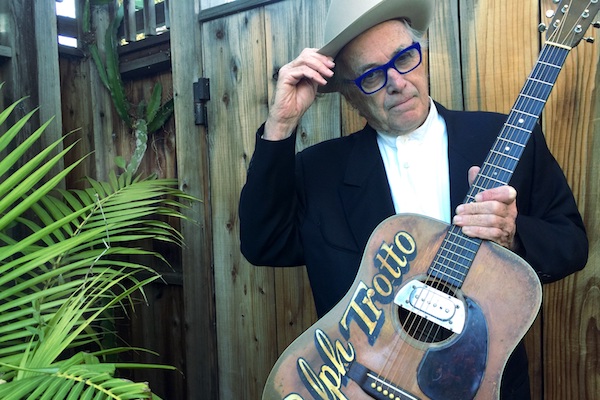 Ry Cooder
Ryland Peter Cooder, 15 March 1947, Los Angeles, California, USA. One of popular music's premier talents, Cooder mastered the rudiments of guitar while still a child. He learned the techniques of traditional music from Rev. Gary Davis and by the age of 17 was part of a blues act with singer Jackie DeShannon. In 1965, he formed the Rising Sons with Taj Mahal and veteran Spirit drummer Ed Cassidy, but this promising group broke up when the release of a completed album was cancelled. However, the sessions brought Cooder into contact with producer Terry Melcher, who in turn employed the guitarist on several sessions, notably with Paul Revere And The Raiders. Cooder enjoyed a brief, but fruitful, association with Captain Beefheart And His Magic Band; his distinctive slide work is apparent on the group's debut album, Safe As Milk, but the artist declined an offer to join on a permanent basis. Instead, he continued his studio work, guesting on sessions for Randy Newman, Little Feat and Van Dyke Parks, as well as to the soundtracks of Candy and Performance. Cooder also contributed to the Rolling Stones' album Let It Bleed, and was tipped as a likely replacement for Brian Jones until clashes with Keith Richard, primarily over the authorship of the riff to "Honky Tonk Woman", precluded further involvement.
Cooder's impressive debut album included material by Lead Belly, Sleepy John Estes and Blind Willie Johnson, and offered a patchwork of Americana that became his trademark. A second collection, Into The Purple Valley, established his vision more fully and introduced a tight but sympathetic band, which included long-standing collaborators Jim Keltner and Jim Dickinson. By contrast, several selections employed the barest instrumentation, resulting in one of the artist's finest releases. The rather desolate Boomer's Story completed Cooder's early trilogy and in 1974 he released the buoyant Paradise And Lunch. His confidence was immediately apparent on the reggae interpretation of "It's All Over Now" and the silky "Ditty Wa Ditty", and it was this acclaimed collection that established him as a major talent. A fascination with 30s topical songs was now muted in favour of a greater eclecticism, which in turn anticipated Cooder's subsequent direction. Chicken Skin Music was marked by two distinct preoccupation's. Contributions from Flaco Jiminez and Gabby Pahuini enhanced its mixture of Tex-Mex and Hawaiian styles, while Cooder's seamless playing and inspired arrangements created a sympathetic setting. The guitarist's relationship with Jiminez was maintained on a fine in-concert set, Show Time, but Cooder then abandoned this direction with the reverential Jazz. This curiously unsatisfying album paid homage to the Dixieland era, but a crafted meticulousness denied the project life and its creator has since disowned it.
Cooder then embraced a more mainstream approach with Bop Till You Drop, an ebullient, rhythmic, yet rock-based collection, reminiscent of Little Feat. The album, which included cameo performances from soul singer Chaka Khan, comprised several urban R&B standards, including "Little Sister", "Go Home Girl" and "Don't Mess Up A Good Thing". Its successor, Borderline, offered similar fare, but when the style was continued on a further release, The Slide Area, a sense of weariness became apparent. Such overtly commercial selections contrasted with Cooder's soundtrack work. The Long Riders, plus Paris, Texas and Crossroads, owed much to the spirit of adventure prevalent in his early work, while the expansive tapestry of these films allowed greater scope for his undoubted imagination. Cooder continued to work in this medium for much of the 90s.
It was five years before Cooder released an official follow-up to The Slide Area and although Get Rhythm offered little not already displayed, it re-established a purpose to his rock-based work. In 1992, Cooder joined up with Nick Lowe, Jim Keltner and John Hiatt to record and perform under the name of Little Village. However, Cooder then turned his back on rock to pursue his long-standing interest in world music. In the mid-90s he was acclaimed for his successful collaborations with V.M. Bhatt on A Meeting By the River, and with Ali Farka Tour' on Talking Timbuktu. Further accolades came in 1997 when he worked with obscure Cuban musicians as the Buena Vista Social Club. The project's surprising commercial success was due reward for both Cooder and his new musical cohorts, but also landed the guitarist with a $100,000 fine from the US state department for breaching the embargo against Fidel Castro's communist regime.
Cooder oversaw two further Buena Vista releases spotlighting venerable vocalists Ibrahim Ferrer and Omara Portuondo. A documentary film, Buena Vista Social Club, was made in 1999 by German director Wim Wenders, further helping promote Cuba to the outside world. Cooder recorded one further album in Cuba with local guitarist Manuel Galban, of popular doo wop ensemble Los Zafiros, for which he was granted a special exemption from state department rules by outgoing US president Bill Clinton. Mambo Sinuendo, which was released on Cooder's Perro Verde imprint, featured a swinging sextet of two electric guitars, two drum kits, congas and bass. With Cooder having spent over a decade concentrating on acoustic instruments, it marked the welcome return of one of popular music's great electric guitar players.


Booklet für Chávez Ravine (2019 Remaster)