---
Album Info
Album Veröffentlichung:
2021
HRA-Veröffentlichung:
01.07.2022
Das Album enthält Albumcover
1

Bluey Brink

04:33

2

Butter & Cheese & All

04:03

3

Cuckoo's Nest / Saltash / William Irwin's Modal Hornpipe

04:28

4

The Fog

04:10

5

Hind Horn

04:45

6

The Mallard / Valentine / The Procession

05:58

7

Goddesses / Red House

04:23

8

Fallow Ground

04:25

9

Giant's Waltz / The Ironing Board Hornpipe

04:50

10

Yonder Banks

03:35

11

Funney Eye / Cheshire Hornpipe

04:01

12

Reynardine

04:42

13

Bailey Hill / Wittenham Clumps

03:41

Total Runtime

57:34
Info zu Fallow Ground
By the time John Spiers & Jon Boden had hung up their highly regarded hats as the Spiers & Boden duo in 2014 they had earned a place in the hearts of the folk audience that few could rival.
Described by The Guardian as 'the finest instrumental duo on the traditional scene', Spiers & Boden first rocketed onto the music scene in 2001, quickly winning a clutch of BBC Radio 2 Folk Awards and going on to take the folk scene by storm. John and Jon were also founding members of the pioneering and hugely successful folk big band Bellowhead, whose stellar career increasingly came to dominate their time. But now, after exploring solo projects, the duo return with 'Fallow Ground'.
It's an album bursting with ideas as well as a new-found confidence to let the material speak for itself. The songs and tunes selected for 'Fallow Ground' are overwhelmingly traditional – a clever mix of rambunctious melodies and contemplative ballads – and are the classic Spiers & Boden mixture of morris tunes, pieces brought back to the 21 st century from dusty manuscripts and, of course, a rare ability to conjure their own remarkable tunes.
'Bluey Brink' comes from the repertoire of Peter Bellamy and is the duo's first foray into the world of Australian folk song. 'Butter and Cheese and All' also comes from Bellamy, although this version is Sam Larner's and is also known as "The Greasy Cook". The title track, also known as "As I Stood under My Love's Window" is an unusual traditional love song in that it's neither boasting of "conquest" nor is it lamenting betrayal or abandonment...
There are also original tracks, including 'The Fog', 'Bailey Hill / Wittenham Clumps' – the first tune written by Jon, the second by John, both about hills which mean something to them and 'Giant's Waltz / The Ironing Board Hornpipe' which is inspired by the Giant's Causeway.
"At the album's heart, though, is the utter joy of two friends making music together. Throughout, Spiers' melodeon and Boden's fiddle dance with delight. It is a rare indulgence to hear new songs and tunes from Spiers and Boden and to join them as they revel in the pleasure of their duet. Fallow Ground is a joyful, exciting, and beautifully produced release. It's great to have them back." (Billy Rough, folkradio.co.uk)
John Spiers, vocals, melodeons, concertinas, stomp
Jon Boden, vocals, fiddle, stomp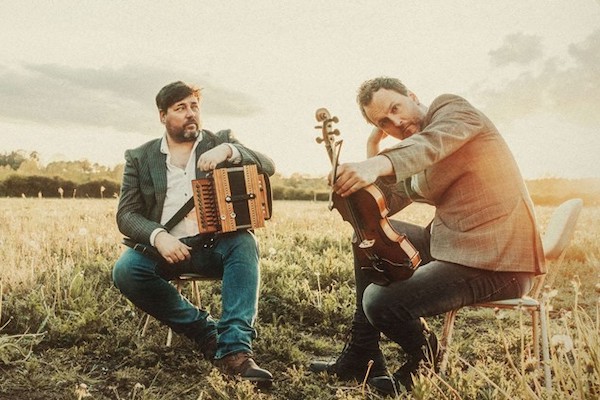 John Spiers
known better in folk circles as Squeezy, has made a name for himself as one of the leading squeezebox players of his generation. Well known for his long-standing duo partnership with Jon Boden in the formidable Spiers & Boden as well as his contribution to the massively popular Bellowhead, John has also played with Eliza Carthy's Ratcatchers and a number of local folk-dance bands.
John was born in Birmingham, but moved to Abingdon in Oxfordshire at an early age where his association with the traditional folk music and dance of the region began. As the son of a morris dancer, it's hardly surprising that this early exposure to folk music proved to be influential. Although he had a keen ear and always engaged with music through his childhood, dabbling with piano and guitar, a career in the music industry seemed unlikely.
It was only during his time studying natural sciences at King's College, Cambridge that John bought his first melodeon as a way of continuing to play music in a room too small to house a piano. This chance purchase opened up a whole world of new music making and the early exposure to morris dancing suddenly found a context. Highly influenced by the recordings of John Kirkpatrick and with the generous support of the local folk club, his playing advanced very quickly indeed, making up for the late start on the instrument.
Another very important development in John's playing was the strength of the folk session scene back home in Oxford where music could be played socially four nights a week. It was here that John first met Paul Sartin and Benji Kirkpatrick who were later to become bandmates. Another chance encounter in a pub session led to the meeting with Jon Boden with whom he formed a duo and that's when a career playing music began in earnest.
Signed almost immediately to Fellside Records on the strength of one demo, Spiers & Boden flourished after the release of their first album in 2000 and began touring the folk clubs of the British Isles. During this first part of his career John also helped to run a folk instrument shop in Oxford which specialised in squeezeboxes where he learnt to repair and maintain them and developed a lifelong love of these fantastic and quirky instruments. In 2004 the duo came up with the idea for Bellowhead as a one-off performance for the inaugural Oxford Folk Festival and the success of this single performance meant that the idea needed to be developed and the band began the process of further collaboration which yielded the first Bellowhead album released in 2006 to huge critical acclaim. Since then the band has gone from strength to strength, selling out the Albert Hall and hitting #12 in the UK album charts.
John still lives in Oxfordshire with his partner and two children and is an active member of the local folk scene. A true enthusiast, his passion for music and bellows-driven instruments is only equalled by his passion for his allotment, cooking, making things out of wood, home brewing, the environment, gadgets and complaining about things on Twitter.
John has always written tunes and music for the melodeon in the traditional style and many of them can be heard performed on the albums of both Bellowhead and Spiers & Boden as well as being played in folk sessions up and down the country and around the world. He has only recently found time in amongst the heavy touring schedule to develop more of these compositions for performance as solo pieces and is keenly working on ways of marrying the infectious pulse of traditional English dance music with modern musical influences and take this vibrant music to audiences both at home and abroad.
The Guardian said of his first low-key solo outing at Cecil Sharp House "An uncompromising approach, maybe, but it worked, thanks to his blend of elegant, rhythmic and virtuoso playing and easygoing folk club banter." … "a quiet triumph!"
Jon Boden
has become the stand out performer of his generation of traditional folk artists, but one whose repertoire extends far beyond the boundaries of the genre.
Most recognisably he was the lead singer (and one of the principal arrangers) of the multi-award winning Bellowhead, one of the most exciting live acts of recent years. Over 12 years Bellowhead achieved a level of critical and commercial success unmatched by any other band working in English traditional music in the last three decades. In 2015 Jon announced that he had decided to leave the band and on May 1st 2016 Bellowhead played their final gig.
Since 2009 he has also performed with his own band The Remnant Kings, performing both traditional folk music and Jon's own work featured on his second solo album Songs from the Floodplain – a bleak but hopeful view of a post-apocalyptic world, a subject revisited on Afterglow (2017), his first new album after leaving Bellowhead. The Remnant Kings re-formed in July 2017 in an expanded 10 piece line-up to debut Afterglow at Cambridge Folk Festival. In 2019 Jon recorded and released the album Rose In June with that same line up, featuring a mix of traditional and newly written songs and tunes.
The links between a speculative regressed future and folk music was something further explored in BBC Radio 3's The Essay. In addition, within the traditional folk scene, he has played in a duo with fellow Bellowhead member John Spiers for over a decade.
Throughout Jon's folk music there is a commitment to social singing and he's actively promoted this via his involvement in Royal Traditions and Soundpost, two Sheffield based organisations. In addition from 24th June (Midsummer's Day) 2010 for one year, he undertook an ambitious project called A Folk Song A Day where he released a song every day, the tracks later compiled into monthly albums.
Outside of folk he has composed music for both theatre and film, most notably two Royal Shakespeare productions at Stratford: Merchant of Venice (2008) and A Winter's Tale (2012). In 2013 he was commissioned to compose a version of Little Musgrave to be performed alongside Benjamin Britten's work of the same name at Aldeburgh. In addition he performed the Juliet Letters with the Sacconi Quartet at the Bristol Old Vic. He also appears in Richard Curtis's film About Time and has contributed music to the score. Autumn 2013 also saw the debut of a new BBC2 comedy series Count Arthur Strong for which Jon composed and performed the signature music.


Dieses Album enthält kein Booklet