---
Album Info
Album Veröffentlichung:
2023
HRA-Veröffentlichung:
26.05.2023
Das Album enthält Albumcover Booklet (PDF)
Maurice Ravel (1875 - 1937): Miroirs, M. 43:

1

Ravel: Miroirs, M. 43: I. Noctuelles

05:31

2

Ravel: Miroirs, M. 43: II. Oiseaux tristes

04:21

3

Ravel: Miroirs, M. 43: III. Une barque sur l'ocean

07:37

4

Ravel: Miroirs, M. 43: IV. Alborada del gracioso

07:25

5

Ravel: Miroirs, M. 43: V. La vallée des cloches

05:10

Ludwig van Beethoven (1770 - 1827): Piano Sonata No. 14 in C-Sharp Minor, Op. 27 No. 2 "Moonlight":

6

Beethoven: Piano Sonata No. 14 in C-Sharp Minor, Op. 27 No. 2 "Moonlight": I. Adagio sostenuto

05:48

7

Beethoven: Piano Sonata No. 14 in C-Sharp Minor, Op. 27 No. 2 "Moonlight": II. Allegretto

02:02

8

Beethoven: Piano Sonata No. 14 in C-Sharp Minor, Op. 27 No. 2 "Moonlight": III. Presto agitato

07:54

Frédéric Chopin (1810 - 1849): Piano Sonata No. 2 in B-Flat Minor, Op. 35 "Funeral March":

9

Chopin: Piano Sonata No. 2 in B-Flat Minor, Op. 35 "Funeral March": I. Grave - Doppio movimento

08:06

10

Chopin: Piano Sonata No. 2 in B-Flat Minor, Op. 35 "Funeral March": II. Scherzo - Più lento - Tempo I

07:38

11

Chopin: Piano Sonata No. 2 in B-Flat Minor, Op. 35 "Funeral March": III. Marche funèbre. Lento

09:35

12

Chopin: Piano Sonata No. 2 in B-Flat Minor, Op. 35 "Funeral March": IV. Finale. Presto

01:40

Total Runtime

01:12:47
Info zu Georgiana Pletea plays Beethoven, Chopin & Ravel
Die in Basel lebende rumänische Pianistin Georgiana Pletea ist Preisträgerin zahlreicher Wettbewerbe: Rahn Muskpreis 2020, Mozart-Wettbewerb Targoviste, Musikolympiade Rumänien, Internationaler Wettbewerb Carl Czerny, Pro Piano Competition Bukarest, Concorso Pietro Argento Gioia del Colle und der Internationale Wettbewerb Sigismund Toduta. Auf ihrem ersten Album präsentiert sie Werke von Beethoven, Chopin und Ravel.
Georgiana Pletea, Klavier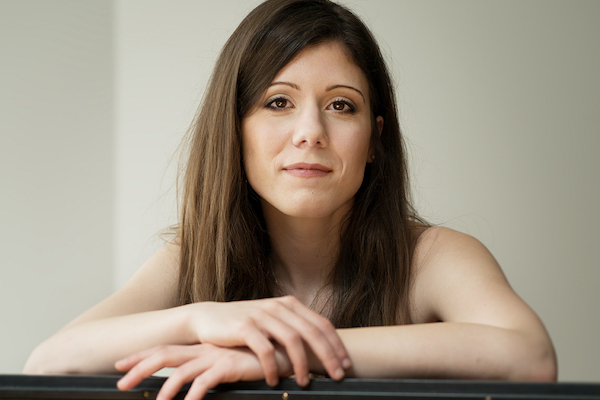 Georgiana Pletea
Die junge Pianistin Georgiana Pletea, 1993 in Bukarest geboren, begann im Alter von 7 Jahren ihr Klavierstudium bei Gabriela Enasescu und setzte ihre Studien bei Elisa Barzescu fort.
Seit 2012 ist sie Studentin bei Adrian Oetiker und hat an der Musik Akademie Basel 2015 den Bachelor in Arts sowie den Master of Pädagogik 2017 mit exzellenten Leistung abgeschlossen. Aktuell studiert sie im Master of Arts in Spezialisierter Musikalischer Performance – Solistin.
Georgiana Pletea wird durch die Stiftungen Henri Coanda und Remember Enescu gefördert und ist erste Preisträgerin zahlreicher Wettbewerbe: Mozart Wettbewerb Targoviste, Musikolympiade Rumänien, Internationaler Wettbewerb Carl Czerny, Pro Piano Competition Bukarest, Concorso Pietro Argento Gioia del Colle und des Internationalen Wettbewerbs Sigismund Toduta.
Bereits im Alter von 16 Jahren konzertierte Georgiana Pletea an der Rumänisches Athenäum mit dem George Enescu Lyzeum Philharmonic Orchestra Bukarest. Weitere Konzerterfahrung sammelte sie u. a. beim Nationalen Musikfest Remember Enescu in Kronstadt, beim Internationalen Musikfest Chopin 200 oder dem World Music Concert in der City Hall Brisbane in Australien. Im Rahmen der Abschlusskonzerte der Musikakademie Basel trat sie 2015 erfolgreich mit dem Sinfonieorchester Basel auf.
Seit ihrer Studienzeit in Basel hat Georgiana Pletea Meisterkurse bei Roger Vignoles, Susan Tomes, Johannes Meissl, Homero Francesch und Emanuel Ax besucht.


Booklet für Georgiana Pletea plays Beethoven, Chopin & Ravel