---
Album Info
Album Veröffentlichung:
2021
HRA-Veröffentlichung:
16.04.2021
Label: IBS Classical
Genre: Classical
Subgenre: Instrumental
Interpret: Antonio Oyarzabal
Komponist: Mana-Zucca (1885-1981), Amy Beach (1867-1944), Melanie Bonis (1858-1937), Elisabeth-Claude Jacquet de la Guerre (1665-1729), Ethel Smyth (1858-1944), Clara Schumann (1819-1896), Lili Boulanger (1893-1918), Emiliana de Zubeldia (1888-1987), Germaine Tailleferre (1892-1983), Ruth Crawford-Seeger (1901-1953)
Das Album enthält Albumcover Booklet (PDF)
Mana-Zucca Cassel (1885 - 1981):

1

Cassel: Prelude, Op. 73

02:41

Amy Beach (1867 - 1944):

2

Beach: 2 Piano Pieces, Op. 54: No. 1, Scottish Legend

03:00

Mel Bonis (1858 - 1937):

3

Bonis: Phoebé, Op. 30

02:34

4

Bonis: Desdémona, Op. 101

02:27

5

Bonis: Viviane, Op. 80

02:34

6

Bonis: Mélisande, Op. 109

02:28

Élisabeth Jacquet de la Guerre (1665 - 1729):

7

Guerre: Pièces de clavecin, Book 1: Gavotte in A Minor

01:15

8

Guerre: Pièces de clavecin, Book 2 (Excerpts): Rigaudon I in D Minor

00:40

9

Guerre: Pièces de clavecin, Book 2 (Excerpts): Rigaudon II in D Major

01:44

10

Guerre: Pièces de clavecin, Book 2 (Excerpts): Menuet in G Major

01:05

11

Guerre: Pièces de clavecin, Book 2 (Excerpts): Rondeau in G Minor

01:18

Ethel Smyth (1858 - 1944):

12

Smyth: Klavierstück in E Major

03:49

Clara Schumann (1819 - 1896):

13

Schumann: 3 Romances, Op. 21: No. 1, Andante

04:53

14

Schumann: 3 Romances, Op. 21: No. 2, Allegretto

01:16

15

Schumann: 3 Romances, Op. 21: No. 3, Agitato

04:27

Lili Boulanger (1893 - 1918):

16

Boulanger: 3 Morceaux: No. 1, D'un vieux jardin

02:51

17

Boulanger: 3 Morceaux: No. 2, D'un jardin clair

02:01

18

Boulanger: 3 Morceaux: No. 3, Cortège

01:44

Emiliana de Zubeldía (1888 - 1987):

19

Zubeldía: Esquisses d'une après midi Basque: No. 1, Vers le bois

00:38

20

Zubeldía: Esquisses d'une après midi Basque: No. 2, L'écho dans la montagne

00:53

21

Zubeldía: Esquisses d'une après midi Basque: No. 3, Sous le vieux roble

01:08

22

Zubeldía: Esquisses d'une après midi Basque: No. 4, La petite fleur solitaire

00:57

23

Zubeldía: Esquisses d'une après midi Basque: No. 5, Un souvenir d'usandizaga - Au bord du ruisseau

01:28

24

Zubeldía: Esquisses d'une après midi Basque: No. 6, Retour à la maison

00:53

Germaine Tailleferre (1892 - 1983):

25

Tailleferre: Pastorale in C Major

03:28

26

Tailleferre: 2 Pièces: No. 1, Larghetto

02:40

27

Tailleferre: 2 Pièces: No. 2, Valse lente

01:23

Ruth Crawford Seeger (1901 - 1953):

28

Seeger: Prelude No. 6

02:52

Lūcija Garūta (1902 - 1977):

29

Garūta: Prelude in E Major

03:10

Vítězslava Kaprálová (1915 - 1940):

30

Kaprálová: April Preludes, Op. 13: No. 1, Allegro ma non troppo

01:57

31

Kaprálová: April Preludes, Op. 13: No. 2, Andante

03:02

32

Kaprálová: April Preludes, Op. 13: No. 3, Andante semplice

01:53

33

Kaprálová: April Preludes, Op. 13: No. 4, Vivo

01:43

Fanny Mendelssohn (1805 - 1847):

34

Mendelssohn: 3 Mélodies, Op. 4: No. 2 in C-Sharp Minor, H-U 420

01:39

Total Runtime

01:12:31
Info zu La muse oubliée
Der Pianist Antonio Oyarzabal nimmt uns mit auf eine Reise durch das Werk von 13 verschiedenen Komponistinnen, die meisten von ihnen Pianistinnen. Ihre Stücke waren für ihn eine wahre Quelle der Motivation und Inspiration. Hier zollt er den Namen und der Arbeit dieser Frauen Tribut, die, im Schatten von Kompositionen, die von Männern geschrieben wurden, zu Unrecht vernachlässigt wurden.
Es ist eine musikalische Reise, die uns auf verschiedene Pfade führt: von Jacquet de la Guerres französischem Barockstil zu den avantgardistischen Vorschlägen von Ruth Crawford Seeger zu Beginn des 20. Jahrhunderts; von Lili Boulangers Schmachten zu Germaine Tailleferres beständiger Heiterkeit; oder von den bekannteren Clara Schumann und Fanny Mendelssohn zu der fast völlig unbekannten Mana Zucca oder Lūcija Garūta. All dies kommt durch die außergewöhnliche Sensibilität eines Interpreten zum Ausdruck, der durch lange und intensive Recherchen tief in das Leben und den historischen Kontext dieser 13 einzigartigen künstlerischen Stimmen eingetaucht ist, um ihnen die Relevanz zu verleihen, die sie verdienen.
Antonio Oyarzabal, Klavier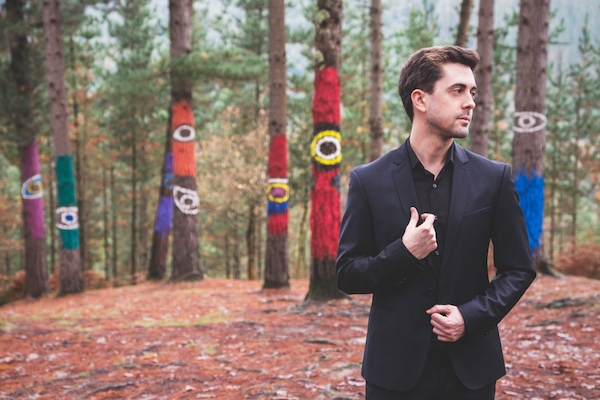 Antonio Oyarzabal
is an award wining concert pianist and sought-after musician based in London.
He was born in Bilbao in 1989. He started his piano studies with Cecilia Keller and Guadalupe López-Castelo. Later, he entered in Musikene (San Sebastian), where he obtained his Bachelor degree, mentored by pianists Marta Zabaleta and Miguel Borges, and also trained in contemporary piano repertoire with Ricardo Descalzo. During this period Antonio also completed a harpsichord Diploma degree with Honors, training with Loreto F. Imaz. He complemented his studies with pianist and CNSM Paris professor Denis Pascal and Armenian pianist Anahit Simonian, with whom he trained in piano improvisation. After this, Antonio moved to London and graduated in Masters as a piano soloist at the Guildhall School of Music and Drama in London, where he also recently obtained the exclusive Artist Diploma with Distinction, studying with Caroline Palmer.
Recent highlight solo performances include Mozart Piano Concerto n. 12 K.414 with The Arch Sinfonia in Lille (France), Shostakovich Piano Concerto in F with London Euphonia Orchestra and Ravel Piano Concerto in G with YMSO at St John Smith Square. He has also performed Mozart Piano Concerto nº23 with Aldwych Sinfonia in London. In Spain, Antonio performed Ravel Concerto in G and Mozart 9th Piano Concerto with JOL, Poulenc Concerto for two pianos and orchestra with Musikene Symphony Orchestra and Gershwin Rhapsody in Blue with European Union Youth Orchestra in Grafenegg (Austria). Antonio recently performed Ravel Concerto in G, with LEO in London (December 2018).
Antonio is also a passionate chamber music and collaborative musician.
As a freelance orchestral pianist, Antonio is very experienced and plays often with Southbank Sinfonia. He was named the pianist for the London Philarmonic Orchestra, Foyle Future Firsts programme 2016/2017. He trained in orchestral repertoire with LSO and LPO players, Catherine Edwards, Liz Burley and John Alley. Major performances include Mahler Symphony 4 (arranged by Klaus Simon) with LPO members at the RFH, conducted by Vladimir Jurowski, Petrushka with Basque Country Symphony Orchestra. Antonio was Principal Keyboard of the Gustav Mahler Jugendorchester in 2014 and 2015. Past performances include concerts with ULSO in London, Guildhall School Symphony Orchestra; and the European Union Youth Orchestra (2014). Antonio was also the Principal Keyboard of the YMSO 2012-2017. During this time he has worked with many conductors, such as Vladimir Jurowski, Vasily Petrenko, Vladimir Ashkenazy, David Afkham, Jun Märkl, Peter Stark, John Wilson, Leo McFall, James Blair, Juan José Ocón, Pierre Cao etc. As an orchestral pianist, Antonio has performed in major venues such as Royal Albert Hall PROMS 2014, Casino Kursaal in Interlaken, Auditorio Nacional de Madrid, Fundaçao Gulbekian in Lisbon, Philarmonie Gasteig in Munich, Philarmonie Kasel, Grafenegg Auditorium, Barbican Hall, St John Smith Square, Royal Albert Hall and Royal Festival Hall in London, CERN in Geneva, and Musikverein in Vienna.
As a chamber music pianist, Antonio recently made his debut in LSO St Luke's debut with LSO violist Lander Etxebarria and in Barbican Hall with the Klimt Quintet. He regularly performs with cellist Emma Besselaar, with whom he performed in Amsterdam and Ommen (Holland), at the London Strings Festival, in Peterborough and Stratford upon Avon recently. He is one of the founder members of Trisquel Arts Ensemble, with which he has been performing different recitals since 2013, both in the UK and abroad. Recently they had the chance to perform at the Festival Manuel de Falla in Cádiz (Spain). His experience also includes playing with different Spanish ensembles at the Euskalduna Palace in Bilbao, Fundación Botín in Santander, Sala Kutxa in San Sebastián, and at the Quincena Musical Festival in San Sebastián, 2010. Other highlights include concerts with pianist Caroline Palmer, LSO Principal clarinet Andrew Marriner, with viola soloist Matthew Jones, with flautist Vicente Cintero, with Allegri Quartet and Southbank Sinfonia.
As an accompanist, Antonio works often with different singers. He often performs with mezzo Chlöe Schaaf, with whom he has performed at the Leeds Lieder Festival, Song in the City Festival in London and in Academia Marshall, Barcelona, among other venues. With soprano Mirjam Mesak, Antonio has performed at Westminster Cathedral in London and they have been named finalists of the English Song Competition at the GSMD. Antonio took part in a Spanish Song and Zarzuela Gala concert at the Cervantes Theatre last year. He also had the opportunity to play with acclaimed singers Emily Magee and Christiane Karg during GMJO Spring Tour 2014.
Antonio is an active solo performer around London and abroad. He has performed in Paxos International Festival in Greece (2013); in Grafenegg International Festival in Austria (2014); at 'Las Edades del Hombre' Festival in Toro (Spain) 2016, Pirineos Classic Festival, Eutherpe Foundation in León, Aiara Festival, Fundación Botín in Santander, Toccatta en A (Madrid), Casa de Granada (Madrid), Ateneo de Madrid, Juventudes Musicales and Teatro Arriaga in Bilbao, Granados-Marshall Academy and in Casa Elizalde (Barcelona). His recitals in London include St Martin in the Fields, St James Piccadilly, All Saints (East Sheen) Concert Series, the Foundling Museum, Milton Court Concert Hall, Charlton House, St Clement Danes, National Physical Laboratory, St Bride's church, Song in the City Festival, The Forge Candem, Southwark Cathedral, St James Paddington, St Stephen Walbrook, St John Baptist Church, St George Bloomsbury, St Lawrence Jewry. Across UK, he has also performed in Brighton (Sussex), Newport Cathedral (Wales), Bourneville (Birmingham), in St John's Peterborough (Cambridgeshire), in Hastings (East Sussex), in Grange Park Festival (Hertfordshire), in Harlow and in Maldon (Essex), in King's Lynn Music Society (Norfolk), in Bury St Edmunds Cathedral and Lavenham Church (Suffolk), and in Stratford upon Avon (Warwickshire). Antonio has recently made his debut at the Arriaga Theatre (Bilbao), and at Fundación March in Madrid (Spain).
Antonio was awarded the Guildhall School Trust from 2012/2014. He was also awarded the Audience Special Prize and Finalist Prize in Campillos International Competition 2015, 4th Prize at the Eastbourne Young Soloist Competition 2013 and the 2nd prize at the "Concours International d'Ile de France" competition in Paris, 2008. He complements his training with masterclasses with pianists such as Anne Quéffélec, Émile Naoumoff, Jerome Rose, Luis Fernando Pérez, Denis Pascal, Josep Colom, Vladimir Bronewetzky, Bernard d'Ascoli, Paul Roberts, and Guigla Katsarava among others.
Antonio recorded his debut CD, The Inner Child, with Orpheus Classical international record label; including music by Schumann, Debussy, Ravel and Mompou. The CD has received many good reviews and it recently received the Gold Melomano Award by prestigious magazine Melomano. He has recently recorded a second album with the works by Basque composer J. Martínez Villar with Arsis record label.


Booklet für La muse oubliée