---
Album Info
Album Veröffentlichung:
2016
HRA-Veröffentlichung:
04.08.2017
Das Album enthält Albumcover
1

Benjamin Christopher

05:18

2

Big Bad Basie

05:22

3

Blue Rondo A La Turk

05:47

4

Improvisation

06:15

5

Koto Song

10:02

6

Lover Man

07:31

7

Ol' Bill Basie

06:26

8

Take Five

08:22

9

Tritonis

07:45

10

What Did I Do To Be So Black And Blue

07:41

Total Runtime

01:10:29
Info zu Live in Montreux '82 (Remastered)
For its 16th edition, the Festival produces a poster signed by Jean Tinguely – the source of the Montreux Jazz Festival logo ; still used today as the official logo, it now qualifies as an internationally recognized brand. The Casino stage hosts Jackson Browne, Gilberto Gil, Jimmy Cliff, The Crusaders, Anita O'Day, The Dave Brubeck Quartet, Koko Taylor, Mink Deville, Sippie Wallace, Steve Miller Band, The Modern Jazz Quartet as well as Talking Heads, Milton Nascimento, The Lounge Lizards and Lionel Hampton accompanied by Lou Donaldson, Wynton and Brandford Marsalis. Spectators discover the supergroup A Gathering of Minds, composed of Jack Bruce, Billy Cobham, Didier Lockwood, David Sancious and Alan Holdsworth. Stevie Ray Vaughan & Double Trouble come to Montreux for the first time and the Festival welcomes a visitor – a local resident called David Bowie.
Dave Brubeck, piano
Randy Jones, drums
Chris Brubeck, bass
Bill Smith, clarinet
Digitally remastered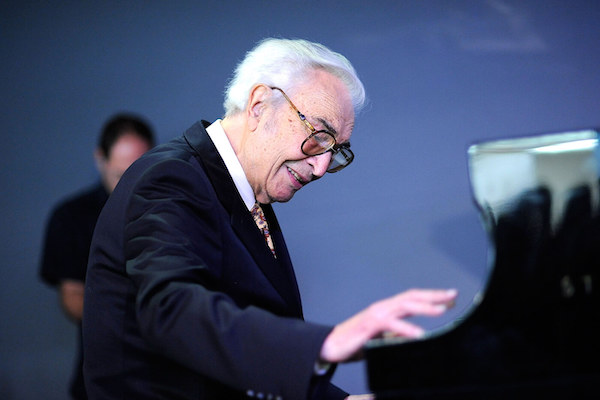 Dave Brubeck
designated a "Living Legend" by the Library of Congress, was one of the most active and popular musicians in both the jazz and classical worlds. With a career that spanned over six decades, his experiments in odd time signatures, improvised counterpoint, polyrhythm and polytonality remain hallmarks of innovation.
Born into a musical family in Concord, California — his two older brothers were also professional musicians — he began piano lessons with his mother at age four. He was 12 when his father moved the family to a cattle ranch in the foothills of the Sierras. Dave's life changed dramatically. Piano lessons ended and cowboy life began. He worked with his father on the 45,000 acre cattle ranch. When he was 14, he started playing in local dance bands on weekends. When he enrolled at the College of the Pacific, in Stockton, California, his intention was to study veterinary medicine and return to the ranch. While working his way through school as a pianist in local nightclubs, the lure of jazz became irresistible and he changed his major to music. Graduating in 1942, he enlisted in the Army, and shortly thereafter married Iola Whitlock, a fellow student at Pacific. While serving in Patton's Army in Europe, he led a racially integrated band. After his discharge from military service in 1946, he enrolled at Mills College in Oakland, California to study composition with French composer, Darius Milhaud. Milhaud encouraged him to pursue a career in jazz and to incorporate jazz elements into his compositions. This cross-genre experimentation with like-minded Milhaud students led to the formation of the Dave Brubeck Octet in 1947. In 1949, Brubeck with Cal Tjader and Ron Crotty, fellow Octet members, cut their first award-winning Dave Brubeck Trio recordings. After suffering a near fatal diving accident in 1951, Dave formed the Dave Brubeck Quartet with alto saxophonist Paul Desmond, who was also a member of the Octet. The legendary Brubeck-Desmond collaboration lasted seventeen years and beyond.
The Dave Brubeck Quartet's recordings and concert appearances on college campuses in the '50s and early '60s introduced jazz to thousands of young people. The Quartet's audiences were not limited to students, however. The group played in jazz clubs in every major city and toured in package shows with such artists as Duke Ellington, Ella Fitzgerald, Charlie Parker, Dizzy Gillespie, and Stan Getz. The Dave Brubeck Quartet repeatedly won top honors in trade magazines and critic's and reader's polls. In 1954 Dave Brubeck's portrait appeared on the cover of Time Magazine with a story about the jazz renaissance and Brubeck's phenomenal ascendancy.
In 1958 the Quartet made their first of many international tours. The U.S. State Department sponsored the Quartet's performances in Poland, India, Turkey, Sri Lanka, Afghanistan, Pakistan, Iran and Iraq. Exposure to many different cultures was reflected in the group's repertoire that sometimes incorporated exotic elements. The 1959 recording "Time Out" experimented in time signatures beyond the usual jazz 4/4. To everyone's surprise "Time Out" became the first jazz album to sell over a million copies and "Blue Rondo a la Turk" and "Take Five" (now in the Grammy Hall of Fame) began to appear on jukeboxes throughout the world.
Early in his career Brubeck wrote primarily for this Quartet, and some of those pieces, such as "In Your Own Sweet Way" and "The Duke" became part of standard jazz repertoire. His first orchestral composition, "Elementals", written for an improvising jazz combo and symphony orchestra was premiered and recorded in 1962. Choreographed by Lar Lubovitch, "Elemental Brubeck" is currently in the repertoire of the San Francisco Ballet and several other dance companies.
Throughout his career Brubeck experimented with integrating jazz into classical forms. In 1959 his Quartet premiered and recorded his brother Howard's "Dialogues for Jazz Combo and Orchestra" with the New York Philharmonic, Leonard Bernstein conducting. In 1960 he composed "Points on Jazz" for the American Ballet Theatre, and in later decades composed for and toured with the Murray Louis Dance Company. His musical theater piece "The Real Ambassadors" starring Louis Armstrong and Carmen McRae was recorded and performed to great acclaim at the 1962 Monterey Jazz Festival.
The "classic" Dave Brubeck Quartet (Paul Desmond, alto sax from 1951; Eugene Wright, bass from 1958; Joe Morello, drums from 1956) was dissolved December 1967. Baritone saxophonist Gerry Mulligan joined a newly formed Dave Brubeck Trio (with Jack Six, bass and Alan Dawson, drums) the following year. This group recorded and toured the world together for seven years. In this period Brubeck also performed with three of his musical sons, Darius, Chris and Dan billed as "Two Generations of Brubeck" frequently with Gerry Mulligan or Paul Desmond as guest artists. ...


Dieses Album enthält kein Booklet