---
Album Info
Album Veröffentlichung:
2018
HRA-Veröffentlichung:
19.10.2018
Das Album enthält Albumcover Booklet (PDF)
Igor Stravinsky (1882 - 1971): Le sacre du printemps, Pt. 1 "L'adoration de la terre":

1

Le sacre du printemps, Pt. 1 "L'adoration de la terre": I. Introduction

03:25

2

Le sacre du printemps, Pt. 1 "L'adoration de la terre": II. Les augures printaniers - Danses des adolescentes

03:15

3

Le sacre du printemps, Pt. 1 "L'adoration de la terre": III. Jeu du rapt

01:18

4

Le sacre du printemps, Pt. 1 "L'adoration de la terre": IV. Rondes printanières

03:17

5

Le sacre du printemps, Pt. 1 "L'adoration de la terre": V. Jeux des cités rivales

01:51

6

Le sacre du printemps, Pt. 1 "L'adoration de la terre": VI. Cortège du sage

01:07

7

Le sacre du printemps, Pt. 1 "L'adoration de la terre": VII. Danse de la terre

01:14

Le sacre du printemps, Pt. 2 "Le sacrifice":

8

Le sacre du printemps, Pt. 2 "Le sacrifice": VIII. Introduction

04:16

9

Le sacre du printemps, Pt. 2 "Le sacrifice": IX. Cercles mystérieux des adolescentes

03:27

10

Le sacre du printemps, Pt. 2 "Le sacrifice": X. Glorification de l'élue

01:27

11

Le sacre du printemps, Pt. 2 "Le sacrifice": XI. Evocation des ancêtres

00:43

12

Le sacre du printemps, Pt. 2 "Le sacrifice": XII. Action rituelle des ancêtres

04:00

13

Le sacre du printemps, Pt. 2 "Le sacrifice": XIII. Danse sacrale

04:35

Chant funèbre, Op. 5:

14

Chant funèbre, Op. 5

12:32

Jeu de cartes:

15

Jeu de cartes: No. 1, Première donne

05:52

16

Jeu de cartes: No. 2, Deuxième donne

09:44

17

Jeu de cartes: No. 3, Troisième donne

08:34

Concerto in D "Basle":

18

Concerto in D "Basle": I. Vivace

05:43

19

Concerto in D "Basle": II. Arioso. Andantino

02:53

20

Concerto in D "Basle": III. Rondo. Allegro

03:24

Agon, Pt. 1:

21

Agon, Pt. 1: I. Pas-de-quatre

01:39

22

Agon, Pt. 1: II. Double pas-de-quatre

01:29

23

Agon, Pt. 1: III. Triple pas-de-quatre

01:06

24

Agon: Prélude

00:52

25

Agon, Pt. 2 "Premier pas-de-trois": I. Saraband-step

01:14

26

Agon, Pt. 2 "Premier pas-de-trois": II. Gaillarde

01:14

27

Agon, Pt. 2 "Premier pas-de-trois": III. Coda

01:17

28

Agon: Interlude (1)

00:52

29

Agon, Pt. 3 "Second pas-de-trois": I. Bransle simple

00:58

30

Agon, Pt. 3 "Second pas-de-trois": II. Bransle gay

00:55

31

Agon, Pt. 3 "Second pas-de-trois": III. Bransle double

01:20

32

Agon: Interlude (2)

00:51

33

Agon, Pt. 4: Ia. Pas-de-deux

03:38

34

Agon, Pt. 4: Ib. Coda

01:20

35

Agon, Pt. 4: II. Quatre duos

00:33

36

Agon, Pt. 4: III. Quatre trios

02:23

Total Runtime

01:44:18
Info zu Stravinsky: Orchestral Works
This double album offers a testimony to Stravinsky's overwhelming musical heritage, covering all the phases of his creative life. Igor Stravinsky (1882-1971) is twentieth-century music! More than any other composer, he continued to develop his compositional style throughout his seven-decade-spanning career, innovating and adopting all the most important musical trends of his century. Historically, the musical journey starts with one of the first recordings of the recently rediscovered Funeral Song (1909), composed as a tribute to his teacher Rimsky-Korsakov. The next phase in his development is represented with the raw but tremendously refined Rite of Spring (1913), Stravinsky's most famous work that created a scandal at its Paris world premiere, and immediately turned him into a star. His Neoclassical style is showcased by Jeu de cartes (1937) and the Concerto in D (1947), whereas Agon (1957) presents Stravinsky's original take on Schoenberg's serialism. This multifarious repertoire is performed by the Orchestre Philharmonique du Luxembourg and their Music Director Gustavo Gimeno, who continue their acclaimed PENTATONE series of composer portraits that already featured monographs of Shostakovich, Bruckner, Ravel and Mahler.
Orchestre Philharmonique du Luxembourg
Gustavo Gimeno, conductor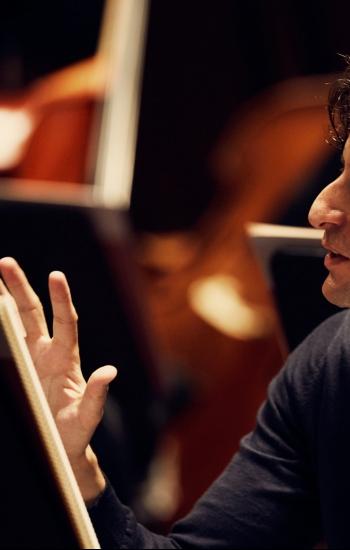 Gustavo Gimeno
ist seit der Saison 2015/16 Musikdirektor des Orchestre Philharmonique du Luxembourg.
Auch in seiner zweiten Luxembourger Saison bringen Gustavo Gimeno und das OPL bekannte Werke der großen Orchesterliteratur wie Mahlers 4. und Beethovens 7. Sinfonie, Ravels "Daphnis et Chloé" oder Strawinskys "Sacre" zu Gehör, zudem Auftragskompositionen von Mark-Anthony Turnage und Francisco Coll. Eine langfristige Zusammenarbeitet verbindet das OPL und Gustavo Gimeno künftig mit dem Klassiklabel PENTATONE.
Neben der künstlerischen Leitung des OPL führten ihn in jüngster Vergangenheit ausgewählte Gastdirigate zu Orchestern wie den Münchner Philharmonikern, dem Cleveland Orchestra, City of Birmingham Symphony Orchestra, Orchestre National de France, Rotterdam Philharmonic und der Philharmonia Zürich. 2015 leitete Gustavo Gimeno das Royal Concertgebouw Orchestra Amsterdam auf Asien-Tournee.
Erstmalig steht er in der Saison 2016/17 am Pult des Boston Symphony Orchestra, Chicago Symphony Orchestra, National Symphony Orchestra Washington und des Orchesters der Academia Nazionale di Santa Cecilia.
Viele der Werke, die im Zentrum von Gustavo Gimenos erster Saison als Musikdirektor in Luxembourg standen, stehen auch im Mittelpunkt zukünftiger Konzerte: Mit Bruckners 1. Sinfonie kehrt er zu den Münchner Philharmonikern, mit der 1. Sinfonie von Schumann zum Royal Concertgebouw Orchestra und City of Birmingham Symphony Orchestra zurück. Mahlers 1. Sinfonie dirigiert er beim Philharmonia Orchestra in der Royal Festival Hall London und Schostakowitschs 1. Sinfonie mit dem Sydney Symphony Orchestra. Gleich zweifach stellt sich Gustavo Gimeno im Frühjahr 2017 in Wien vor: Mit dem OPL im Konzerthaus und den Wiener Symphonikern im Musikverein.
Sein Operndebüt gab Gustavo Gimeno 2015 mit Bellinis "Norma" an der Oper in Valencia, im März 2017 dirigiert Gustavo Gimeno seine erste Luxembourger Opernproduktion, Verdis "Simon Boccanegra".
Geboren in Valencia, begann Gustavo Gimeno seine internationale Dirigentenkarriere 2012, zu dieser Zeit Mitglied des Royal Concertgebouw Orchestra Amsterdam, als Assistent von Mariss Jansons. Maßgebliche Erfahrungen sammelte er zudem als Assistent von Bernard Haitink und Claudio Abbado, der ihn als Mentor intensiv förderte und in vielerlei Hinsicht prägte.


Booklet für Stravinsky: Orchestral Works