---
Album Info
Album Veröffentlichung:
2015
HRA-Veröffentlichung:
31.07.2020
Das Album enthält Albumcover
David Lynch (b. 1946), Marek Zebrowski :

1

Night (City Back Street)

13:29

2

Night (A Landscape With Factory)

17:41

3

Night (Interiors) (48kHz)

26:46

4

Night (A Woman On A Dark Street Corner)

18:51

Total Runtime

01:16:47
Info zu Polish Night Music
Polish Night Music is the musical collaboration between American filmmakerDavid Lynch (Twin Peaks, Eraserhead) and Polish concert pianist and composer Marek Zebrowski. Zebrowski and Lynch first met during the Camerimage Film Festival in Lodz, Poland, and started to work together during the organic evolution of Lynch'sInland Empire.
Originally, Zebrowski served as a translator for the shooting of several Lodz-based Polish scenes in Empire, but upon discovering their shared interest in musical experimentation and improvisation, Lynch invited Zebrowski to his Los Angeles studio to participate in a series of musical experiments. From these initial collaborations, inspired by their unique and distinct connections to Poland, emerged a tangible mood and distinctly modern texture that became Polish Night Music.
"(Poland) is a landscape that continues to remain at once familiar and completely alien to me," Zebrowski told the Guardian. "Every time I am there, I am surprised by something, and I think for David, Poland certainly represents the process of discovery."
Zebrowski and Lynch first met during the Camerimage Film Festival in Lodz, Poland, and started to work together during the organic evolution of Lynch's Inland Empire. Originally, Zebrowski served as a translator for the shooting of several Lodz-based Polish scenes in Empire, but upon discovering their shared interest in musical experimentation and improvisation, Lynch invited Zebrowski to his Los Angeles studio to participate in a series of musical experiments. From these initial collaborations, inspired by their unique and distinct connections to Poland, emerged a tangible mood and distinctly modern texture that became Polish Night Music.
David Lynch, composer
Marek Zebrowski, piano, keyboards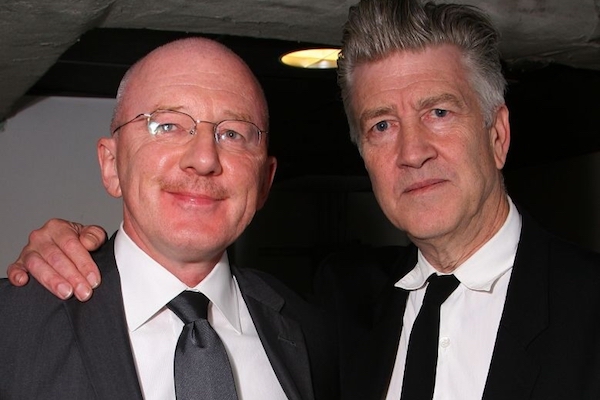 David Lynch
(American, b.1946) is best known as a prolific modern filmmaker. However, his work stretches out into the world of television, music, painting, and many other forms of art. His style is often characterized as surrealist, and he has even been branded with his own style, called Lynchian Style. Lynch was born in Missoula, MT, and moved around from place to place until he landed in Philadelphia, PA, where he enrolled in the Pennsylvania Academy of Fine Arts.
After a stint in Philadelphia, he moved to Los Angeles, CA, where he launched his film career. While working at the AFI Conservatory, Lynch created his first motion picture, Eraserhead (1977), a black-and-white surrealist horror film. The film was not acclaimed by critics, but it has held a strong cult following since its release. It wasn''t until the film The Elephant Man (1980) that Lynch received his first real taste of critical and commercial success. The film received eight Academy Award nominations, including Best Director. More importantly, Lynch became a household name, whose art has reached millions of viewers. Along with several feature films, Lynch has created many short films, several television series, and even some music videos.
Although most commonly known for his films, Lynch initially studied to be a painter. Lynch's painting is characterized by its absence of color. He believes that black is a liberating factor and uses it to make his works become more dreamlike. In 2007, a major art retrospective on Lynch, The Air is on Fire, was displayed at the Fondation Cartier in Paris. This exhibition contained paintings, photographs, drawings, and other work, including site-specific installations.
Marek Zebrowski
born in Poland, began studying piano at the age of five and graduated with the highest honors from the Poznań Music Lyceum. He later studied with Robert Casadesus and Nadia Boulanger in France and Russell Sherman at the New England Conservatory of Music in Boston, where he received his Bachelor's and Master's Degrees.
Hailed as "firm and eminently musical" by the Boston Globe, "strong and noble" by the Washington Post, Mr. Żebrowski has appeared in recital and with symphony orchestras throughout the world, and recorded for Polish Radio and Public TV in the US. His performances and compositions are on the Titanic Records, Apollo Records and Harmonia Mundi labels. Marek Żebrowski is a Steinway Artist.
Recognized as a composer of orchestral and chamber works, piano compositions and transcriptions, and film scores, Mr. Żebrowski has received commissions from Meet the Composer, The New England String Quartet, the Los Angeles Music Salon and Warsaw Camerata, among others, and his works were premiered throughout the United States, Netherlands, Italy, Poland, South Africa and Germany. For the past several years he has collaborated with director David Lynch and their album of improvisations, entitled Polish Night Music,was released in March 2008.
Mr. Żebrowski has lectured for the Pacific Symphony Orchestra, Boston Symphony Orchestra, Harvard University and The New England Conservatory of Music, and wrote for the Boston Book Review. His academic career included teaching at the University of Massachusetts, MIT and UCLA.
Currently, Mr. Żebrowski serves as the Director of the Polish Music Center at USC and Artistic Director of the Paderewski Festival in Paso Robles, California. In recent years he has authored Celebrating Chopin & Paderewski, Paderewski in California and several other books about film directors and cinematographers, published by the Tumult Foundation.
The 2007 recipient of the Silver Gloria Artis medal from Poland's Minister of Culture and National Heritage, in 2011 Mr. Żebrowski was recognized with the Telly Award for his score to a documentary film, The Labyrinth, and awarded the Golden Cross of Merit by the President of Poland. In April 2012, together with Lech Wałęsa and Professor Władysław Bartoszewski, Mr. Żebrowski was honored by TV Polonia with the Award for the Promotion of Poland and Polish Culture Abroad.


Dieses Album enthält kein Booklet