---
Album Info
Album Veröffentlichung:
2020
HRA-Veröffentlichung:
28.09.2023
Das Album enthält Albumcover
Entschuldigen Sie bitte!
Sehr geehrter HIGHRESAUDIO Besucher,
leider kann das Album zurzeit aufgrund von Länder- und Lizenzbeschränkungen nicht gekauft werden oder uns liegt der offizielle Veröffentlichungstermin für Ihr Land noch nicht vor. Wir aktualisieren unsere Veröffentlichungstermine ein- bis zweimal die Woche. Bitte schauen Sie ab und zu mal wieder rein.
Wir empfehlen Ihnen das Album auf Ihre Merkliste zu setzen.
Wir bedanken uns für Ihr Verständnis und Ihre Geduld.
Ihr, HIGHRESAUDIO
Jaakko Mäntyjärvi (b. 1963): Ave Maria d'Aosta (2004):

1

Mäntyjärvi: Ave Maria d'Aosta (2004)

02:44

Stuttgarter Psalmen (2009):

2

Mäntyjärvi: Stuttgarter Psalmen (2009): I. Warum toben die Heiden?

07:31

3

Mäntyjärvi: Stuttgarter Psalmen (2009): II. Mein Gott, mein Gott, warum hast du mich verlassen?

13:31

4

Mäntyjärvi: Stuttgarter Psalmen (2009): III. Richte mich, Gott

07:03

Benedic anima mea Domino (1994):

5

Mäntyjärvi: Benedic anima mea Domino (1994)

04:04

Pulchra es (2018):

6

Mäntyjärvi: Pulchra es (2018)

02:58

Trinity Service (2019):

7

Mäntyjärvi: Trinity Service (2019): I. Introit. Ave Maria

01:34

8

Mäntyjärvi: Trinity Service (2019): II. Preces

01:33

9

Mäntyjärvi: Trinity Service (2019): III. Psalm 128

02:41

10

Mäntyjärvi: Trinity Service (2019): IV. Canticle 1. Magnificat

04:23

11

Mäntyjärvi: Trinity Service (2019): V. Canticle 2. Nunc dimittis

05:16

12

Mäntyjärvi: Trinity Service (2019): VI. Responses

00:54

13

Mäntyjärvi: Trinity Service (2019): VII. The Lord's Prayer

02:12

14

Mäntyjärvi: Trinity Service (2019): VIII. Responses & Collects

04:27

15

Mäntyjärvi: Trinity Service (2019): IX. Anthem. O lux beata Trinitas

04:25

16

Mäntyjärvi: Trinity Service (2019): X. Final Responses

00:39

O magnum mysterium (2007):

17

Mäntyjärvi: O magnum mysterium (2007)

04:50

Total Runtime

01:10:45
Info zu Jaakko Mäntyjärvi: Choral Music
The stylistic pluralism which informs so much contemporary choral writing pays rich dividends in the work of Jaakko Mäntyjärvi—a thrilling programme of some exciting, accessible, contemporary music.
The close of the twentieth century and the opening of the twenty-first have seen many changes in the world of sacred choral composition. There, as in other genres, the doctrinaire modernism prevalent in the 1970s and 1980s has gradually given ground to a postmodern acceptance of tonal, broadly consonant simplicity. Simultaneously, expansion of the recording industry online has placed a boundless diversity of materials and traditions within the reach of all music lovers. Meanwhile, the work of composers such as Arvo Pärt, John Tavener and Eric Whitacre has captured the imaginations of a consumer public embracing the concept of 'world music'. Stylistic boundaries have sometimes been fruitfully eroded and, in the process, music that once would have been seen as the preserve exclusively of one or another Church has not only become a melting pot of different traditions; it has also migrated away from its sacred origins, into the concert hall, encouraged by a secular generation's thirst for abstract spirituality rather than for organized, clearly defined religion. Indeed, that migration may have considerably earlier origins: the title of Stravinsky's Symphony of Psalms, first heard in 1930, already presents a collision of the sacred and the secular, as do its dedications: to the glory of God, in emulation of Bach's habitual inscription, and to the Boston Symphony Orchestra.
Pärt had composed symphonically in an astringently dissonant modernist idiom before becoming fascinated by a kind of 'vanishing point' in composition: the point where, if pared down any further, the expressive message of such starkly ascetic music begins to be lost. The notion is demonstrably one of stripping away and laying bare, much as the sculptor works by reduction, 'freeing' the figure within from the prison of its block of marble. ...
"[Mäntyjärvi] knows exactly how to build up a structure that rejoices in both sonorous depth and melodic distinctiveness, rather like Poulenc—try the first of the Stuttgarter Psalmen for an example of this. Characteristic of all three Psalms, too, is a mastery of repetition; that is to say, a knowledge of how often to repeat a phrase, or a variant of a phrase, to create an atmosphere in miniature that is then expanded upon, as is the case with the third Psalm, 'Richte mich, Gott' … an intriguing selection, then, that brings out the best from the Trinity choir, the sound beautifully captured by Hyperion's team" (Gramophone)
"The temptation is merely to write that Stephen Layton and his Trinity College choir have done it again. So accustomed are those of us who review choral music to enjoying flawless excellence from them (as well as the magnificent Hyperion engineering and production team) that we have come almost to take it for granted. But even with such high expectations from the outset, the very first item here transports us into an altogether higher realm of sublimity, while the first of the three Stuttgart Psalms presents choral singing of a brilliance which simply sets new standards … there is a vast wealth of musical interest here, linked only by a thorough understanding of the medium and a musical language which is immensely lovely" (MusicWeb International)
The Choir of Trinity College Cambridge
Stephen Layton, conductor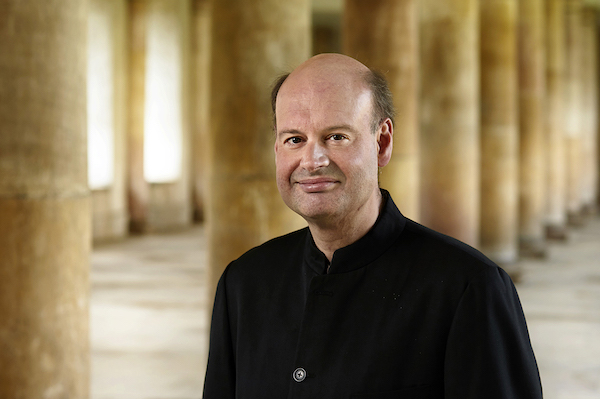 Stephen Layton
Awarded with an MBE for services to classical music in October 2020, Stephen Layton is one of the most sought-after conductors of his generation, whose ground-breaking approach has had a profound influence on choral music over the last 30 years. Often described as the finest exponent of choral music in the world today, Layton is regularly invited to work with the world's leading choirs, orchestras and composers. His interpretations have been heard from Sydney Opera House to the Concertgebouw, from Tallinn to São Paolo, and his recordings have won or been nominated for every major international recording award. He has two Gramophone Awards and a further ten nominations, five Grammy nominations, the Diapason d'Or de l'Année in France, the Echo Klassik award in Germany, the Spanish CD compact award, and Australia's Limelight Recording of the Year.
Founder and Director of Polyphony, and Director of Holst Singers, Layton has recently announced he is to step down as Fellow and Director of Music at Trinity College Cambridge in the summer of 2023. His former posts include Chief Conductor of Netherlands Chamber Choir, Chief Guest Conductor of Danish National Vocal Ensemble, Artistic Director and Principal Conductor of City of London Sinfonia, and Director of Music at the Temple Church, London.
Layton is constantly in demand to premiere new works by the greatest established and emerging composers of our age. A longstanding partnership with Arvo Pärt has resulted in premiere performances and award-winning recordings, including three discs with Polyphony on Hyperion. With the late Sir John Tavener, premieres include Layton's bold realisation of his epic seven-hour vigil The Veil of the Temple, a new departure in British choral music. Passionate in his exploration of new music, Layton has introduced a vast range of new choral works to the UK and the rest of the world, transforming the music into some of the most widely performed today. His long association with music from the Baltic includes acclaimed recordings of works by Eriks Ešenvalds, Uģis Prauliņš and Veljo Tormis. His captivating discs, with Polyphony, of the American Morten Lauridsen's Lux aeterna and Eric Whitacre's Cloudburst were nominated for Grammy Awards, with Cloudburst spending a year in the USA's Billboard Classical Album Chart. On the Deutsche Grammophon label, Layton and Polyphony recently recorded a disc of Karl Jenkins' Motets which entered the Classical Artist Albums Chart at No. 1 during the week of its release, and on Decca they recorded Karl Jenkins' Miserere with the Britten Sinfonia.
Layton's recordings have consistently broken new ground, creating a new sound world in British choral music that continues to influence and inform conductors and choirs throughout the world. Award-winning discs with Polyphony include Britten's Sacred and Profane, James MacMillan's Seven Last Words from the Cross and Poulenc's Gloria. In a recent Gramophone critics' poll of the world's 20 greatest choirs, not only was Polyphony voted second finest, but The Choir of Trinity College Cambridge also made it into the top five: confounding expectation, Layton had led a student choir into the highest ranks. Now the choir tours at the highest international level and records prolifically, recently receiving a Gramophone award, a Grammy nomination, and Australia's Limelight Recording of the Year.
Layton guest-conducts widely, working with and inspiring the world's finest choirs and orchestras: Netherlands Chamber Choir; Danish National Vocal Ensemble; SWR Vokalensemble, MDR Leipzig and NDR Hamburg Radio Choirs in Germany; Latvian State and Radio Choirs, Estonian Philharmonic Chamber Choir, and Voces Musicales in the Baltic; Polish Radio, NFM, and Wroclaw Philharmonic Choirs; Slovenian Philharmonic Choir; Eric Ericsson Chamber Choir, Stockholm; Die Konzertisten, Hong Kong; and the inaugural concert of Yale Center for Music and Liturgy at Carnegie Hall. With Britten Sinfonia, his eight highly acclaimed recordings include Handel's Messiah ("Best Messiah recording" – BBC Music Magazine); with City of London Sinfonia (where Layton succeeded Richard Hickox as Artistic Director and Principal Conductor), tours included Latin America and premieres uniting cathedral choristers across Britain; and with Orchestra of the Age of Enlightenment he has recorded Bach's Christmas Oratorio, B Minor Mass and St John Passion.
Layton's interpretations of Bach and Handel have been heard with orchestras ranging from Academy of Ancient Music to the London Philharmonic and Philadelphia orchestras. Performances include Messiah in Sydney Opera House, the first staged St John Passion with English National Opera, and regular BBC broadcasts. He has worked with London Sinfonietta; BBC National Orchestra of Wales; Opera North; Scottish and Australian chamber orchestras; Auckland Philharmonia; Seattle, Queensland, Melbourne, Adelaide and West Australian symphony orchestras; and Minnesota, Royal Liverpool Philharmonic, Royal Scottish National and Hallé orchestras. Layton is also Artistic Director of the Annual Christmas Festival at St John's Smith Square.
Layton continues to innovate, taking bold and original steps, and leading the way in the use of new technologies in choral music. Everything sung by The Choir of Trinity College Cambridge is webcast live and available to listen again online. Layton was the first in the world to webcast every single note sung in this way, laying bare the music-making without any digital editing. This searchable archive of over 4,000 musical tracks recorded live forms an invaluable resource for listeners around the world and forms a major part of his legacy to the Choir.


Dieses Album enthält kein Booklet