---
André Moisan, Quatuor Molinari & Jean Saulnier
---
Biographie André Moisan, Quatuor Molinari & Jean Saulnier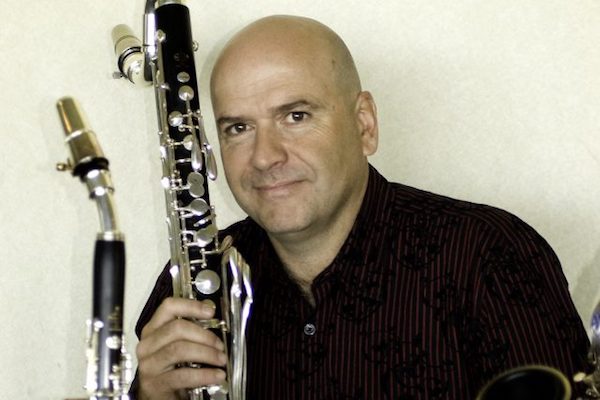 André Moisan
is known for his consummate mastery of the instrument, his impressive musicality and the clarity of his playing. Since 1977, he has made regular concert and radio appearances as a soloist and chamber player. His numerous concerts abroad, in particular at Carnegie Hall, the Amsterdam Concertgebouw and Radio-Berlin, established him as a leading performer.
In the orchestral field, Mr. Moisan has worked under renowned conductors, mainly with the OSM. He first performed with the Orchestra in 1977, under Andrew Davis, and made his first solo appearance in 1997 with Charles Dutoit. Since May 1999 he has held the position of principal saxophone and bass clarinet
Besides his work as a concert and recital artist, André Moisan is also a conductor. A co-founder, with the late Bruce Bower, of Les Vents de Montréal, he also originated one of the few clarinet choirs in Canada, at the Université de Montréal.
A member of the Société de musique contemporaine du Québec (SMCQ) since 1977, he was also a member of the Nouvel Ensemble Moderne from 1989 to 1996. The winner of many awards, André Moisan was nominated for Opus prizes in four consecutive years as soloist, chamber-music player and conductor.
A host and accomplished educator, he has led the OSM in its Youth Concerts series since 1998, and also conducts performances in the Children's Corner series. Many times finalist, in 2003 he won the "Family Concert" Opus Prize for a concert in this series and he is finalist again in 2007 as a conductor for 2 concerts with OSM. Additionally, he conducts a number of other orchestras, in Canada and abroad. André Moisan currently teaches at the Université de Montréal, and during the summer at the Orford Arts Centre as well. He has also taught clarinet and served as a soloist and coach on many occasions with the Jeunesses Musicales of Canada World Orchestra as well as at the Pacific Music Festival in Sapporo, Japan.
His first solo CD, Impressions de France, was recorded in 1996 and acclaimed by international critics; his second, dedicated to folk music, was released in March 1999. He can also be heard in a complete recording of Francis Poulenc's chamber music on the Naxos label, and as conductor on a CD of Beethoven works on the ATMA label. His chamber-music album dedicated to the music of Adolphe Blanc was praised by European critics. as well as sonatas by Brahms and Jenner with world renown pianist Jean Saulnier(also on ATMA), already classified as "reference recording" by international critics. His last cd "Phantasiestuke"was release in September 2007, a tribute to less known german romantic compositions among all.
André Moisan began studying the clarinet with his father, Gilles Moisan, clarinettist at the OSM from 1952 to 1998. He continued his training with another OSM principal, Robert Crowley, and at DePaul University in Chicago with Larry Combs, principal clarinet with the Chicago Symphony Orchestra, and then in Berlin with Karl Leister.
During the 2008-2009 season, his 30th anniversary of cereer, he will be guest conductor with the Orchestre symphonique de Québec and Montreal, also guest soloist with Orchestre Symphonique de Montreal, and he will be guest soloist with many ensembles including Les Violons du Roy in the Mozart Clarinet Concerto in Orford Art Center, June 2009. August 3 to 8, he will also be guest artist at the International clarinet Academy of Jacksonville in Florida.
Jean Saulnier
leads an active career as a recitalist, chamber musician and teacher, with broad experience in both the solo and the chamber music repertoire. He is a sought-after collaborator by the best musicians from Canada and abroad, speaking eloquently to the flexibility, natural playing ability, and spirit of partnership he brings to every performance.
A recipient of numerous prizes in national and international competitions, including the William Kapell International Competition, the Prix d'Europe and the Leschetizky Competition, Jean Saulnier has performed in Canada, United States, South America and Europe. He has been guest soloist with renowned orchestras such as the Orchestre symphonique de Montréal, the Orchestre symphonique de Québec, the Orchestre Métropolitain, the Rochester Philharmonic and I Musici de Montréal. He is frequently heard in major Canadian music festivals and on CBC radio.
Performing with his long-time partners' cellist Yegor Dyachkov and clarinetist André Moisan, Jean Saulnier has recorded many major works from the chamber music repertoire on the Pelléas, ATMA, Analekta and Doberman-Yppan recording labels. His 2002 recording of a Chopin recital on a 1848 Pleyel has also been praised for its refinement and originality. Since then he has had many opportunities to play this rare and wonderful instrument. Over time these investigations gave shape to a deeper awareness of the esthetics of Chopin's music.
Jean Saulnier studied with Marc Durand, Leon Fleisher and André Laplante. His doctorate from the University of Montreal was saluted with the Governor General's Academic Gold Medal. He is currently Associate Professor at the Music Faculty of the University of Montreal where he has been teaching for over 20 years. He is regularly invited to give master classes at institutions of higher education. He frequently serves as a jury member for national and international competitions, higher education institutions and government agencies.