---
Maddalena Del Gobbo, Robert Bauerstatter, David Pennetzdorfer, Ewald Donhoffer
---
Biographie Maddalena Del Gobbo, Robert Bauerstatter, David Pennetzdorfer, Ewald Donhoffer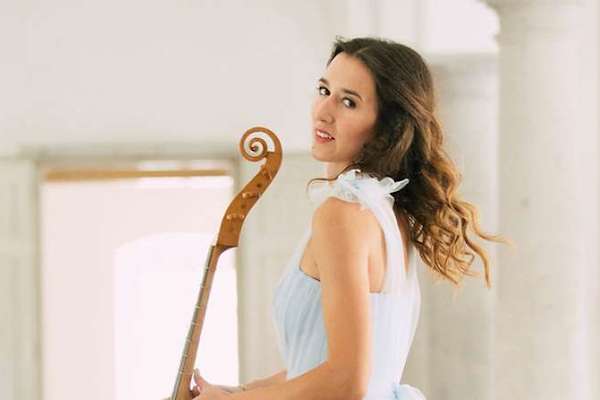 Maddalena Del Gobbo
In Italien nahe Udine geboren, begann Maddalena Del Gobbo bereits sehr früh mit ihrer außergewöhnlichen musikalischen Ausbildung. Im Alter von vier Jahren erhielt sie Klavier- und Ballettunterricht, mit acht Jahren begann sie Violoncello zu spielen und etwas später kam auch noch Gesang dazu. Ihr großes Talent führte sie bereits mit 13 Jahren an das Konservatorium nach Wien.
Ihre bis heute wichtigste Begegnung machte sie aber erst einige Jahre später, als sie ein Plattengeschäft betrat, in dem gerade eine Viola da Gamba-CD zu hören war. Der magische Klang dieses Instruments zog sie sofort in ihren Bann. Obwohl Maddalena Del Gobbo ihr Cellostudium mit einem Master mit Auszeichnung abgeschlossen hat, gehört ihr Herz der Gambe. Mit dieser hatte Maddalena Del Gobbo Auftritte bei renommierten Festivals und spielte im Rahmen des "Musica Antiqua"-Konzertzyklus im Brahms-Saal des Wiener Musikvereins, bei den Innsbrucker Festwochen der Alten Musik, in der Konzertreihe "U21"von BR-Klassik oder der "Yellow Lounge" der Deutschen Grammophon.
2014 erschien Maddalena Del Gobbos Debüt-CD "Viola d'Emozione" bei Archiv Produktion. Die zweite CD, "Henriette, the Princess of the Viol", ist im Herbst 2016 bei Deutsche Grammophon erschienen. Damit ist sie die erste Gambistin, die eine Solo-CD bei Deutsche Grammophon veröffentlicht hat.
Maddalena Del Gobbo spielt eine Viola da Gamba von Johann Seelos aus dem Jahr 1691, eine Leihgabe der Orpheon Foundation.