---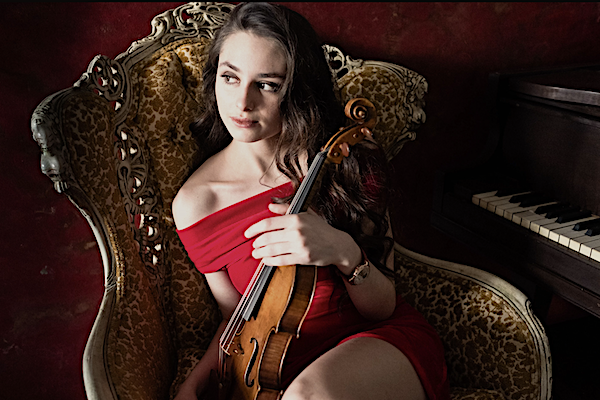 Esther Abrami
Als "aufsteigender Stern" des Strings Magazine beschrieben, gastierte Esther an weltbekannten Orten wie der Carnegie Hall in New York, der Royal Festival Hall und dem Barbican Centre in London. Zu ihren letzten Auftritten als Solistin gehören ein Konzert mit dem Brooklyn Metro Chamber Orchestra in New York und Liederabende in der Britischen Botschaft in Paris und im Chelsea and Westminster Hospital in London. Sie wurde kürzlich eingeladen, in den Classic FM Studios aufzutreten. Esther erhielt den ersten Platz beim Vatelot Rampal Violinwettbewerb, bei der Arts of Instrumental Performance Konzertreihe "The Arts of Strings" und beim IMKA International Music Competition. Sie hat kürzlich den Goldenen Klassikpreis 2017 gewonnen.
Esthers umfangreichs und stetig wachsende Community in den sozialen Medien hat sie dazu geführt, dass sie eine Botschafterin für bekannte musikbezogene Marken wie D'Addario Orchestral, Newzik und Beaumont Music sowie für Luxusmarken wie Yves Saint-Laurent, Lancôme, Daniel Wellington, The Kooples und viele andere geworden ist.
Esther wurde 1996 in Frankreich geboren und schloss mit 14 Jahren das Konservatorium von Aix-en-Provence ab. Sie setzte ihr Studium an der Chetham School of Music in Manchester bei Jan Repko fort. Im Jahr 2015 begann Esther ihr Bachelor-Studium am Royal College of Music in London und studiert derzeit bei Leonid Kerbel. In diesem Jahr vertritt sie das Royal College of Music an der Manhattan School of Music in New York. Sie hatte das Privileg, mit vielen hervorragenden Musikern wie Shmuel Ashkenasi, Alexander Markov, Regina Carter, Lewis Kaplan und Charlie Siem zu arbeiten. Esther spielt auf einem Carlo Giuseppe Testore von Mailand Violine, datiert ca. 1700, Label Giovanni Grancino.