---
Biographie Sting & Shaggy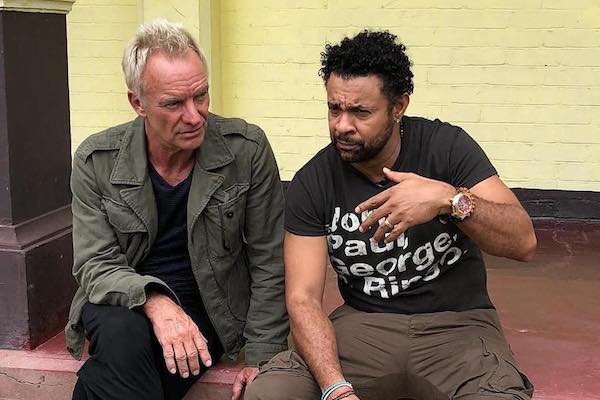 Sting
Born 2 October 1951, in Wallsend, north-east England, Gordon Sumner's life started to change the evening a fellow musician in the Phoenix Jazzmen caught sight of his black and yellow striped sweater and decided to re-christen him Sting. Sting paid his early dues playing bass with local outfits The Newcastle Big Band, The Phoenix Jazzmen, Earthrise and Last Exit, the latter of which featured his first efforts at song writing. Last Exit were big in the North East, but their jazz fusion was doomed to fail when punk rock exploded onto the music scene in 1976. Stewart Copeland, drummer with Curved Air, saw Last Exit on a visit to Newcastle and while the music did nothing for him he did recognise the potential and charisma of the bass player. The two hooked up shortly afterwards and within months, Sting had left his teaching job and moved to London.
Seeing punk as flag of convenience, Copeland and Sting - together with Corsican guitarist Henri Padovani - started rehearsing and looking for gigs. Ever the businessman, Copeland took the name The Police figuring it would be good publicity, and the three started gigging round landmark punk venues like The Roxy, Marquee, Vortex and Nashville in London. Replacing Padovani with the virtuoso talents of Andy Summers the band also enrolled Stewart's elder brother Miles as manager, wowing him with a Sting song called 'Roxanne'. Within days Copeland Senior had them a record deal. But the hip London music press saw through The Police's punk camouflage and did little to disguise their contempt, and the band's early releases had no chart success. So The Police did the unthinkable - they went to America.
The early tours are the stuff of legend - bargain flights to the USA courtesy of Freddie Laker's pioneering Skytrain; driving their own van and humping their own equipment from gig to gig; and playing to miniscule audiences at the likes of CBGB's in New York and The Rat Club in Boston. Their tenacity paid off though as they slowly built a loyal following, got some all important air-play, and won over their audiences with a combination of new wave toughness and reggae rhythms.
They certainly made an odd trio: guitarist Summers had a career dating back to the mid-60s, the hyper-kinetic Copeland was a former prog-rocker, and Sting's background was in trad jazz and fusion. The sound the trio made was unique though, and Sting's pin-up looks did them no harm at all. The band returned to the UK to find the reissued 'Roxanne' single charting, and played a sell-out tour of mid-size venues. The momentum had started. The debut album 'Outlandos d'Amour' (Oct 78) delivered three sizeable hits with 'Roxanne', 'Can't Stand Losing You' and 'So Lonely' which in turn led to a headlining slot at the '79 Reading Festival which won the band some fine reviews, but it was with 'Reggatta de Blanc' (Oct 79) that the band stepped up a gear.
Reggatta's first single, 'Message In A Bottle', streaked to number one and the album's success was consolidated further when 'Walking On The Moon' also hit the top slot. The band was big, but about to get even bigger. 1980 saw them undertake a world tour with stops on all continents - including the first rock concerts in Bombay - and the band eventually returned to the UK exhausted, for two final shows in Sting's hometown of Newcastle. Much of this groundbreaking tour was captured on the 'Police Around The World' video and a BBC documentary entitled 'The Police in the East'.
Within weeks, the band were in a Dutch studio recording new material but Sting's stock of pre-Police songs and ideas were wearing out. When 'Zenyatta Mondatta' was released (Oct 80) although it sold well and produced another number one single in 'Don't Stand So Close To Me' and a top five hit with 'De Do Do Do, De Da Da Da' a rethink was required. Sting later admitted that he felt 'Zenyatta' was the band's weakest album but by the end of 1980 the band were undoubtedly the biggest-selling band in the country selling out two shows in a huge marquee on Tooting Bec Common in London.
Changes materialised on 1981's 'Ghost In The Machine', a rich, multilayered album which was augmented not only by Jean Roussel's keyboards and Sting's self taught saxophone playing, but by particularly strong writing contributions from both Copeland and Summers. The album still had the now expected clutch of hit singles with 'Every Little Thing She Does Is Magic' making number one, the bleak 'Invisible Sun' reaching number two (despite a BBC ban being slapped on its video) and 'Spirits In The Material World' also charting, but it was a much darker and complex album than its predecessors and, to many, more satisfying. ... Visit: http://www.sting.com/biography
Shaggy
After one decade, six albums, two of them multi-platinum, five #1 hits, and eleven top ten singles world wide, Grammy winning Big Yard recording artist Shaggy is still on the grind. Making music that celebrates his culture and being an ambassador for Reggae music has always been the driving force in the heart of Jamaica's only living Diamond-plus selling artist. In the early 1990's Shaggy entered the scene with his deep throaty remix of the Ska classic 'Oh Carolina', the first major Reggae record to come out of the dancehall underground. Soon after, the steady dub rhythm of the platinum selling Boombastic solidified Shaggy as a dancehall hit-maker winning the 1996 Grammy Award for Best Reggae Album. When Hotshot dropped in 2000 no one could have predicted that this was going to be the album to set Shaggy totally apart from any artist on the dancehall stage. Hotshot, the best-selling album in 2001, sold over 13 million albums world wide and topped the charts in the US, UK, Germany and Australia simultaneously. The album was seven times platinum certified in Canada and six times platinum in the US. Hotshot rocketed to the top of the charts with two phenomenal singles, "It Wasn't Me" and "Angel", which featured Big Yard protégés Rik Rok and Rayvon, respectively.
Fall of 2005 found Shaggy releasing Clothes Drop an album that gave his audience chart topping dancehall singles like "Wild2Nite" and "Ready Fi Di Ride". Steady contributions to the dancehall are what keep Shaggy current. He is one of very few Reggae artists who always have a fresh new record pulsing through the dancehall market. And fall 2006 being no exception, he released one to keep the masses guessing with "Reggae Vibes", a well-received tune that finds Shaggy taking on the role of singing. "Vibes" is the first song to ever feature this famed deejay singing, just more proof that with Shaggy's ingenuity anything is possible. To date, Shaggy has sold over 20 million albums, but he doesn't take that achievement lightly. Knowing that records are meant to be broken, today we find Shaggy in the studio putting the finishing touches on his eagerly anticipated but still untitled album due in 2007. "Church Heathen" on Big Yard's new Heathen riddim is the hottest new song in heavy rotation on Jamaican radio and in the clubs, and this single is just a taste of what's to come. In his new project Shaggy is going full circle, pulling together the original crew for collaborations that include artists such as Red Fox and Screechy Dan, alongside side Rik Rok and the ever-solid Rayvon. For production, the project boasts the creative excellence of Sting International, Robert Livingston, Tony Kelly and Christopher Birch. Working from his strong foundation and always expecting the best, Shaggy is doing his part to make good music, make a difference and prove that the 'World Is Just One Big Yard!!'...