---
Reginald Mobley and Baptiste Trotignon
---
Biographie Reginald Mobley and Baptiste Trotignon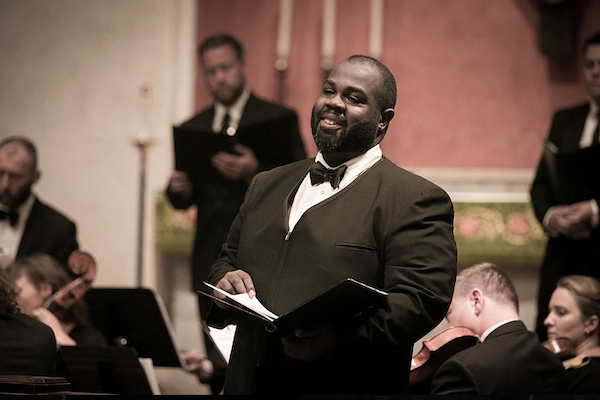 Reginald Mobley
Bekannt für seine "schillernde Stimme" (BachTrack), Der Amerikanischer Countertenor Reginald Mobley ist für Baroque, Klassisches oder Modernes Repertoire sehr begehrt. Reginald führt eine produktive Karriere auf beiden Seiten des Atlantiks.
In den Vereinigten Staaten, seiner Heimat, war er der erste Beratende Programmleiter für die Handel and Haydn Society und mehrere Jahre Leiter der H&H in den Every Voice Konzerten dieser Gesellschaft. Er hält die Position des "Gast Künstlers für Diversity Outreach" beim Barockensemble Apollo's Fire und singt außerdem oft als Gast mit Cantata Collective, Musica Angelica, Agave Baroque, Charlotte Bach Akademie, Seraphic Fire, Quodlibet, Pacific Music Works, Bach Collegium San Diego, San Francisco Early Music Society, und dem Philharmonie Baroque Orchestra.
Jüngste Engagements enthalten Konzerte und Tonaufnahmen mit Chicago Symphony Orchestra, Opera Lafayette, Blue Heron, Chatham Baroque, Washington Bach Consort, Atlanta Baroque Orchestra und Early Music Seattle. Zu seinen zukünftigen Auftritten gehören Carmina Burana mit dem Chicago Symphony Orchestra, Messias mit dem New York Philharmonic und Pittsburgh Symphony Orchester, sein Debüt in der Carnegie Hall und in der Walt Disney Hall in Los Angeles.
Reginald arbeitet auch in Europa als Gast. Er gab Auftritte in Engagements mit dem OH! (Orkiestra Historycsna) in Polen, der Wiener Akademie in Osterreich (Musikverein), Musée d'Orsay in Paris, dem Royal Scottish National Orchester, der Academy of Ancient Music, dem City of Birmingham Symphony Orchester, dem Balthasar Neumann Chor und Ensemble, Bach Collegium Stuttgart, und dem Holländischen Barock Orchester. Im Herbst 2021 spielte Reginald die Rolle Ottone aus L'incoronazione di Poppea in Genf, MUPA und Teatro di Vicenza auf einer Europatour zusammen mit dem Budapester Festivalorchester. Reginald sang mit dem Monteverdi Chor und Orchester unter der Leitung von John Eliot Gardiner auf Tour. Kürzlich führte Reginald mit dem Freiburger Barockorchester unter der Kristian Bezuidenhout eine Englische Konzertserie in Deutschland durch.
Seine Aufnahmen sind hochgelobt. Zuletzt hat er "American Originals" mit dem Agave Baroque Ensemble aufgenommen, mit Acis Productions für einen GRAMMY nominiert wurde. Dieser Aufnahme folgte "A Lads Love" mit Brian Giebler für BRIDGE 9542. Reginald ist auf mehreren Alben mit dem Monteverdi Chor und John Eliot Gardiner zu hören, unter anderem eine Aufnahme von Bachs Matthaus-Passion und Magnificat, wo er "skurriles Pathos verkörpert" (Classical Music Magazine). Sein Solo-Aufnahmedebüt mit ALPHA Classics wird im Juni 2023 veröffentlicht.