---
Album Info
Album Veröffentlichung:
2020
HRA-Veröffentlichung:
08.01.2021
Das Album enthält Albumcover Booklet (PDF)
Joaquín Rodrigo (1901 - 1999):

1

Rodrigo: Concierto de Aranjuez: I. Allegro con spirito

06:03

2

Rodrigo: Concierto de Aranjuez: II. Adagio

11:32

3

Rodrigo: Concierto de Aranjuez: III. Allegro gentile

05:07

4

Coll: Turia: I. Quarter Note = 82

05:55

Francisco Coll (b. 1985):

5

Coll: Turia: II. Quarter Note = 120

02:13

6

Coll: Turia: III. Quarter Note = 52

03:30

7

Coll: Turia: IV. Quarter Note = 60

04:35

8

Coll: Turia: V. Dotted Quarter Note = 60

02:24

Manuel de Falla (1876 - 1946):

9

Falla: Homenaje (Le tombeau de Debussy) [Version for Guitar]

03:20

Isaac Albéniz (1860 - 1909):

10

Albéniz: Iberia, B. 47, Book 1: No. 1, Evocación (Arr. C. Karlsen for Chamber Ensemble)

06:12

Pete Harden (b. 1979):

11

Harden: Solace & Shimmer

12:25

Total Runtime

01:03:16
Info zu Rodrigo, Coll & Harden: Guitar Works
Die Aufnahme von Rodrigos Concierto de Aranjuez mit dem schwedischen Gitarristen Jakob Kellermann und unter der Leitung des schwedischen Dirigenten Christian Karlsen ist eine der interessantesten, die in den letzten Jahren herausgekommen ist. Ihre Vorzüge kommen freilich besonders gut in der großartigen BIS-Aufnahme zur Geltung, die das vom Dirigenten perfekt transparent gestaltete Orchesterspiel auch mit einem wunderbar ausgewogenen, in Breite, Tiefe und Höhe perfekt räumlichen Klangbild ideal wiedergibt. Dabei fallen das überaus reich verzierte Spiel des Solisten ebenso auf wie die tollen farblichen Akzente vor allem der Holzbläser im Orchester. So farbig hat man das Rodrigo-Konzert definitiv noch nicht oft gehört.
Sein viersätziges Gitarrenkonzert Turia hat Francisco Coll nach dem ausgetrockneten Fluss benannt, der einst durch seine Heimatstadt Valencia floss. Er hat es im Pizzicato/ICMA-Interview als sein bisher flamenco-farbigstes Werk beschrieben, das das Licht und die entsprechenden Schatten Spaniens hervorrufen soll: « Ich entdeckte den Flamenco durch die Rebellion gegen einen Solfeggio-Lehrer. Instinktiv verband ich ihn mit der Verwendung von populärer Musik, wie es bei Bartok oder Ligeti der Fall war. Aber es gelang mir erst mit den Vier Iberischen Miniaturen, ihn in meine Arbeit zu integrieren. Dann verwendete ich es wieder in meinem Concerto grosso (2016), das ich zum zwanzigjährigen Bestehen des Casals-Quartetts mit dem Spanischen Nationalorchester schrieb. Und erneut, in Turia (2017), für Sologitarre und Ensemble, mein vielleicht flamenco-farbenstes Werk, obwohl es ein verklärter Flamenco mit sehr unterschiedlichen Aspekten ist. (…) erst 2017 konnte ich ein Werk wie Turia schreiben, eine Hommage an einen fast surrealistischen Fluss, der kein Wasser hat. Man geht durch ihn hindurch, er hat Gärten und sogar ein Opernhaus. Auf jeden Fall ist das Werk eine Hommage an das Licht von Valencia, wie es Joaquín Sorolla y Bastida gemalt hat, und das wollte ich in meiner Musik festhalten.»
Turia ist ein spannendes Werk, solistisch wie orchestral sehr anspruchsvoll und in seiner Rhetorik unmittelbar packend. Zwei stimmungsvolle Interpretationen der Stücke von de Falla und Albeniz führen zu Pete Hardens Solace and Shimmer, das der britische Komponist als eine impressionistische Ode an die trockene Hitze Südeuropas beschreibt. Man hat ähnlich flimmernde Klänge auch in Western-Filmmusiken gehört, die die weite Wüstensteppen im Westen Amerikas beschreiben. Hardens Musik ist jedenfalls sehr evokativ und gut für ein Film-ab-im-Kopf-Hören. (pizzicato.lu)
Jacob Kellermann, Gitarre
London Philharmonic Orchestra
Norrbotten NEO
Christian Karlsen, Dirigent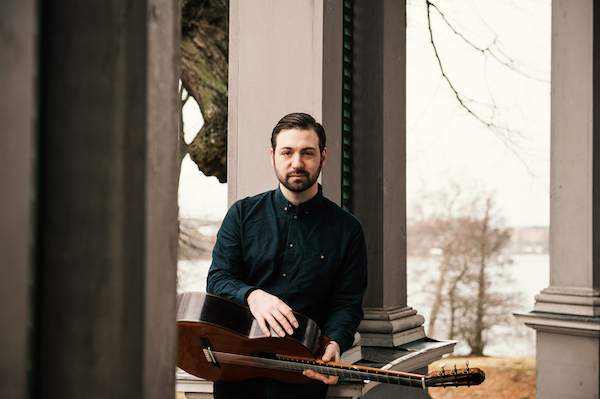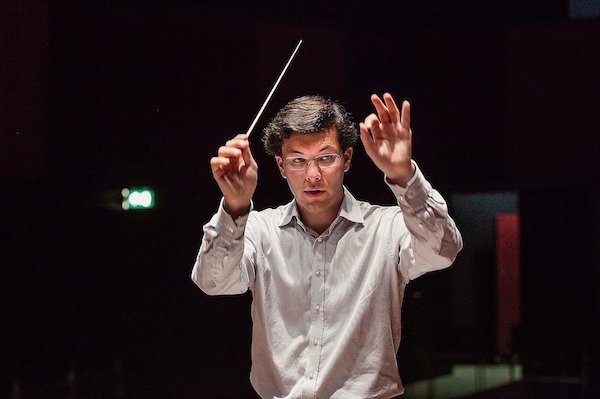 Jacob Kellermann
(born 1984) has established himself as one of the most active guitarists of his generation. Born in Stockholm, he began his guitar studies at the age of eight.
​Regularly performing in major Swedish venues, he has appeared internationally in venues including Concertgebouw Amsterdam, Prinzregententheater and Gasteig Munich, Tokyo Bunka Kaikan, Seoul Art Center and Brucknerhaus Linz. He has appeared as a soloist with orchestras such as Gävle Symphony Orchestra (Sweden), Querétaro Philharmonic Orchestra (Mexiko) and Incheon Philharmonic Orchestra (South Korea). Future engagements during season 20-21 include solo appearances with Los Angeles Philharmonic Orchestra, Orquesta de Valencia (Spain) and Israel Contemporary Players.
Equally in demand as a chamber musician, he regularly performs with string players and singers all over Europe and have made critically acclaimed appearances and tours in Germany, France, The Netherlands, Czech Republic, China, Japan and South Korea.
With an extensive repertoire that often features his own transcriptions, he constantly searches for new expressive possibilities for the guitar. Close collaborations with numerous composers including Sofia Gubaidulina, Jose M. Sanchez-Verdu, Francisco Coll, Jersper Nordin and Benjamin Staern has resulted in numerous works and concertos written directly for him. He has premiered new guitar concertos with major Scandinavian new music ensembles BIT20 Bergen and Norrbotten NEO. Jacob Kellermann is also a member and co-founder of the Dutch-based New European Ensemble.
Jacob Kellermann has recorded two critically acclaimed CD:s on BIS records (S. Gubaidulina "Repentance" – 2014 and Schubert Sonatas - 2018). His third album, focusing on Spanish guitar concertos, is to be the released on the same label in the fall 2020, presenting Rodrigos famous Concerto de Aranjuez together with London Philharmonic Orchestra aswell as new concertos dedicated to him.
​Jacob Kellermann has studied in Sweden, Spain, the Netherlands and Germany. He received his "Meisterklasse Diplom" under prof. Franz Halasz at the Hochschule für Musik in Munich in 2011. He plays on an instrument by the German luthier Matthias Dammann.
On December 4 his CD from BIS is released.Recorded with London Philharmonic and Christian Karlsen as conductor. Works by Francisco Coll and Pete Harden.
Christian Karlsen
Having begun his career as assistant to Esa-Pekka Salonen, Christian Karlsen has rapidly established himself as one of the most gifted and innovative conductors of his generation.
He has worked with orchestras including the Royal Stockholm Philharmonic, Gothenburg Symphony Orchestra, Frankfurt Radio Symphony Orchestra, Helsingborg Symphony, the Hague, Eindhoven, Arnhem Philharmonic Orchestras, Netherlands Radio Chamber Orchestra and the Amsterdam Sinfonietta. He is also a regular visitor to many leading new music ensembles like the ASKO|Schönberg Amsterdam, ICE International Contemporary Ensemble (New York), Birmingham Contemporary Music Group (most recently on their Mexico tour), Norrbotten NEO and BIT20 Bergen. Coming season he is conducting the London Sinfonietta at the Festival Presences in Paris.
Stage work includes Stockhausen MICHAELs REISE at the Netherlands Opera, Djuro Zivkovic's BOGOLUCHIE at the Bergen Autunnale, Benjamin Staern's SAIYAH and Kaija Saariaho's NOX BOREALIS at Norrland Opera and Beat Furrer's FAMA with ASKO|Schönberg in Amsterdam, as well as concert performances of Schönberg's ERWARTUNG in Amsterdam and Vienna. He is this year making his debut ta the Deutsche Oper Berlin.
Having always been a strong advocate for the music of our time, he has led numerous world premieres and collaborated with leading composers as Kaija Saariaho, Salvatore Sciarrino, Sofia Gubaidulina, Steve Reich, Harrison Birtwistle, Magnus Lindberg, Anders Hillborg, Thomas Adès, Oliver Knussen and Karlheinz Stockhausen.
He was 2015-2017 artistic leader the Hague's Festival Dag in de Branding (Residentie Orchestra and the Royal Conservatoire) yearly presenting four editions. Highlights included Scenes from Stockhausen's opera LICHT, Salvatore Sciarrino's Studi per l'Intonazione del Mare and major works by Edgar Varèse. His multimedia production of Fausto Romitelli's Professor Bad Trip was selected as one of the 2016 top-5 music events of the year by NRC Handelsblad.
He was artistic director of the New European Ensemble 2008-2014 as well as the 2011 Kaija Saariaho festival in the Hague (with Residentie Orkest, New European Ensemble and the Royal Conservatoire).
In 2018 he founded of Gränslandet – Symfonisk Fest in Stockholm together with pianist David Huang, a festival with classical music for young adults that reached nearly 6000 visitors in its first edition in 2018.
He studied at the Royal Conservatoire the Hague.


Booklet für Rodrigo, Coll & Harden: Guitar Works