---
Album Info
Album Veröffentlichung:
2021
HRA-Veröffentlichung:
29.07.2021
Das Album enthält Albumcover
1

Love Special Delivery

02:23

2

Misery

02:34

3

Bluebird

03:11

4

For What It's Worth

03:29

5

Los Chucos Suaves

03:25

6

Jamaica Say You Will

03:16

7

Never No More

02:37

8

Native Son

03:11

9

Farmer John

02:30

10

Dichoso

03:36

11

Sail On, Sailor

03:21

12

The World Is A Ghetto

08:33

13

Flat Top Joint

02:51

14

Where Lovers Go

04:32

Total Runtime

49:29
Info zu Native Sons
Die in Los Angeles ansässige Band Los Lobos hat sich schon immer von ihrer Umgebung und ihrem Heimatort inspirieren lassen. Ihre Musik ist beeinflusst von Rock and Roll, Tex-Mex, Country, Zydeco, Folk, R & B, Blues, Brown-eyed Soul und traditioneller Musik wie Cumbia, Boleros und Norteños. All diese Einflüsse kann man nun hören auf "Native Sons". Sie haben sich die Songs einiger der besten Songwriter der Stadt zu eigen gemacht und neu interpretiert. Dreizehn Songs über Los Angeles von bekannten Künstlern wie Buffalo Springfield, WAR, Jackson Browne und The Beach Boys sowie Deep Cuts von The Jaguars, The Basters und The Premiers. Beim Albumtiteltrack handelt es sich um die einzige Originalkomposition der Band.
Los Lobos:
David Hidalgo, vocals, guitars
Louie Pérez, Jr., vocals, guitars
Cesar Rosas, vocals, guitars, bass, Hammond B3 organ
Conrad Lozano, vocals, bass
Steve Berlin, saxophones, midi-saxophone, keyboards
Additional musicians:
David Hidalgo, Jr., drums
Jason Lozano, drums
Dannie Ramirez, trombone
Camilo Quinones, percussion
Phil Parlapiano, keyboards
Dannie Ramirez, trombone
Aaron Ballesteros, drums
Little Willie G, vocals
Jason G Backing, vocals
Barrence Whitfield, backing vocals
Enrique "Bugs" Gonzalez, backing vocals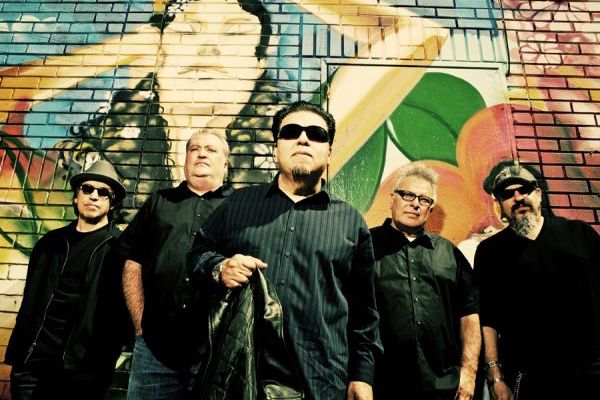 Los Lobos
If Los Lobos has learned one thing in nearly four decades together, it's that playing by the rules is not for them. They tried it for a while, said no thanks, and they've been better for it ever since. The 20th anniversary re-release of Los Lobos' landmark Kiko album by Shout! Factory on August 21—bursting with bonus tracks and a live DVD in addition to the original album—serves as a potent reminder of why going rogue was the best thing this legendary American quintet ever did.
By early 1992, prior to making Kiko, Los Lobos—David Hidalgo, Cesar Rosas, Conrad Lozano, Louie Pérez and saxophonist/keyboardist Steve Berlin—was wrapping their second decade together, coming off a five-year period of newfound massive commercial success but lost creatively. Their 1987 remake of Ritchie Valens' classic "La Bamba" for the soundtrack of the same name earned the band a number 1 smash on the Billboard charts, and the following year's La Pistola y El Corazón, which found the band revisiting its Mexican folk roots, was also highly regarded. Then things went south.
"To a certain extent I guess we didn't really trust ourselves," says Berlin, who joined the four founding members in 1984, some 11 years after Los Lobos' formation. "We weren't totally confident as a band in our own ability to say fuck this, we're going to do it this way and we don't care what anybody says. We'd had 'La Bamba' and La Pistola, and it was all great but there was a lot of expectation surrounding the next record."
That next record turned out to be 1990's The Neighborhood. The band didn't have much fun recording it, compromising in the studio and embarking on a grueling large-scale tour with buses and a lighting rig, rather than simply hopping in their van and driving from gig to gig. The tour lost money and Los Lobos was left without a clue as to what they wanted to do next.
Reconvening for the next record, busted but not broken, the band decided to ignore everyone else's advice and try a new way of recording: their way. Feeling they had nothing to lose, they forged ahead into new territory.
Prior to Kiko, Los Lobos had been "segregating our influences, treating them parochially," as Berlin puts it: a rockabilly tune here, a Tex-Mex there, some folk, a bit of country, an R&B tune, plenty of classic rock. This time, they decided to take all of those myriad influences out of their separate boxes, toss them into the air and let them fall where they might. "Whatever our unconscious minds' response was to the stimuli, that was what we wanted. We let our imagination take over and didn't try to control it."
Rather than taking advantage of Los Angeles' major studios, the band cut the demo tracks at a small place called Paul & Mike's Studio in downtown L.A., run by their friend, engineer Paul duGré. On their way in, Berlin recalls, they would walk by homeless families living in boxes. "Here we were whining about being poor musicians and then we encounter real life. These people had real problems. It kind of enforced our sense of ourselves at that moment."
Throwing caution to the wind, Los Lobos began cutting such new original Hidalgo-Pérez compositions as "Two Janes," "Peace," "Arizona Skies," "Short Side of Nothing" and "Rio de Tenampa," self-producing and following their instincts sound-wise. "We cut seven tracks in a week or two and it was cleansing," says Berlin. "It was very dreamlike as it was going down. Everything was working. Even the mistakes sounded good. The tracks sounded really good and we weren't holding back. We didn't filter ourselves to do anything other than play. We knew it was a departure from what we'd done before, but we weren't sure if it was commercially viable."
There was only one way to find out: Los Lobos met with Lenny Waronker and Mo Ostin, the top executives at Warner Bros. Records, who distributed the band's label Slash at the time. To the band's relief, the record men loved what they heard and told them to continue, suggesting only that the band bring in super-producer Mitchell Froom and engineer Tchad Blake to help them mold their vision. It became an instant dream team. Froom told Los Lobos that several of the demos were good enough to release as is, and helped them fine-tune the rest, including such brilliant classic Lobos tunes as "That Train Don't Stop Here," "Angels With Dirty Faces," "Whiskey Trail" and "Kiko and the Lavender Moon," from which the album drew its title.
"Mitchell is a unique dude, probably one of the most brilliant people I've ever worked with," says Berlin. "He's a genius orchestrator and genius arranger. He and Tchad, who is also brilliant, were in a similar state of mind, wanting to do it their own way."
When Kiko was released in the late spring of '92, it was embraced by fans and hailed by critics as Los Lobos' defining moment, the album that put Los Lobos back on the innovation track. The album, wrote All Music Guide, "demonstrated the breadth of their sonic ambitions." Comments the band's Cesar Rosas, "With that album we didn't want to be tied down to all the conventional ways of recording, so we started experimenting and making up sounds." That is where they remain today. Next year Los Lobos will celebrate 40 years together, a monumental achievement in a world where bands come and go in the blink of an eye.
A rare example of longevity in a volatile music world that stresses style over substance, Los Lobos' lineup has remained uninterrupted since 1984, when Berlin joined original members Pérez, Hidalgo, Rosas and Lozano, each of whom had been there since the beginning in 1973.
"This is what happens when five guys create a magical sound, then stick together for 30 years to see how far it can take them," wrote Rolling Stone, and indeed, Los Lobos is a band that continually reboots itself and expands its scope with each passing year, while never losing sight of where they came from. Through sheer camaraderie and respect for one another's musicality, they've continued to explore who Los Lobos is and what they have to offer, without succumbing to the burnout that plagues so many other bands that stick it out for any considerable length of time. Their influence is vast, yet they remain humble, centered and dedicated to their craft. Each new recording they make moves Los Lobos into another new dimension while simultaneously sounding like no one else in the world but Los Lobos. As All About Jazz raved, "The genius of Los Lobos resides in their innate ability to find the redemptive power of music, no matter the style they choose to play."
It was during their earliest years that the group's particular hybrid of traditional regional Mexican folk music, rock and roll, blues, R&B, country and other genres began finding a sweet spot in the music of Los Lobos. "In 1973, when we first formed," says Pérez, "we were four guys from East L.A. who were friends from high school who played in local rock bands. Then once we got out of high school you still had four guys who were just hanging out together. So the natural progression of things is to just start playing music again. You'd think that we'd form a rock band but then out of nowhere somebody got this idea of 'Let's learn a Mexican song to play for somebody's mom for their birthday' or something. Mexican music was largely just wallpaper for us—it was always in the background, and we never paid much attention to it. We were modern kids who listened to rock and roll. Then when we finally dig up some old records to learn a couple of songs, that was a real revelation to us that this music is actually very complicated and challenging. So at that point we were off and running."
Their first several years, says Pérez, were a "chapter," as Lobos began discovering who they were as a creative unit. The band's 1978 Spanish-language debut found only a small audience, but by 1980—when Los Lobos was rejected by a hostile hometown crowd while opening for John Lydon's post-Sex Pistols band Public Image Ltd.—although large-scale acceptance still evaded them, Los Lobos had begun to build an audience within L.A.'s punk and roots-rock world. An opening slot for hometown rock heroes the Blasters at the Sunset Strip's legendary Whisky A-Go-Go in 1982 was a breakthrough, and that band's saxophonist Steve Berlin took a special interest in Lobos, joining the group full-time for 1984's critically acclaimed Slash Records debut, How Will the Wolf Survive?
As the '80s kicked in for real, Los Lobos' fortunes quickly turned in a positive direction, and they became one of the most highly regarded bands to emerge from the fertile L.A. scene. "It was one of those places and times, like '67 in San Francisco or Paris in the '20s," says Berlin. "A lot of really superlative creative energy was focused in that place at that time. It was a very collegial atmosphere because everybody was experimenting with everything: with their identities, with their music. It was a very exciting time to be in a place where everybody around you was doing really interesting stuff. To this day I think that ethos informs a lot of what we do."
One of the most momentous events in Los Lobos' history arrived in 1987, when the band was tapped to cover "La Bamba," the Mexican folk standard that had been transformed into a rock and roll classic in 1958 when it was recorded by the ill-fated 17-year-old Ritchie Valens. Valens, the first Chicano rock star, was catapulted to legendary status the following year when he died in a plane crash along with Buddy Holly and the Big Bopper and it was a natural choice that Los Lobos be asked to remake his signature hit for the forthcoming biopic of the same name. Little did anyone suspect that the remake would spring to number one on the charts.
"We had met Ritchie's family and they had asked for us," says Pérez. "Of course, our emphasis at that time was on making our next album, By the Light of the Moon. Then 'La Bamba' came out and when the other record came out a few months later it was, By the Light of the Moon, what's that? It was completely pre-empted by this massive hit. We had no idea what was going to happen."
What happened was that Los Lobos was now reaching a vastly larger audience. "We were opening up for bands like U2 and the Clash and traveling around the world," says Lozano. "You'd walk into an airplane and some little kid would be singing 'La Bamba.' It was a great time."
Rather than capitalize on the elevated commercial profile that "La Bamba" had given them, Los Lobos instead chose to record as a followup La Pistola y El Corazón, paying tribute to their acoustic Mexican acoustic music roots. Kiko came next, followed by such equally stunning albums such as 1996's Colossal Head, 2002's Good Morning Aztlán and 2006's The Town and the City, Los Lobos has continued to deliver dependably solid and diverse recordings, a live show that never fails to disappoint, and just enough side trips—a Disney tribute album and a couple of live ones, solo and duet recordings (among them Hidalgo and Pérez's '90s diversion Latin Playboys), Berlin's many production and sideman gigs—to keep their creative juices flowing. 2010's Tin Can Trust, Los Lobos' most recent release and first for Shout! Factory, pushed the venerable quintet ahead a few more notches while retaining everything the band's loyal fans have come to expect.
"There's this thing that still happens, this musical thing," says Pérez. "But if you took everything away, even the music, you'd still end up with four guys who were friends and hung out and grew up in the same neighborhood. And you can't take that friendship away from us."
"We're brothers and we all equally recognize that," says Rosas. "That's what keeps us going, knowing that we need to help each other and we need to get through this and we work well together. And we keep it real."
Their debut album was called Just Another Band from East L.A., but they've since repeatedly disproven that title—Los Lobos isn't "just another" anything. "We're incredibly lucky," says Steve Berlin. So are we—lucky to have Los Lobos.


Dieses Album enthält kein Booklet