---
Album Info
Album Veröffentlichung:
2015
HRA-Veröffentlichung:
20.11.2018
Das Album enthält Albumcover
1

Long Live the Renegades

04:17

2

The Other Side

04:20

3

Aristocrat

03:34

4

Cigarettes & Regret

03:24

5

Last Days of Summer

05:35

6

Strange Kinda' Nothing

05:19

7

I Am What I Am

03:31

8

Whiplash

04:04

9

Gone Too Long

03:57

10

Red

03:25

11

I Am Cured

04:18

12

Raise a Little Hell

05:03

13

Feel Like I'm on My Way (Bonus Track)

03:48

14

Flying (Bonus Track)

04:10

15

I Will Follow On (Bonus Track)

04:26

16

The Other Side (Acoustic Version - Bonus Track)

04:52

17

Gone Too Long (Acoustic Version - Bonus Track)

04:03

18

Strange Kinda' Nothing (Unplugged Version - Bonus Track)

04:16

Total Runtime

01:16:22
Info zu Raise a Little Hell
Rock 'n' Roll lebt von überlebensgroßen Riffs, unvergesslichen Melodien und dem Geruch von Büchsenbier und der Route 66: zumindest, wenn man The Answer heißt und die Route 66 durch Nordirland verläuft!
Auf »Raise A Little Hell« (dezentes Understatement) knarzen die Gitarren, die Vocals sind rauchig und der Spirit von AC/DC und Thin Lizzy schwebt in der Luft!
Elf höllische Soundtrack-Hymnen für den nächsten Roadtrip, die sich einen feuchten Dreck um Trends scheren.
Höllische Soundtrack-Hymnen mit fetten Riffs & starken Melodien!
"The Answer haben ein feines Gespür für Melodien, Dramaturgie, Ökonomie – und den Blues sowieso." (Rolling Stone)
"Mit einer unfassbaren Lockerheit zocken die Jungs Songs runter, vor denen man niederknien will und zeigen der Welt des Hard-/ Classic- / Blues-Rock, wer hier das Sagen hat." (Metal.de)
Brustpelz raus! Je beständiger unsere Ohren von charttauglichem Autotune-Gefiepe und Yolo-Bratpfannen malträtiert werden, umso stärker wird das Verlangen nach ehrlicher und bodenständiger Rockmusik: dass nicht nur der müffelnde Jeansjackenalki vom Kiosk nebenan so denkt, beweist der Erfolg solcher Bands wie AUDREY HORNE, BLACKBERRY SMOKE – oder eben THE ANSWER! »Raise A Little Hell«, das fünfte Album der schmucken Nordiren, hat dabei – ja, das ist eben genetisch so bedingt – ordentlich THIN LIZZY im Blut und glänzt mit ordentlich verrauchten Vocals und Melodien, die man nie mehr aus dem Kopf haben will. Der Bootyshaking-Faktor geht durchs Dach, und im Gedächtnis an Bon Scott wächst einem augenblicklich Brustpelz (ja, auch den Frauen). Ein sehr, sehr smoothes Unterfangen, das wie im Schlaf zwischen Riff-Rock, Blues und Southern schwankt: schlichtweg grandios." (Nadine Fiebig, Nuclearblast)
Cormac Neeson, Gesang
Paul Mahon, Gitarre
Michael Waters, Bass
James Heatley, Schlagzeug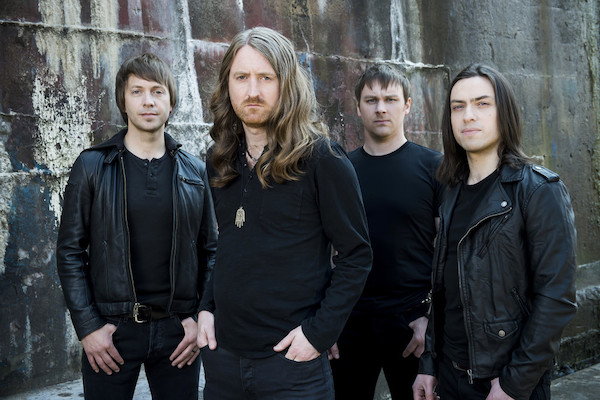 The Answer
Blues-influenced hard rock band the Answer first came together in 2000 when guitarist Paul Mahon, then 18 years old and living in Northern Ireland, decided to put together a group with the help of a friend, bassist Micky Waters. Waters was already a veteran of the Belfast club circuit, having played in several cover bands, and Mahon had been given a crash course in the nuts and bolts of the music business by his father, who played trumpet in a long-running Irish show band. Mahon recruited James Heatley to play drums, Cormac Neeson signed on as lead singer, and the Answer were born.
After several months of rehearsing and writing material, the Answer started playing live gigs in 2001, and in 2002 they landed a prestigious gig as the opening act at Ireland's Witness Festival. In 2005, the Answer signed a record deal with the U.K. branch of Albert Productions, and in June 2006 their first album, Rise, arrived in shops. Rise earned enthusiastic reviews in Kerrang! and Classic Rock and chalked up respectable sales in the U.K. while becoming a legitimate hit in Japan. After sharing bills with everyone from Deep Purple and Paul Rodgers to the Rolling Stones and the Who, the Answer reissued Rise in 2007 with a bonus disc including a handful of tracks the group had issued as download-only singles.
In 2008 they continued their busy schedule with shows at the Isle of Wight Festival and opening for influential Australian rock outfit AC/DC on the European leg of their Black Ice world tour. Between the two they managed to retreat to L.A. and work on sessions for their sophomore release, Everyday Demons, which came out in 2009. They ended the year with a headlining tour in the U.K., before they began work on their third album in early 2010. The following year the four-piece released a DVD of their live performances on tour with AC/DC titled 412 Days of Rock 'n' Roll, and swiftly followed it up with the studio album Revival. Their fourth record, New Horizon, was released in September 2013, and just 18 months later, the band had recorded and issued their fifth, Raise a Little Hell, in March 2015. Following a U.S. tour in support of the album, the band's singer/lyricist returned to welcome a new son who was born three months premature. Neeson and his wife were able to bring their son home only after four harrowing months in hospital, an experience that informed the band's next album, Solas, released in autumn of 2016.


Dieses Album enthält kein Booklet