---
Album Info
Album Veröffentlichung:
2023
HRA-Veröffentlichung:
02.10.2023
Das Album enthält Albumcover
Pietro Giorgio Avondano (1692 - 1755): Divertimento da cammera No. 1 in C Minor (Version for Orchestra by Fernando Miguel Jalôto):

1

Avondano: Divertimento da cammera No. 1 in C Minor (Version for Orchestra by Fernando Miguel Jalôto): I. Largo

01:34

2

Avondano: Divertimento da cammera No. 1 in C Minor (Version for Orchestra by Fernando Miguel Jalôto): II. Fuga. Allegro

01:38

3

Avondano: Divertimento da cammera No. 1 in C Minor (Version for Orchestra by Fernando Miguel Jalôto): III. Largo

01:46

4

Avondano: Divertimento da cammera No. 1 in C Minor (Version for Orchestra by Fernando Miguel Jalôto): IV. Allegro

03:40

Giovanni Bononcini (1670 - 1747): Pharnaces:

5

Bononcini: Pharnaces: "Mio sposo t'arresta" (Lisbon Version, 1735)

07:21

Pietro Giorgio Avondano: Divertimento da cammera No. 2 in G Major (Version for Orchestra by Fernando Miguel Jalôto):

6

Avondano: Divertimento da cammera No. 2 in G Major (Version for Orchestra by Fernando Miguel Jalôto): I. Andante

01:39

7

Avondano: Divertimento da cammera No. 2 in G Major (Version for Orchestra by Fernando Miguel Jalôto): II. Allegro

01:57

8

Avondano: Divertimento da cammera No. 2 in G Major (Version for Orchestra by Fernando Miguel Jalôto): III. Andante

01:03

9

Avondano: Divertimento da cammera No. 2 in G Major (Version for Orchestra by Fernando Miguel Jalôto): IV. Allegro

01:44

Francisco António de Almeida (1703 - 1754):

10

de Almeida: La Pazienza di Socrate: "Nell'incognito soggiorno"

05:11

11

de Almeida: Il vaticinio di Pallade, e di Mercurio: "Ogni fronda ch'è mossa dal vento"

07:11

Pietro Giorgio Avondano: Divertimento da cammera No. 3 in A Minor (Version for Orchestra by Fernando Miguel Jalôto):

12

Avondano: Divertimento da cammera No. 3 in A Minor (Version for Orchestra by Fernando Miguel Jalôto): I. Adagio

01:43

13

Avondano: Divertimento da cammera No. 3 in A Minor (Version for Orchestra by Fernando Miguel Jalôto): II. Allegro

03:09

14

Avondano: Divertimento da cammera No. 3 in A Minor (Version for Orchestra by Fernando Miguel Jalôto): III. Largo

01:24

15

Avondano: Divertimento da cammera No. 3 in A Minor (Version for Orchestra by Fernando Miguel Jalôto): IV. Allegro

03:11

Rinaldo di Capua (1705 - 1780): Catone in Utica:

16

di Capua: Catone in Utica: "Nacqui agli affani in seno"

05:34

Pietro Giorgio Avondano: Divertimento da cammera No. 4 in D Minor (Version for Orchestra by Fernando Miguel Jalôto):

17

Avondano: Divertimento da cammera No. 4 in D Minor (Version for Orchestra by Fernando Miguel Jalôto): I. Largo

01:44

18

Avondano: Divertimento da cammera No. 4 in D Minor (Version for Orchestra by Fernando Miguel Jalôto): II. Allegro

03:01

19

Avondano: Divertimento da cammera No. 4 in D Minor (Version for Orchestra by Fernando Miguel Jalôto): III. Adagio

00:41

20

Avondano: Divertimento da cammera No. 4 in D Minor (Version for Orchestra by Fernando Miguel Jalôto): IV. [Allegro]

02:45

Francisco António de Almeida:

21

de Almeida: La Pazienza di Socrate: "Camminante, che non cura face amica"

04:19

Pietro Giorgio Avondano: Divertimento da cammera No. 5 in E Minor (Version for Orchestra by Fernando Miguel Jalôto):

22

Avondano: Divertimento da cammera No. 5 in E Minor (Version for Orchestra by Fernando Miguel Jalôto): I. Adagio

01:59

23

Avondano: Divertimento da cammera No. 5 in E Minor (Version for Orchestra by Fernando Miguel Jalôto): II. Fuga

01:30

24

Avondano: Divertimento da cammera No. 5 in E Minor (Version for Orchestra by Fernando Miguel Jalôto): III. Andante

01:40

25

Avondano: Divertimento da cammera No. 5 in E Minor (Version for Orchestra by Fernando Miguel Jalôto): IV. Allegro moderato

02:52

Total Runtime

01:10:16
Info zu Lusitano Impero: Hidden Gems of the Portuguese Baroque
In seiner ersten Aufnahme für PASSACAILLE lässt Real Câmara den Geist der exzellenten portugiesischen Hofkapelle vor dem großen Erdbeben von 1755 wieder aufleben und erweckt damit ein vergessenes Repertoire zum Leben, das einst für die Aufführung am prächtigen Hof von König Johann V. in Lissabon geschrieben wurde: von den Divertimenti von Pietro Giorgio Avondano, dem genuesischen Konzertmeister des Orchesters, bis zu Opernarien des portugiesischen Komponisten Francisco António de Almeida und der italienischen Komponisten Rinaldo di Capua und Giovanni Bononcini.
Ana Quintans, Sopran
Hugo Oliveira, Bariton
Real Camara
Enrico Onofri, Violine & Leitung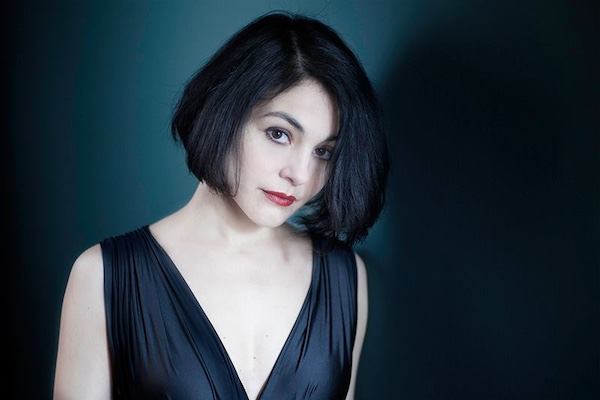 Ana Quintans
was born in Lisbon and developed her artistic skills in many directions as she did her first steps in theater and dance. After graduating in Sculpture in Lisbon Fine Arts University (1998) she studied singing at the Music Conservatory in Lisbon and joined the Flanders Operastudio in Gent (with a scholarship by Gulbenkian Foundation).
Devoting most of her work to the baroque repertoire, Ana Quintans has collaborated with many leading baroque orchestras as Les Arts Florissants; Il Complesso Barocco; Les Musiciens du Louvre; Le Poème Harmonique; Ensemble Pygmalion; Al Ayre espanol; Concerto de' Cavalieri; Il Pomo d'Oro; Les Folies Françoises; Divino Sospiro and Músicos do Tejo.
Operatic highlights include roles like Drusilla in L'incoronazione di Poppea by Monteverdi in Teatro Real de Madrid and Maggio Musicale Fiorentino; Amour in Hippolyte et Aricie by Rameau at Glyndebourne Festival; Belinda in Dido and Aeneas by Purcell at Opéra de Rouen and in Thêatre Royale de Versailles; Amore in Egisto by Cavalli in Opera Comique Paris; Jonathas in David et Jonathas by Marc-Antoine Charpentier at the festivals of Aix-en-Provence Festival and Edinburgh, BAM New York and Opera Comique Paris; Amor in Orfeo ed Euridice by Gluck in Salzburg Mozartwoche and Scottish Opera; title roles in La Spinalba and Ippolito by F. A. Almeida in Casa da Música Porto and CCB Lisbon; Ismene in Antígono by Mazzoni; Atalanta in Serse, Clizia in Teseo and Dalinda in Ariodante by Handel; First Lady and Papagena in Die Zauberflote by Mozart in TNSC in Lisbon.
Her concert repertoire ranges from Monteverdi to contemporary music. The portuguese composer Luis Tinoco wrote for her voice works like From the Depth of Distance, Songs of a solitary dreamer and the role of Nancy in Evil Machines, a musical fantasy staged by Terry Jones.
Has collaborated with conductors such as Michel Corboz; Ivor Bolton; William Christie; Marc Minkowski; Alan Curtis; Vincent Dumestre; Leonardo García Alarcón; Paul McCreesh; Antonio Florio; Enrico Onofri; Andrés Orozco Estrada; Raphael Pichon; David Alan Miller; Laurence Cummings; Marcos Magalhães; Marcello di Lisa; Aapo Hakkinen; Riccardo Minasi and Leopold Hager.
Performed as soloist in venues like Opéra de Lyon; Opéra Comique de Paris; Salle Pleyel Paris; Salzburger Festspiele; Teatro Real de Madrid; DNO Amsterdam; De Vlaamse Opera Gent; Festival d'Aix en Provence; Mariinsky Theater Moscow; Tchaikovsky Concert Hall St. Petersburg; Victoria Hall Geneva; Teatro Nacional São Carlos Lisboa; Scottish Opera; Edinburgh International Festival; Bozar Brussels; Wiener Festwochen; Teatro São Luiz Lisboa; Salle Gaveau Paris; Opera d'Avignon; Théâtre de Rouen; Centro Cultural de Belém Lisboa; Carnegie Hall New York; BAM Festival NY; Festival Ambronay; Casa da Música Porto; Helsinki Music Center; Stadttheater Klagenfurt; Lasdestheater Bregenz; Cité de la Musique Paris; Théâtre des Champs-Elysées Paris; Fundação Calouste Gulbenkian; Concertgebouw Amsterdam and La Folle Journée Tokyo.
​Recent engagements included the role of Despina in Così fan Tutte by Mozart in Glyndebourne; Ilia in Idomeneo by Mozart in TNSC Lisbon; Minerva in El Prometeo by Draghi in Opera de Dijon; Drusilla and Virtù in L'incoronazione di Poppea by Monteverdi in Salzburger Festspiele.
This season Ana Quintans is back in TNSC Lisbon with a Graham Vick 's new production of Alceste by Gluck; Amore in Orfeo ed Euridice by Gluck in Opera de Massy; is performing arias by Vivaldi and Albinoni with Concerto de' Cavalieri and Marcello di Lisa in Hamburg; and Mattheus Passion by Bach in a Romeo Castellucci's production at Gulbenkian.
Hugo Oliveira
Born in Lisbon, Portugal, Hugo Oliveira studied at the Escola Superio de Musica with Helena Pina Manique and Luis Madureira, and later at the Royal Conservatory in The Hague with Jill Feldman and Barbara Pearson, with a scholarship from the Calouste Gulbenkian Fund.
In 2009, Hugo Oliveira won first prize at the IIIrd competition of the Portuguese Rotary Foundation. Also in 2009, he won first prize at the Dutch Vocalists Presentation Foundation. He was also a finalist at the London Bach Society Competition. In concert and oratorio works, Hugo Oliveira has participated in many performances.
The most important of these works are: St Matthew Passion, St John Passion, St Mark Passion and Weihnachts-Oratorium by J.S. Bach, Vespro della beata vergine by C. Monteverdi, Invitatórios e Responsórios de Natal by Casanoves, Matthäus Passion by Schütz, Messiah, Nisi Dominus and Dixit Dominus by Handel, Christus and Lauda Sion by Mendelssohn-Bartholdy, Missa Nelson by Haydn, Stabat Mater by Haydn, Requiem, Mass in c major, and the Krönungsmesse by W. A. Mozart, Requiem by Duruflé and Fauré, Requiem by Brahms, Petite Messe Solennelle by Rossini. He also has to his credit the Cantata Verbum Caro by Nuno Corte-Real as a world premiere. Recently (April 2010), he soloed in Britten's Cantata Misericordium with the Gulbenkian Orchestra conducted by Fernando Eldoro.
In the field of opera, Hugo has performed the following works, among others: Le nozze di Figaro by Mozart, The Triumph of Time and Truth (Time) by Handel, Venus and Adonis (Adónis) by John Blow (Adónis), Les malheurs d'Orphée by D. Milhaud (Orphée), Melodias Estranhas by António Chagas Rosa (Damião de Góis). Hugo also collaborated in Wagner's Lohengrin,(Dritte Edler) with the Radio Philharmonie Orchestra conducted by Jaap van Zweden, both at the Concertgebouw Amsterdam and Salle Pleyel in Paris. In D. Milhaud's Les Malheurs d'Orphée, he sang the part of Orphée with the Ebony Band in Paris. With the madrigal-comedy La barca di Venetia per padova by A. Banchieri conducted by Gabriel Garrido and co-production by the Reisopera, he performed in major theatres in the Netherlands and Belgium.
In 2006, among others, Hugo Oliveira soloed in Heinz-Karl Gruber's opera Frankenstein, with the London Symphony Orchestra conducted by Francois-Xavier Roth. In July 2010, Hugo Oliveira will be heard in Oscar Strasnoy's opera Un Retour at the prestigious Festival in Aix-en Provence.
Hugo Oliveira has sung with orchestras such as the London Symphony Orchestra, the Gulbenkian Orchestra, Les Concerts des Nations, Schöenberg Ensemble, Düsseldorf Symphony Orchestra, Radio Symphony Orchestra, etc. Several performances took place in important European concert halls (Amsterdam, London, Paris, Madrid, Barcelona) and at several festivals in countries such as Spain, France, England, the Netherlands, Belgium and Germany.
Hugo Oliveira has worked under the direction of the following conductors, among others: Jos van Veldhoven, Laurence Cummings, Paul Dombrecht, Werner Herbers, Peter van Heyghen, Patrick Ayrton, Jaap van Zweden and Enrico Onofir, Peter Dijkstra, Fernando Eldoro.


Dieses Album enthält kein Booklet