---
Album Info
Album Veröffentlichung:
2023
HRA-Veröffentlichung:
10.08.2023
Das Album enthält Albumcover Booklet (PDF)
Jenny Beck: Someplace Sacred & Submerged:

1

Beck: Someplace Sacred & Submerged

06:49

Radiant Currents:

2

Beck: Radiant Currents

06:38

In the Ether:

3

Beck: In the Ether

06:14

Wake:

4

Beck: Wake

04:13

Total Runtime

23:54
Info zu Up To The Surface
Composer and sound designer Jenny Beck is captivated by alternative modes of listening, conjuring ambiguous sound worlds that draw from nature and a rich internal world. Up to the Surface is a four track EP of electronic music that encapsulates her reflective, textured approach. Beck's music, while subtle and inward facing, is anything but static, as various features of the sonic environment emerge to become catalysts in the gradual structural evolution of each piece.
Up to the Surface traverses a wide range of timbral territory within its ambient frame, from the shimmering chime and wind sounds of the opening of Someplace Sacred & Submerged to the intimate, processed sighs and vocal sounds at the end of Radiant Currents to the nocturnal crickets that draw us into Wake. Sound color functions as an emotional key in Beck's music, a guide into a new internal, resonant space.
Beck's approach to pitch is varied as well. Often focused pitches pass across the audio image like waves, guiding the undulating forward motion of the piece. Beck also builds larger harmonic sonorities as one of the strategies to intensify the texture. These vertical pitch collections sometimes function in a progression, pushing the music forward, while at other times they are simply the byproduct of a momentary congruence of linear material. In fact, the music on this release can often be heard from both perspectives, as Beck guides us through moments that revel in temporal suspension while a subterranean teleology is present throughout.
Much artistic work since 2020 has come to terms with the isolation imposed by the pandemic in one form or another; Up to the Surface certainly lives in that space as well. But it goes beyond a covid-specific expression, capturing a dynamic that seems particularly attuned to our current moment. In a tech saturated environment, often dominated by the loudest and most powerful voices in the proverbial room, artists seek solace in spaces that afford them control over their materials and expressive outcomes. This retreat can be seen as an act of reclamation over the technological milieu, rediscovering the intensely personal in a realm that is being hyper-commodified and lends itself to a detached emotional interface. Jenny Beck's Up to the Surface goes against the grain of these trends, delivering powerfully personal electronic music in its twenty five minutes. (Dan Lippel)
Jenny Beck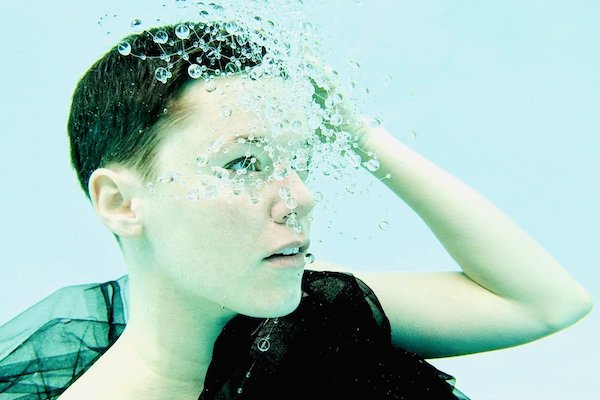 Jenny Beck
is a composer and sound designer who works with all manner of sounds and spaces. She collaborates with musicians, dancers, video game designers, and other artists to create immersive and transformative soundscapes. She grew up in rural Pennsylvania where the sounds of the woods stirred her imagination at a young age and has gone on to write music that invites listeners into alternative modes of listening, awareness, and consciousness. Working in an intensely distilled musical language, the goal of which is to forge significance for each sound, her music reflects her interests in nature, ambience, and ambiguity.
Jenny was a 2021 Gaudeamus Prize finalist as well as a 2012-22 Dodds Honorific Fellow at Princeton University. She has participated in workshops, festivals, and residencies including the 2021 RBC BRIDGES Soundstreams' Workshop for Early Career Composers, Art Farm Nebraska, the Woodstock Guild Byrdcliffe Artist in Residence program, the Florida State University Festival of New Music, the Bowdoin International Music Festival as the Kaplan Fellow in composition, the UC Davis Composition Workshop, the Copland House CULTIVATE Institute with Derek Bermel, the Norfolk New Music Workshop, Atlantic Center for the Arts Residency with Martin Bresnick, June In Buffalo, the Wellesley Composers Conference, the Tanglewood Music Center, and the Weill Music Institute Professional Training Workshop at Carnegie Hall with Kaija Saariaho.
Jenny has worked with a wide range of chamber ensembles and orchestras including Alarm Will Sound, Latitude 49, Metropolis Ensemble, Modern Medieval, Eighth Blackbird, Argus Quartet, the St. Louis Symphony Orchestra, Ensemble Mise En, the New Jersey Symphony Orchestra, Bearthoven, and SōPercussion. She also performs her own vocal work, is a member of the Princeton Laptop Orchestra (PLOrk), and leads workshops in creative sonic meditation. Jenny is currently pursuing a PhD at Princeton University.


Booklet für Up To The Surface