---
Entschuldigen Sie bitte!
Sehr geehrter HIGHRESAUDIO Besucher,
leider kann das Album zurzeit aufgrund von Länder- und Lizenzbeschränkungen nicht gekauft werden oder uns liegt der offizielle Veröffentlichungstermin für Ihr Land noch nicht vor. Wir aktualisieren unsere Veröffentlichungstermine ein- bis zweimal die Woche. Bitte schauen Sie ab und zu mal wieder rein.
Wir empfehlen Ihnen das Album auf Ihre Merkliste zu setzen.
Wir bedanken uns für Ihr Verständnis und Ihre Geduld.
Ihr, HIGHRESAUDIO
1

Pulling Mussels (From The Shell)

04:00

2

Another Nail In My Heart

02:55

3

Separate Beds

03:20

4

Misadventure

02:54

5

I Think I'm Go Go

04:16

6

If I Didn't Love You

04:10

7

Farfisa Beat

02:56

8

Here Comes That Feeling

02:05

9

Vicky Verky

03:11

10

Wrong Side Of The Moon

02:25

11

There At The Top

03:48

Total Runtime

36:00
Info zu Argybargy (Remastered)
Argybargy is the third album by British pop/new wave band Squeeze. Argybargy was released in February 1980 peaking at 32 in the UK Albums Chart spending 15 weeks in that listing. It would be the last album featuring founding member Jools Holland until Squeezes first reunion album 1985s Cosi Fan Tutti Frutti. Squeeze came to prominence in the United Kingdom during the new wave period of the late 1970s and continued recording successfully in the 1980s and 1990s. Though not as commercially successful in the United States Squeeze had American chart hits and have a dedicated following there and continue to attract new fans. All of Squeezes hits were written by band members Chris Difford and Glenn Tilbrook with the former penning the lyrics and the latter handling the composition. The duo were hailed as the heirs to Lennon and McCartneys throne during their peak of popularity in the early 1980s.
"If any one album were responsible for sowing the seeds of Chris Difford and Glenn Tilbrook's reputation as the new Lennon and McCartney, it's Argybargy, Squeeze's third album and undisputed breakthrough. Squeeze made a great leap forward between their awkward debut and its great sequel, Cool for Cats, but that distance is small compared to the gap between Cool for Cats and Argybargy. Cool for Cats was the work of a rock & roll band -- one that lathered on the keyboards and herky-jerky rhythms, but these were kind of variations on one sound (if not quite one theme). Argybargy doesn't stay in one place; it's restless and crackling with colors, bursting into life with "Pulling Mussels (From the Shell)," a vivid portrait of a seaside vacation where Difford's vignettes are made all the more vivid by Tilbrook's bright, invigorating pop. As the band's chief melodicist, it's easy to place much of the weight of Squeeze's progression on either Tilbrook or perhaps the band as a whole, as one of the lingering impressions of Argybargy is its brilliant sparkle, how the pop gleams yet is muscular, yet Difford's storytelling and character sketches are improving at a rapid rate, too. This is not foreign territory for Difford -- the previous album's "Up the Junction" was a remarkable story in miniature and it finds a near explicit single in this album's "Vicky Verky" -- but he's honing his wit and sharpening his observations, heard clearly on the clutch of singles that drive the album: the aforementioned "Pulling Mussels (From the Shell)," the nervy breakup tune "Another Nail for My Heart," and the wonderfully wry "If I Didn't Love You," where Difford anticipates Nick Hornby's High Fidelity with his summation "Singles remind me of kisses/Albums remind me of plans." Singles may give Argybargy momentum but this isn't just surface; the group stretches into some spacy territory on "I Think I'm Go Go," "Misadventure" bristles with pent-up excitement, "There at the Top" bounces to a Motown beat, and "Separate Beds" is one of Difford and Tilbrook's best tunes, capturing the awkwardness of staying at a girlfriend's parents' house for the first time. Not the typical subject for a pop song and the best indication of how Squeeze were deepening. They had not yet left their rock & roll roots behind -- they can kick out agreeable throwaways like "Farfisa Beat" without missing a step, and they give Jools Holland some time to play the boogie-woogie on "Wrong Side of the Moon" -- but with Argybargy it was clear that Squeeze were at the top of the pack among new wave popsters, and that their sardonic yet lively voice was unique among any pop group before or since." (Stephen Thomas Erlewine, AMG)
Squeeze
Digitally remastered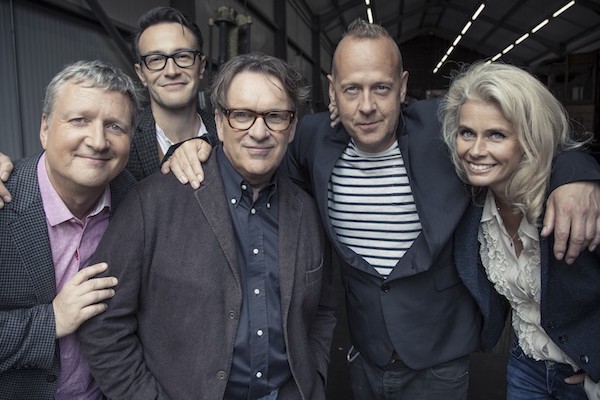 Squeeze
It's 1973 in South London. Teenage friends Chris Difford and Glenn Tilbrook form the band that will see them dubbed 'The New Lennon and McCartney'. Over 35 years later, with their legacy intact and as vital as it has ever been, Squeeze are still touring and reminding fans worldwide just why they have left such an indelible impression on the UK's music scene.
As teenagers on the South London scene, Squeeze – setting out their stall early on by facetiously naming themselves after a poorly-received Velvet Underground album, and at the time also comprised of Jools Holland on keys, Harry Kakouli on bass and Paul Gunn on drums – became a fixture of the burgeoning New Wave movement. When Gilson Lavis replaced Gunn on drums everything seemed to fall into place, and word of mouth soon spread about the band – ironically, it was none other than Velvet Underground man John Cale who caught wind in 1977 and offered to produce their debut EP 'Packet Of Three' and much of the ensuing album.
Yet it was second album 'Cool For Cats', released in 1979, which cemented their place as one of Britain's most important young bands. Featuring the classic single 'Up The Junction' as well as the title track, it was many listeners' first introduction to the witty kitchen-sink lyricism and new-wave guitar music that has become the band's trademark. With albums 'Argybargy' and the Elvis Costello-produced 'East Side Story', Squeeze even started to make waves across the pond, although in 1980 former Roxy Music and Ace – and future Mike + The Mechanics – man Paul Carrack would replace Jools Holland, going on to lend his unmistakable vocals to the smash hit 'Tempted'.
By 1984 Squeeze had disbanded. The chemistry between Tilbrook and Difford could not be as easily dismissed however, and the ensuing record they made together has become the "lost" Squeeze album for many fans. But the band couldn't lay dormant for long, as Squeeze reformed the next year for 'Cosi Fan Tutti Frutti', along with Holland, Lavis and Keith Wilkinson, Squeeze's longest serving bass player. Over the next 12 years Difford and Tilbrook remained the only constant element as Squeeze continued to receive critical acclaim, release albums and tour, with the likes of 'Hourglass' becoming their biggest ever hit in the USA.
Despite an official Squeeze break-up in 1999, Difford and Tilbrook continued to make music and gig with the same enthusiasm and abandon that they brought to Squeeze's first EP, either with their own solo projects or with each other. Chris Difford has released three solo albums to date, and toured the country several times with his unique one man show – while Glenn Tilbrook, meanwhile, has also released three solo albums, with 2009's 'Pandemonium Ensues' heralding the debut of his other band The Fluffers and saw him recording with Johnny Depp and Vanessa Paradis. He too has toured relentlessly with The Fluffers, and most recently has recorded an album as "The Co-Operative" with blues veterans 9 Below Zero.
Charitable work also plays a large role in their lives – Tilbrook has also been an active member of the Love Hope Strength Foundation, which sees him join fellow musicians such as founder Mike Peters (The Alarm), going on treks and climbing some of the globe's greatest landmarks in order to raise money to help treat cancer sufferers throughout the world. Difford meanwhile spends many hours working with recovering addicts and alcoholics in prisons and rehab centers, with musical workshops, performances, and by telling his own inspirational life story. Chris like Glenn has released his own solo work most notably with Francis Dunnery on the much-acclaimed album I didn't get where I am.
As befits one of the UK's much-loved acts, there is no end of Squeeze fans currently wearing their influences firmly on their sleeve, whether it be Mark Ronson, Kasabian, Supergrass, Lily Allen, The Feeling or Razorlight. With their fingerprints keenly felt throughout the fabric of popular music, it is only right that these songs, with their evergreen and popular sound, continue to be played and enjoyed live. And so since 2007, a newly reformed Squeeze have been slowly finding time to play a series of gigs and festival dates, preferring to reaffirm their abilities as a band rather than follow some of their peers who have come out in a blaze of publicity, only to be met with disappointment.
The new Squeeze line-up, their most able yet, is completed by Squeeze veteran John Bentley, Simon Hanson and Stephen Large who has also recently graced the stages of Duffy and Rebecca Ferguson – and has become an instant favorite on the festival circuit since reforming, with 2 appearances at V, Oxegen, T in the Park, Womad and Latitude to name a few. They are about to embark on their 3rd US tour, built around an appearance at the prestigious and world famous Coachella festival. They return to the UK to play selected Summer festivals including Hampton Court and Cropredy – before embarking on a national 20 date tour in November.
Now the subject of a major BBC documentary in the works, Difford and Tilbrook are also working on the first new Squeeze material in over 15 years.
Squeeze's contribution to music has been noted in 2010 with the site of their first gig being awarded a prestigious PRS For Music Heritage Plaque, which has so far commemorated the debuts of Blur and Dire Straits. It joins an ever-increasing list of Squeeze accolades alongside their recent Ivor Novello for Outstanding Contribution to British Music and their Nordoff-Robbins Icon Award and the Mojo Icon Award.
Chris Difford and Glenn Tilbrook have survived everything over the years, from the ever-changing musical landscape to their own internal reshuffles and acrimonious breakups – still going strong and still loving every moment.


Dieses Album enthält kein Booklet