---
Album Info
Album Veröffentlichung:
2019
HRA-Veröffentlichung:
01.11.2019
Das Album enthält Albumcover Booklet (PDF)
?
Formate & Preise
| | | | |
| --- | --- | --- | --- |
| Format | Preis | Im Warenkorb | Kaufen |
| FLAC 176.4 | $ 18,90 | | |
| FLAC 88.2 | $ 15,80 | | |
| MQA | $ 19,80 | | |
| DSD 64 | $ 18,90 | | |
1

I denne søte juletid

04:31

2

Det lyser i stille grender

02:57

3

På jorden fryd og glede

03:11

4

Glade jul

04:11

5

Sancta Maria

03:26

6

Sov, sov liten gut

02:25

7

Julekveld

02:47

8

Ave Regina Caelorum

06:19

9

Deilig er den himmel blå

03:58

10

Kling no klokka

04:42

11

No kimer alle klokkun

04:25

12

O jul med din glede

02:10

13

Northern Lights (Pulchra es, amica mea)

04:40

14

Marias vuggesong

03:07

Total Runtime

52:49
Info zu Fryd
With Fryd [Eng. 'joy'], Cantus invites you on a musical journey that starts in the meeting of two significant female figures: Mother and Mary. We wish to make a tribute to the Norwegian mothers who each year conjures up Christmas for the children through all kinds of Christmas preparations. At the same time it is a celebration of the Christian maternal figure, Mary, who gave God's son to humanity. It is a meeting between the child in the manger, the new king, and the excited children longing for a Christmas filled with experiences and joy. In this way, these simple names – mother and Mary – embrace the message of Christmas and the exquisite joy we all know so well.
Musically the Christmas traditions are rich both in and outside the church. Several of our most beloved Christmas carols, such as Glade jul, are based on folk music. But there are also hidden treasures in folk music that we wish to bring into the light, and this made Unni Boksasp and Trygve Brøske obvious choices for collaboration.
Soloist and folk singer Unni Boksasp has established herself as a central practitioner within Nordic folk music.To Fryd she has brought forth lesser known Christmas songs from the mid-Norwegian folk music tradition. Unni Boksasp represents an exciting musical landscape with the use of quarter tones and curls. Pianist, composer and arranger Trygve Brøske has created the melody of Julekveld and arrangements for several new musical works written specifically for Fryd. With a broad background from contemporary, classical and traditional folk music, Brøske uses his versatile musicality to enrich old tones with new colours.
Female choir Cantus, conducted by Tove Ramlo-Ystad, is known for its distinctive sound, that has the character of simple, natural voices which are allowed to sound freely, but at the same time maintains homogeneity and personality. Cantus always strives to be innovative, and often combines different music traditions in search of new and exciting expressions.
With Fryd Cantus explores the musical traditions of Christmas; from the older, little-known folk music related to the holidays, via some of our great Norwegian Christmas favorites in arrangements written specifically for Cantus, to brand new contemporary music. The music is presented both a cappella and in collaboration with, among other things, instruments like organ and the traditional instrument zither in Trygve Brøske's innovative arrangements.
New choral works with lyrics from the Mass bring to mind Mary's journey towards Bethlehem, while Unni Boksasp's soft tones and Trygve Brøske's distinct folk music expression reminds us of our own heritage and traditions in Norwegian Christmas celebrations.
In 2013 Cantus contributed in Disney's movie Frozen, and again in the sequel Frozen 2 in 2019. With Spes released in 2015 (Best Surround Sound Album 58th GRAMMY Nominee), Fryd is the choir's second album released in collaboration with 2L.
Cantus Tove Ramlo-Ystad, conductor
Unni Boksasp, vocal, zither
Trygve Brøske, upright piano, organ, harmonium
Bendik Lund Haanshus, cittern, guitars
Magne Vestrum, double bass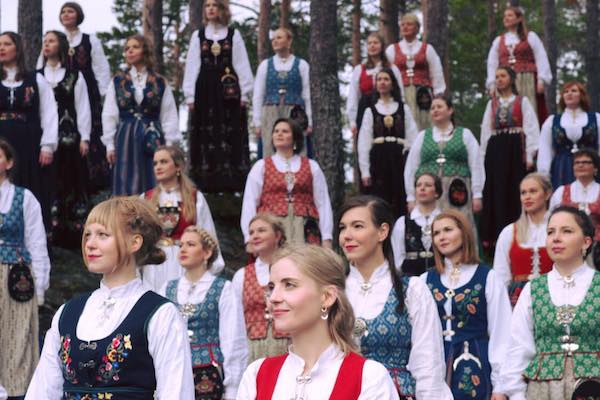 Cantus
was founded in 1986 by a group of teenage girls who wanted to sing in a choir where they themselves could be in charge. More than 20 years later, Cantus is still a choir which likes to follow its own ideas. A lucky strike led to the crossing of the paths of the newly founded choir and the young singer and conductor Tove Ramlo. Tove became Cantus' first, and so far, only conductor.
Versatility has always been one of the main characteristics of Cantus. During our entire existence we have altered between different musical genres and feel as much at home with popular music, folk music and jazz as with contemporary music and the classical choral music. We have participated in a number of international choir competitions and we believe that this has helped us to focus and perform at our best when needed. In addition to this we have also put up a number of stage performances with popular music which train us in communication with our audience. Both of these approaches have been equally important in the forming of our identity.
The members of Cantus are all amateur singers and we spend a lot of time on the choir both artistically and with the running of the organization. Being a member of Cantus is a time-consuming activity but we have great fun. And all this time we have been in charge ourselves.
Tove Ramlo-Ystad
has been Cantus' conductor since the choir was founded in 1986. Tove has a permanent position in Cantus but the relationship between Tove and Cantus is much more than a simple contract. The growth and reputation of Cantus is firmly linked to Tove and her creativity.
Tove was educated from Trøndelag Conservatory of Music followed by a Master Degree in music from the Norwegian University of Science and Technology. She has continued studying choir direction with Stefan Skiöld and more recently with Anders Eby, Professor of choir direction at the Royal College of Music in Stockholm, Sweden.
For many years Tove worked full-time as a freelance choir instructor but has recently taken up a part-time position at the Norwegian Choir Association, South Trøndelag Region.
Tove Ramlo-Ystad is one of Norway's most acknowledged choir conductors. She is a very popular and inspiring guest conductor nation-wide and she is frequently used as an adjudicator in international choir competitions.


Booklet für Fryd