---
Album Info
Album Veröffentlichung:
2023
HRA-Veröffentlichung:
21.09.2023
Label: Signum Records
Genre: Classical
Subgenre: Choral
Interpret: The King's Singers
Komponist: Makiko Kinoshita (1956), György Ligeti (1923-2006), Francesca Amewudah-Rivers, Joe Hisaishi (1950), Judith Bingham (1952), Malcolm Williamson (1931-2003), Paul Patterson (1947)
Das Album enthält Albumcover Booklet (PDF)
Makiko Kinoshita (b. 1956): Ashita no uta:

1

Kinoshita: Ashita no uta

03:08

György Ligeti (1923 - 2006): Nonsense Madrigals:

2

Ligeti: Nonsense Madrigals: I. Two Dreams and Little Bat

02:10

Ola Gjeilo (b. 1978): A Dream within a Dream:

3

Gjeilo: A Dream within a Dream

07:22

György Ligeti: Nonsense Madrigals:

4

Ligeti: Nonsense Madrigals: II. Cuckoo in the Pear-Tree

01:35

Francesca Amewudah-Rivers: Alive:

5

Amewudah-Rivers: Alive

04:42

György Ligeti: Nonsense Madrigals:

6

Ligeti: Nonsense Madrigals: III. The Alphabet

03:28

Joe Hisaishi (b. 1950): I Was There:

7

Hisaishi: I Was There

08:27

György Ligeti: Nonsense Madrigals:

8

Ligeti: Nonsense Madrigals: IV. Flying Robert

03:00

Judith Bingham (b. 1952): Tricksters:

9

Bingham: Tricksters

09:43

György Ligeti: Nonsense Madrigals:

10

Ligeti: Nonsense Madrigals: V. The Lobster Quadrille

01:47

Malcolm Williamson (1931 - 2003): The Musicians of Bremen:

11

Williamson: The Musicians of Bremen

10:14

György Ligeti: Nonsense Madrigals:

12

Ligeti: Nonsense Madrigals: VI. A Long, Sad Tale

01:38

Paul Patterson (b. 1947): Time Piece:

13

Patterson: Time Piece

09:45

Total Runtime

01:06:59
Info zu Wonderland
Das Album Wonderland der King's Singers steckt, wie der Name und das Cover schon verheißen, voller Magie und Mythen. Die Aufnahme bei SIGNUM CLASSICS enthält dabei ausschließlich Werke, die von den King's Singers in den mittlerweile 55 (!!!) Jahren ihres Bestehens in Auftrag gegeben wurden, und feiert dabei gleichzeitig auch eines ihrer besonderen Markenzeichen: das musikalische Erzählen von Geschichten, wobei natürlich auch die Komik nicht zu kurz kommt.
György Ligetis sechs Nonsens-Madrigale, die jeweils verspielte Kindergedichte oder Auszüge aus Lewis Carrolls Alice's Abenteuer im Wunderland vertonen, bilden das musikalische Rückgrat des Albums und erinnern an den 100. Geburtstag des Komponisten in diesem Jahr. Das Märchen The Musicians of Bremen – vertont vom australischen Komponisten und »Master of the Queen's Music« Malcolm Williamson – wurde vor etwas mehr als 50 Jahren komponiert und steht neben Time Piece (1972) von Paul Patterson, das eine exzentrische alternative Schöpfungsgeschichte erzählt.
Zu diesen mythenbasierten Werken gesellen sich neuere Stücke wie Judith Binghams erweitertes Werk Tricksters (2019), in dem es darum geht, was passieren könnte, wenn Schurken aus verschiedenen Weltmythologien zum ersten Mal zusammenkommen, und Ola Gjeilos A Dream within a Dream, das das Wesen von Wahrnehmung und Realität hinterfragt. Das Album enthält auch das erste Chorwerk des legendären japanischen Film- und Spielekomponisten Joe Hisaishi, I was there (2022), das sich mit der kulturellen Erinnerung an tragische Ereignisse wie den 11. September 2001 und das Erdbeben in Japan 2011 befasst. Themen der Hoffnung und Positivität, die sich auf die natürliche Welt konzentrieren, tauchen in Makiko Kinoshitas Ashita no uta (Song for Tomorrow, 2020) und Francesca Amewudah-Rivers' Alive (2022) auf.
The Kings Singers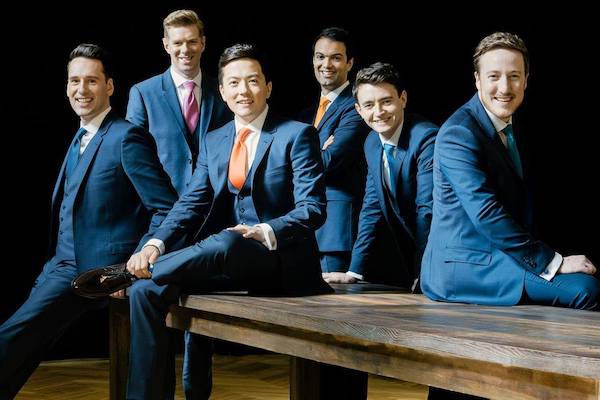 The King's Singers
Acclaimed worldwide for their virtuosity, life-affirming energy and charm, The King's Singers are in global demand. Their work, synonymous with the very best in vocal ensemble performance, appeals to a vast international audience. Performing to hundreds of thousands of people each season, the group tours regularly to Europe, North and South America, Asia and Australasia. Instantly recognisable for their immaculate intonation, vocal blend, diction and incisive timing, The King's Singers are consummate entertainers.
The group's repertoire has evolved to become one of the most diverse and compelling imaginable. The King's Singers have commissioned over 200 works, including landmark pieces from leading contemporary composers including Luciano Berio, György Ligeti, Sir James MacMillan, Krzysztof Penderecki, Toru Takemitsu, Sir John Tavener, Gabriela Lena Frank and Eric Whitacre. They have also commissioned arrangements of everything from jazz standards to pop chart hits, explored medieval motets and Renaissance madrigals, and encouraged young composers to write new scores.
In addition to performing to capacity audiences and creating highly regarded and much-loved recordings, The King's Singers share their artistry through numerous workshops and masterclasses around the world. In June 2017, the group will host their inaugural U.S. Summer School at DePauw University, Indiana and in July 2017 will return for their 3rd U.K. Summer School at Royal Holloway (part of the University of London) where they are also Ensemble in Residence. Among the work supported by The King's Singers Foundation, A Carol for Christmas is a composition competition that seeks to encourage young and up-coming composers, giving the winners the chance for their piece to be performed in King's College Chapel (Cambridge, UK).
Double Grammy® award-winning artists, the group were honoured in 2009 for their Signum Classics release, Simple Gifts, and again in 2012 for their contribution to Eric Whitacre's Light and Gold album on Universal/Decca. Recently voted into Gramophone Hall of Fame, rave reviews and repeated sell-out concerts confirm that The King's Singers remain one of the world's finest vocal ensembles.


Booklet für Wonderland