---
Album Info
Album Veröffentlichung:
2021
HRA-Veröffentlichung:
16.04.2021
Das Album enthält Albumcover
1

The Waning (Pt. 1 & 2)

07:28

2

Kingdom of Oblivion

06:56

3

Lady May

03:21

4

The United Debased

09:03

5

The Watcher

05:03

6

Dreamkiller

05:15

7

Atet

02:16

8

At Empire's End

08:35

9

The Hunt

05:45

10

After the Fair

01:57

11

The Transmutation of Cosmoctopus Lurker

10:55

12

Cormorant

03:37

Total Runtime

01:10:11
Info zu Kingdom of Oblivion
Nicht nur, dass Motorpsycho's 2020er-Album "The All is One" für einen norwegischen Grammy in der Kategorie "Bestes Rock-Album" nominiert wurde, erst kürzlich kündigte die Band auch ein neues Album mit dem Titel "Kingdom of Oblivion" an!
"Es ist uns klar, dass TAIO ein ziemlich breites Publikum erreicht hat, und wir sind so dankbar wie immer, dass ihr euch die Zeit nehmt, euch anzuhören, was wir machen." kommentiert die Band auf ihrer Homepage. "Es ist wirklich wichtig für uns, keine Oldie-Band zu werden, die sich nur mit Nostalgie beschäftigt, und der einzige Weg, das zu vermeiden, ist, weiterzumachen und zu versuchen, Musik zu machen, die dem treu ist, was wir sind. Wenn ihr eure Wertschätzung zeigt, indem ihr die neuen Platten kauft und nicht nur nach den alten Schlagern schreit, dann fühlt sich das alles lohnenswert und wichtig an, und das ist alles, was wir verlangen können. Vielen Dank dafür! Zu diesem Thema ... wir haben eine neue Platte, die in ein paar Monaten herauskommt!"
Hard times call for big riffs. Unendlich scheint ihr kompositorischer Drang und der Wille, der Pandemie mit der Macht großer Gitarrenriffs und ausladender Songs zwischen Prog und Hardrock zu begnen. Dabei sind Bent Saether und Hans Magnus Ryan, die wieder den Drummer Tomas Järmyr an ihrer Seite haben, keinesfalls melancholischer oder introvertierter unterwegs wie manch anderer zu Corona-Zeiten, sondern zelebrieren die Pracht ihres Können auf eindrucksvolle Weise. Das norwegische Trio zeigt sich in vielen Albumteilen so riff- und hardrocklastig wie seit "Heavy metal Fruit" nicht mehr, greift aber genauso auch auf 70er-Jahre-Einflüsse zurück und ornamentiert vereinzelt mit Flötenpassagen und an Led Zeppelin erinnernden Ausführungen. in Neues Album des ! Harte Zeiten verlangen nach grossen Riffs ! Motorpsycho sind bereits 1 Jahr nach Veröffentlichung von "The All is One" und dem Abschluss ihrer "Gullvåg Trilogy" zurück mit einem neuen Studio-Album, das erneut im Black Box Studio (Frankreich) und im heimischen Trondheim fertig gestellt wurde. Manche Musiker sind mit ihren Alben und neuen Produktionen in der Corona-Zeit introvertierter und melancholischer geworden, Motorpsycho stellen den Freiheitsbeschränkungen durch den Virus ihr bis dato Riff- und Metal-lastiges Album seit "heavy metal Fruit" entgegen. Im Entstehungsprozess zu Kingdom of Oblivion ging es den 3 Norwegern aber nicht nur um das Zentrum 'a pure hard rock record', zu entwickeln, sondern aus 'Kingdom Of Oblivion' wurde viel mehr als das, aufgrund der vielen Einflüsse der Band entstanden Songs, die in etwas so klingen, als hätten The Incredible String Band, Fleetwood Mac und Bert Jansch sich zu einer gemeinsame Session von Tony Iommi Unterstützung geholt.
"Mit Hardrock-Krachern und leisen Balladen, kurzen und langen Stücken, Retro-Perspektiven und futuristischen Ausblicken übertrifft dieser Bund von Wahnsinnigen sich einmal mehr selbst." (stereoplay)
Motorpsycho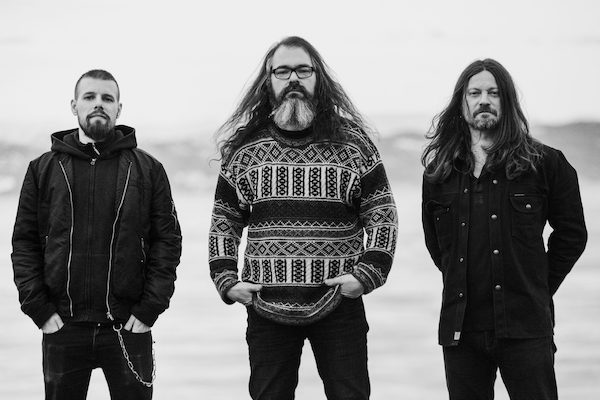 Motorpsycho
has its origins way back in the mid-1980s, when teenage Norwegian metal heads Hans Magnus 'Snah' Ryan and Bent Sæther met. Agreeing that Rainbow Rising was the finest album ever recorded by anyone (a statement often thereafter and still to this day often amended and adjusted), the two later attended the same high school and played together in their first bands in the central Norwegian town of Steinkjer.
After graduation their ways parted, but less than two years later, in 1989, they again met – this time in Trondheim, where Bent attended university and worked as a DJ at the local college radio station. Having started a band for fun with Kjell Runar 'Killerkjell' Jensen and a couple of other DJ friends from work, 'Aural Blow-job' were in need of a new guitar player when a chance meeting on the bus rejoined the two. Later that fall, a record hunting trip to London provided the fledging power trio with a new name, and Motorpsycho was born.
Recording their first demo tape in January 1990, and playing their debut gig supporting TRBNGR at UFFA in Trondheim in April, the young band gigged as much as possible around Norway in the following months. They recorded what became their debut album Lobotomizer in Oslo in December 1990, signed with Oslo-based indie label Voices Of Wonder in May 1991, released the album in September, changed drummers and brought in Håkon Gebhardt to replace Killerkjell in October, and played their first foreign gigs in Denmark in December(!).
The new recruit was a friend of Snah's from their year at Gauldal folk high school. A Tromsø-born multi-talent, Gebhardt was exactly what was needed at exactly the right time, and a new musical chemistry soon blossomed. Recording their sophomore effort, the Soothe mini-album, in the local Brygga Studio in Trondheim in January 1992, and following the mini album with two 7" singles later in the year to increasingly better acclaim, the band's fortunes were on the rise when they in September added a fourth member, noise enthusiast and art school student Helge 'Deathprod' Sten. With his arrival, an avant-garde influence crept into the bands hitherto pretty straight-up post-hardcore psychedelic guitar rock, and when the quartet came out of Brygga Studio in December 1992 with double-LP Demon Box under their belt, a new standard was set.
Arguably still one of their finest efforts, and certainly the album on which their reputation was made, Demon Box was perceived as a radical shift in focus for the band, but in reality Deathprod's arrival had basically removed the young band's blinders and opened up their horizons to all the music they were interested in: no longer were there rights or wrongs and all forms of musical expression was from now on valid if done right: musical diversity was redefined as an asset and was from now on to be indulged. A huge success locally, Motorpsycho was the happening band in Norway when a third European tour that fall in support of the Mountain E.P. presented the band to enthusiastic European audiences.
After finishing the recordings that in the fall of 1994 were released as behemoth triple album Timothy's Monster early in the year, a burned-out Deathprod threw in the towel and retired from touring. He was retained as a co-conspiracist and producer for the next decade, but live his role was supplanted by a variety of members in the following years. The first addition was Brygga Studio owner/engineer Lars Lien who reported for keyboard duties for two tours in support of the Another ugly EP in 1994 before handing the hot seat over to light engineer-turned keyboardist-turned guitarist Morten Fagervik the following year.
Timothy's Monster was a logical extension of the free-for-all musical universe Motorpsycho established on the Demon Box, and in many ways surpassed its predecessor both artistically and commercially. It was released on EMI records domestically, and on the newly established Stickman Records outside of Norway, marking the start of a long and fruitful relationship that continues to this day.
The album was a success: the acclaim was wider and the audiences bigger, so when the innocent c&w-flirt/side project Soundtrack from The Tussler was sprung on an unexpected public mere months later, confusion reigned supreme for a week or two. This was the first incarnation of the less serious, playful side of Motorpsycho shown to the public. The grunge era had been anything but light and playful, and the climate of the day dictated that artists preferably behaved surly and as if they had heroin habits, so when Motorpsycho and a few friends released c&w versions of their own songs in an homage to Gram Parsons, Jerry Garcia, Doug Dillard and other first generation longhair-country purveyors, quite a few minds were blown. What was this? ...


Dieses Album enthält kein Booklet