---
Album Info
Album Veröffentlichung:
2020
HRA-Veröffentlichung:
28.02.2020
Das Album enthält Albumcover
Entschuldigen Sie bitte!
Sehr geehrter HIGHRESAUDIO Besucher,
leider kann das Album zurzeit aufgrund von Länder- und Lizenzbeschränkungen nicht gekauft werden oder uns liegt der offizielle Veröffentlichungstermin für Ihr Land noch nicht vor. Wir aktualisieren unsere Veröffentlichungstermine ein- bis zweimal die Woche. Bitte schauen Sie ab und zu mal wieder rein.
Wir empfehlen Ihnen das Album auf Ihre Merkliste zu setzen.
Wir bedanken uns für Ihr Verständnis und Ihre Geduld.
Ihr, HIGHRESAUDIO
1

Boquiñeñe (2020 Mix)

03:35

2

La Música Cubana (2020 Mix)

05:16

3

Boliviana (2020 Mix)

04:13

4

Me Voy Pa Sibanicú

04:33

5

Buenos Hermanos (2020 Mix)

04:38

6

Mil Congojas (2020 Mix)

03:35

7

Ojos Malvados

04:50

8

Guaguancó Callejero (2020 Mix)

04:35

9

Hay Que Entrarle a Palos a Ése (2020 Mix)

04:05

10

Perfume de Gardenias (2020 Mix)

04:44

11

Como el Arrullo de Palma (2020 Mix)

04:02

12

Mujer

04:41

13

No Tiene Telaraña (2020 Mix)

05:09

14

Ven Conmigo Guajira

04:45

15

Naufragio (2020 Mix)

03:51

16

Fuiste Cruel (2020 Mix)

04:30

17

Oye el Consejo (2020 Mix)

03:54

Total Runtime

01:14:56
Info zu Buenos Hermanos (Special Edition) (Remastered)
World Circuit will release a very special edition of Buena Vista vocalist Ibrahim Ferrer's Grammy-winning second solo album 'Buenos Hermanos' on 28th February. Originally released in 2003, 'Buenos Hermanos' was acclaimed as an audacious and assured album firmly rooted in tradition, whilst expanding the horizons of 21st Century Cuban music with its varied repertoire and modern sound. Producer Ry Cooder has now gone back to the original tapes to re-mix the whole album, adding four previously unheard tracks from the original album sessions to a brand new sequence, creating a completely reimagined 'Buenos Hermanos'. "It's better than ever, if I may say," comments Ry on the new mixes. "We went back into the session tapes and found songs that were overlooked for some reason, and you're going to be as thrilled as I am. We've really polished it up and improved it and expanded it, it sounds almost brand new. There's one thing for sure: we need something good, something beautiful in these days and times." The first newly released track 'Ven Conmigo Guajira' is a lively interpretation of a classic Cuban country song in the romantic dance hall style. Available to listen to now, the song was originally penned by the renowned composer & bandleader Francisco 'Machito' Grillo (who died while performing at Ronnie Scott's in 1984). "We must have been crazy to leave that out," says Ry of the track, "That's the best version of that song I've ever heard." The reimagined version of the album also features refreshed cover artwork, featuring an alternative photograph from the original album shoot by Christien Jaspars.
Having retired from nearly 40 years of performing, Ibrahim Ferrer was shining shoes in 1996 when he was approached by Afro-Cuban All Stars' band-leader Juan de Marcos González to sing on the sessions that would become the original Buena Vista Social Club album. The record was released to phenomenal reception the following year, going on to sell over 8 million copies and catapulting Ferrer and his fellow musicians to international fame. 'Buenos Hermanos' followed Ferrer's first solo album 'Buena Vista Social Club Presents Ibrahim Ferrer' and was hailed at the time as a selection of fresh takes on classic songs and thrilling examples of the romantic ballads and boleros for which Ferrer was justly famed. It won the Grammy for Best Traditional Tropical Latin Album that year. The handpicked core band is an unusual ensemble that combines the Cubans Orlando 'Cachaíto' López (bass) and Manuel Galbán (electric guitar, piano and organ), Ry Cooder (guitars), the esteemed Chucho Valdés (piano) and Miguel 'Angá' Díaz (congas). Additional inspired flavouring comes courtesy of accordionist Flaco Jimenez, the gospel-charged voices of the Blind Boys of Alabama and the ambient trumpet of Jon Hassell. Ferrer brings to these songs not only his ripe and long-standing vocal mastery, but a confidence and self-assurance that, according to Cooder, puts him up there alongside such all-time giants of Cuban music as Ferrer's own personal hero, Beny Moré. "These are songs that make me feel younger," said Ferrer at the time. "I have put my deepest feelings into them and it's my way of giving something back to my listeners and thanking them for their support. I enjoy feeling there is something inside what I am singing."
"Ferrer is on stunning form, coaxing endlessly subtle nuances from a set of finely crafted original songs… heavenly" (The Guardian)
"The Cuban maestro has hit top form" (Q)
"A stylish vocalist, possessed of a wonderfully nuanced interpretive gift" Billboard "A classic from top to tail" (MOJO)
"An excellent bolero singer" (The New York Times)
"A remarkable vocal talent" (Jazzwise)
"Ferrer was not only the last of the great son singers from Cuba, but he was also a one-of-a-kind vocalist—a carefree performer who can move audiences with innate grace and style" (Newsweek)
"Nicknamed the Cuban Nat King Cole for his soft and calm voice whose light vibrato was well suited to sentimental melodies" (Le Parisien)
Digitally remastered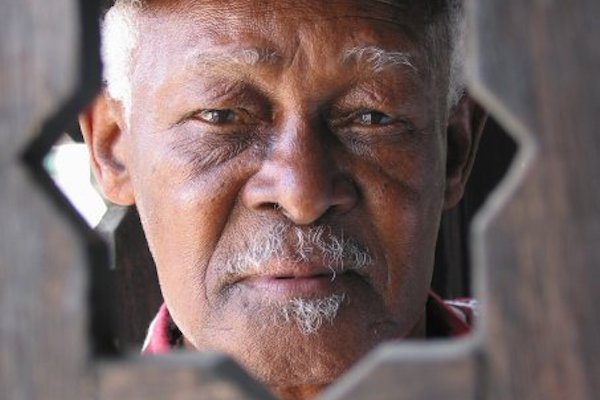 Ibrahim Ferrer
was the voice of the Buena Vista Social Club, the group of veteran Cuban musicians propelled to worldwide fame in the late 1990s by the world's rediscovery of the island's music. One of the greatest Cuban singers, Ibrahim remained a charming and humble man unaffected by the newfound stardom he enjoyed in his twilight years; his story is both remarkable and life affirming.
He was born on February 20th, 1927, in San Luis, near Santiago in eastern Cuba, the part of the Island where most of Cuba's musical genres were born such as traditional son – Cuba's blend of African and Spanish music, and the elegant European influenced danzón. Appropriately, his mother went into labour with him at a social club dance, and Ibrahim liked to say that he heard the rhythm of son in the womb. He grew up in Los Hoyos (a barrio of Santiago de Cuba), which was a focal point for the rumba and the conga, and where music was an integral part of everybody's life.
By the age of twelve Ibrahim had lost both of his parents and had to support himself as a street vendor, selling sweets and popcorn. Ibrahim's musical career began two years later when he and his cousin started a group, Los Jóvenes del Son (The Young Men of Son), to play neighbourhood parties. At their first performance he earned one peso fifty – 'and I felt like a millionaire!' he said. Ibrahim also worked as a carpenter and a docker, but with Santiago being the heartland of the son he would soon be playing regularly at dances and carnivals in the region. People were beginning to take notice of Ibrahim, who in his twenties was developing his skills with a number of groups including Conjunto Sorpresa, Conjunto Wilson and Pacho Alonso.
In 1955, he had a hit record, 'El platanar de Bartolo' (Bartolo's Banana Field), with Orquesta Chepín-Chóven, Santiago's top group. On the strength of this he moved to Havana in 1957, where he worked with the legendary Orquesta Ritmo Oriental and the great Beny Moré – perhaps the most important Cuban musician of the twentieth century – before reuniting with Pacho Alonso to form Los Bocucos, named after a drum used in Santiago carnivals. In all of these incarnations, Ferrer was employed primarily to sing guarachas, and sones. Ibrahim felt that his ability as a thrilling rhythmic improviser in these up-tempo styles thwarted his ambitions to sing boleros, the slower, more romantic and intimate ballads he loved.
In the early sixties Los Bocucos came to Europe at the invitation of the Communist Party, playing Paris, Prague and Moscow, where Ibrahim met Soviet leader Nikita Kruschev on the eve of the Cuban missile crisis. 'He asked me what we thought of the missile situation, but we'd been away on tour for two months and I didn't know what he was talking about,' recalled Ibrahim. Although the imposition of the American boycott severely curtailed the opportunites to perform outside of Cuba, Ferrer felt that this political situation helped Los Bocucos improve, 'because we weren't playing for tourists so much there was a greater identification between the musicians and the audience.' Ferrer remained with Los Bocucos until his retirement in 1991. On leaving the music business he supplemented his income by selling lottery tickets and shining shoes.
Then, one afternoon in 1996, at the Buena Vista sessions, Ry Cooder asked if there was a softer voice that could be found for a bolero. Juan de Marcos González immediately thought of Ibrahim and came to his house. At first, 'I wasn't interested,' said Ferrer. 'I had suffered a lot through music. I felt… I don't know how to say it… disappointed by my life in music. But he went on until I agreed to record a number with him. I told him I could not go anywhere without getting ready. He said, "No, no, they are doing the recording now!" So, I left the shoes I was shining, and went with him to Egrem Studios.' 'When I arrived at the recording studio, I found Rubén González there with Compay Segundo, Eliades Ochoa, Barbarito Torres, 'Guajiro' Mirabal… people I had looked up to all my life. I started humming while Rubén González was improvising at the piano, and to my surprise I found I could follow him. Eliades Ochoa saw me and started to play the Faustino Oramas tune that I sing called 'Ay Candela'. Ry Cooder and Nick Gold were in the control room. I didn't know who they were, but it seemed they liked my voice. And when I sang the bolero 'Dos gardenias', they really noticed me. I still can't believe that I went there to record one number, and I ended up singing almost all of them. And I had been chosen as a bolero singer!'
During the same sessions as the GRAMMY winning 'Buena Vista Social Club', which has gone on to sell almost 8 million copies, Ferrer also sang on the GRAMMY nominated Afro-Cuban All Stars 'A Toda Cuba le Gusta' album. In 1997 Ibrahim was a featured vocalist on the Afro-Cuban's first European tour, and then was lead vocalist on the subsequent small group tours led by Rubén González. Ibrahim returned to Egrem to record his solo album 'Buena Vista Social Club presents Ibrahim Ferrer', which has sold 1.7 million copies. Produced by Ry Cooder, it demonstrated his formidable skills with up-tempo improvisations and, perhaps even more importantly, his definitive mastery of the bolero - most notably in 'Silencio', the smouldering duet with Omara Portuondo. The recording of the album was the subject of Wim Wenders' Buena Vista Social Club film, where audiences were completely taken by Ibrahim's natural warmth of personality.
This truly launched Ibrahim onto the international stage, and for the next seven years, Ferrer toured worldwide, visiting North America, Europe, Asia, South America and Australia. His backing band was 'a dream come true', with musicians of the stature of 'Guajiro' Mirabal – 'the best trumpeter I have ever met' – and Cachaíto López, generally regarded as Cuba's greatest bass player. Increasingly in demand, Ibrahim recorded a duet with Damon Albarn for the 'Gorillaz' album, and sang in Spanish over Wolof lyrics on an Orchestra Baobab album. His openness to other people and their music coupled with an amazing versatility enabled him to add his own style to almost any form of music. His newfound fame would lead Ibrahim to meet everyone from Hollywood film-stars, to rock superstars, to international heads of state, including Cuban leader Fidel Castro – 'The day he shook my hand was one of the most important of my life.'
Despite this very real success, Nick Gold described Ferrer as 'the most spiritual of the Buena Vistas'. In his front room, the singer maintained an altar to San Lázaro – the saint who represents Babalú-Ayé, his patron-deity in the Afro-Cuban religion Santería – and he carried a carved ebony stick belonging to his mother with him at all times. 'Some people think it's superstition,' he said, 'but I've had faith through the good times and the bad.' That these were good times was obvious from the gold discs that covered an entire wall in his house. "In the past I was never allowed to sing boleros. They used to say my voice was no good for it. Not manly enough. But thanks to Buena Vista, a path cleared ahead of me, a little bird knocked on my door and I got where I was meant to be."
People flocked to see Ibrahim Ferrer because of his consummate vocal artistry, because of his warm and humorous personality, and also because by being there they were participating in a remarkable human story – of the little guy who triumphs through adversity, without losing his lust for life or his decency as a human being. Nick Gold tells a story about making the follow-up album: 'We were desperately trying to finish some recordings but Ibrahim had a sore throat. He suggested that we could always get another singer for the remaining tracks. You simply can't imagine another star making that suggestion.'
Released in 2003, Ibrahim Ferrer's second solo album on World Circuit 'Buenos Hermanos' is an album full of variety and unique energy, the repertoire includes classic songs and thrilling examples of the romantic boleros for which Ferrer is justly famed, but these are treated in a new and different way.
2003 also saw 'Buenos Hermanos' win the Best Traditional Tropical category at the 4th Annual Latin GRAMMY awards, and Ibrahim also won a MOBO award in the UK. Entering into 2004, the accolades continued to come in for Ibrahim; he was successful in the Americas category at the BBC Radio 3 Awards for World Music. 'Buenos Hermanos' won the Best Traditional Latin Tropical Album at the 46th Annual GRAMMY Awards. Visas requested for Ibrahim Ferrer and his bandmate Manuel Galbán to attend the ceremony were denied. The decision was made in accordance with United States laws that relate to the protection of national security, and as a result no Cuban musicians were allowed to travel to Los Angeles for the ceremony. This sparked off criticism from both press and political commentators around the globe, and in Havana there is now a giant wall mural bearing Ibrahim's image with the words "... and now they say that we're terrorists!"
Ibrahim had finally reached a point in his career where he could do what he wanted, so for his next project he decided to make the album he had dreamt about all his life – a bolero album. With an incredible small group, led by Roberto Fonseca, and including Manuel Galbán and Cachaíto López, they began recording in 2004 at Havana's Egrem studios. To prepare for the release Ibrahim's touring band started to incorporate more boleros into their live set; they also worked on more demos at the start of 2005 of tracks they intended to record to complete the album. Prior to the scheduled final recording sessions for the bolero album, Ibrahim and his band embarked upon a European tour: titled 'Mi Sueño – A Bolero Songbook Tour' this was their first opportunity to showcase some of the tracks that would appear on the new album.
Upon returning home to Havana after the 'Mi Sueño' tour in the summer of 2005 Ibrahim fell ill and was taken into hospital. Knowing that the end was near, Ibrahim sent a fax to Nick Gold asking him to realise his dream by releasing the bolero album. Ibrahim died on 6th August aged 78. Fortunately the demos that Ibrahim had recorded before his death were of high quality so World Circuit were able to realise his dying wish and complete the long awaited bolero album - 'Mi Sueño' is released in March 2007.
Ibrahim Ferrer's charismatic performances touched the hearts of audiences of all ages, throughout the world who felt genuine affection and respect for such a gloriously unaffected and talented star. Off-stage, Ibrahim was a very spiritual, caring and warm-hearted man devoted to his wife and family and to his country. His rise to fame gave him a youthful vigour and a zest for life that saw him touring, recording and winning awards worldwide and he played an integral part in the phenomenal worldwide interest in Cuban music.
Ibrahim is sorely missed, but his spirit and his music will stay with us.


Dieses Album enthält kein Booklet