---
Album Info
Album Veröffentlichung:
2021
HRA-Veröffentlichung:
23.09.2021
Das Album enthält Albumcover
1

El Alma de Paco

10:59

2

Aixa, Fátima y Marién

05:49

3

Medianoche

07:14

4

Danza de la Molinera

04:10

5

Danza de los Vecinos

03:17

6

Danza de la Vida Breve

03:35

7

Fandango de las Cositas Buenas

08:28

8

Quejío del Poeta Duende

04:13

9

El Trébol de Cuatro Hojas

05:54

10

El Alba

06:45

11

Paquiro

08:00

12

Soñando Con el Sonido

03:45

Total Runtime

01:12:09
Info zu El Alma de Paco
Der spanische Meistergitarrist Paco de Lucía, dessen Todestag sich 2021 zum siebten Mal jährt, steht im Zentrum des neuen Albums des Eos Guitar Quartet (Julio Azcano, Marcel Ege, David Sautter, Michael Winkler). Für die vier Musiker waren seine Musik, seine Innovationskraft und nicht zuletzt der persönliche Kontakt zu ihm eine stete Quelle der Inspiration.
Als Ausdruck dieser großen Bewunderung hat das Eos Guitar Quartet nun die drei Komponisten, Leo Brouwer, John McLaughlin und José Antonio Rodriguez gebeten, ein Werk unter dem Motto «Hommage an Paco de Lucía» für das Ensemble zu schreiben. Entstanden sind dabei Werke, die das Repertoire für Gitarrenquartett auf hervorragende Weise bereichern.
Ganz im Sinne Pacos spielt das Eos Guitar Quartet neben drei Tänzen von Manuel de Falla Eigenkompositionen von Marcel Ege und David Sautter. Durch den Gesang der legendären Flamenco Sängerin Carmen Linares und der subtilen Begleitung des Perkussionisten Ricardo Espinosa erhält diese Aufnahme eine wunderbare Ergänzung und Aufwertung.
Eos Guitar Quartet:
Marcel Ege, Klassische Gitarre
Martin Pirktl, Klassische Gitarre
David Sautter, Klassische Gitarre
Michael Winkler, Klassische Gitarre
Gast:
Ricardo Espinosa, Percussion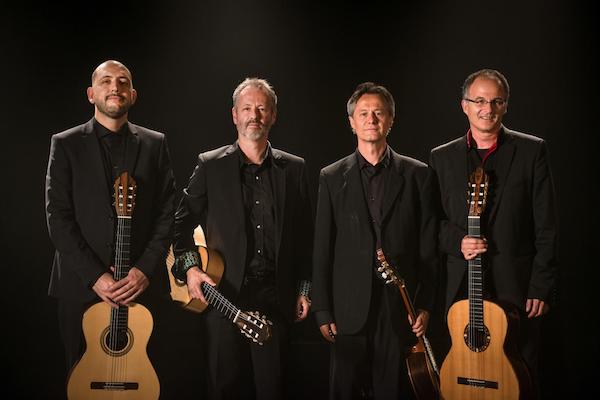 Eos Guitar Quartet
As one of the "few outstanding formations of their kind" (Basler Zeitung), the Eos Guitar Quartet has been casting a spell over their fans for over 25 years. With six CDs, programmes full of variety and too many concerts to count, the four guitarists from Switzerland have won the respect and enthusiasm of critics.
Whether it's classical, jazz, rock, modern avant-garde or flamenco – the Eos Guitar Quartet is comfortable playing in many styles. Even the Spanish audience – with the highest demands when it comes to guitar music – were convinced, thanks to the collaboration with the famous flamenco singer Carmen Linares.
Invitations to international festivals such as Córdoba, the Menuhin Festival in Gstaad, Bari in Italy or to Germany's Ludwigsburg Festival underline the significance of the quartet. Since 2011, the Eos Guitar Quartet have also been working as event organisers themselves (IN GUITAR).
Two factors are a considerable part of the enduring success of the Eos Guitar Quartet: their inspiring programme and the equality between the players in the quartet. No-one is just a soloist. Everyone pays attention to the others in a lively exchange when they make music.
Time and again, the Eos guitarists have also worked hard at their desks. Their arrangements broaden the range of music for four guitars with a sense of preciousness and value: Federico Garcia Lorca's Spanish folk melodies and songs, George Bizet's Carmen suite, as well as the guitarists' own compositions and, last but not least, commissioned works. Guitar luminaries such as Leo Brouwer, John McLaughlin, Ralph Towner, Sergio Assad and Roland Dyens – to name but a few – have composed original works for the Eos Guitar Quartet.
Marcel Ege, Martin Pirktl, David Sautter and Michael Winkler got to know each other when they studied together at the Music Academy in Zurich. They founded the quartet in 1985, taking their name from the Greek word for dawn. Master classes with notable artists at home and abroad as well as initial successes with the public and the press made the four of them a close-knit unit. Appearances on radio and television saw their success continue.
One highlight in the history of the Eos Guitar Quartet was the sold-out performance at the St. Jakobsstadion in Basel on 4 July 1992. Elton John and Eric Clapton desperately needed a support act at the Open Air concert in front of 50,000 spectators. Eos made the snap decision to travel from Spain, and rocked the 'Joggeli' arena with Luigi Boccherini's 'Fandango'.
At the IN GUITAR Festival 2013 in Winterthur, there was another emotionally charged moment in the history of the quartet. Co-founder Martin Pirktl played with the group for the last time and, for the last piece of the evening, gave up his seat to a new member – the young Argentinian- Julio Azcano.


Dieses Album enthält kein Booklet