---
Diethelm, Haug, Gmünder, Perler, Romer, Rushton
---
Biographie Diethelm, Haug, Gmünder, Perler, Romer, Rushton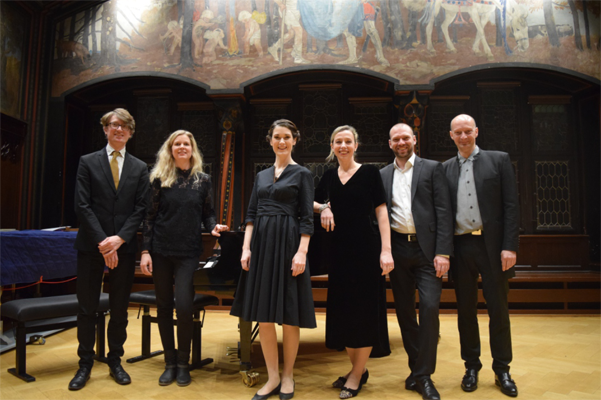 Sybille Diethelm
studied singing at the Hochschulen in Zurich and Munich and has degrees in Musicology and German Literature. She is a member of the ensemble of the Fesval 'Origen' in the Grisons, where she has performed in many music-theatre producons, including world premieres. She can be heard regularly as a concert soloist. She has sung Bach's Passions in Stugart under Helmut Rilling and was soloist in Mendelssohn's Elijah with Concentus Musicus in the Vienna Musikverein. With her duo partner of over ten years, Fabienne Romer, she specialises in rediscovering and performing forgoen art songs by Swiss composers.
Annina Haug
Having commenced her musical studies with the cello, Annina Haug went on to study singing at the Royal Academy of Music, the Lucerne University of Applied Arts, and the Swiss Opera Studio. She is regularly to be heard as a concert soloist, and especially loves singing chamber music, either in a duo with piano, or with her sister, the harpist Meret Eve Haug. Recent operac roles include Lucrea in The Rape of Lucrea, Oreste in La Belle-Hélène, Idamante in Idomeneo, Melanto in Il ritorno d'Ulisse in patria, Angelica in La Cenerentola and Rosina in Il Barbiere di Siviglia.
Nino Aurelio Gmünder
Freelance lyric tenor Nino Aurelio Gmünder is a much sought-aer concert and opera singer. His broad repertoire encompasses the tenor parts in all the major oratorios, including the St Mahew and St John Passions, Christmas Oratorio, Messiah, The Creaon, The Seasons, Paulus and Elijah, as well as parts in the Italian repertoire such as Puccini's Messa di Gloria and Rossini's Stabat Mater. Operac roles have included Tamino and Tito (Mozart), Abu Hassan (Weber) and Eurimaco (Monteverdi). He has sung under conductors such as Thomas Hengelbrock, Ivor Bolton, Hansjörg Albrecht, Howard Griffiths, Howard Arman, Georg Kallweit and many others.
René Perler
has sung with such conductors as Andrew Parro, Marn Haselböck, Michel Corboz, Livio Pico and Hans-Christoph Rademann, in many of Europe's most important venues, including San Marco in Venice, the Cathedrals of Berlin and Malaga, and on tour in Jerusalem, Bethlehem, Nablus and Ramallah. In recitals he has been heard in Wagner's Villa Wahnfried in Bayreuth, in the Richard Strauss Instute in Garmisch-Partenkirchen and in broadcasts on Swiss Radio. His teachers included Cécile Zay, Jakob Stämpfli, Horst Günter, Rudolf Piernay, László Pólgar and Margreet Honig. He also has degrees in Musicology and History from the University of Fribourg/Freiburg.
Fabienne Romer
studied with Homero Francesch and Daniel Fueter at the ZHdK, where she graduated with disncon in 2007. Further studies took her to Paris (with Eugen Indiz), Stockholm (with Staffan Scheja) and Munich (with Helmut Deutsch), where she graduated in 2011. In August 2010 she was a finalist in the piano duo category of the ARD Compeon in Munich and was awarded the IFP Special Prize for excellent achievement. Fabienne is in demand as a soloist and chamber musician, and one of her special areas of interest is song accompaniment.
Edward Rushton
is in demand throughout Europe as a pianist specialising in chamber music and song. His discography includes albums for Resonus, BIS, Nimbus, Musiques Suisses, and Lyrita. In 2015 he founded the associaon 'Besuch der Lieder', to perform song recitals in private homes. He teaches piano accompaniment at the Lucerne University of Applied Arts. For his achievements, Edward was awarded the C.F. Meyer Foundaon prize in 2020. Edward is also a composer whose operas have been performed throughout Switzerland, Germany, the UK and in Philadelphia. He has composed over thirty works for voice and piano.