---
Biographie Areni Agbabian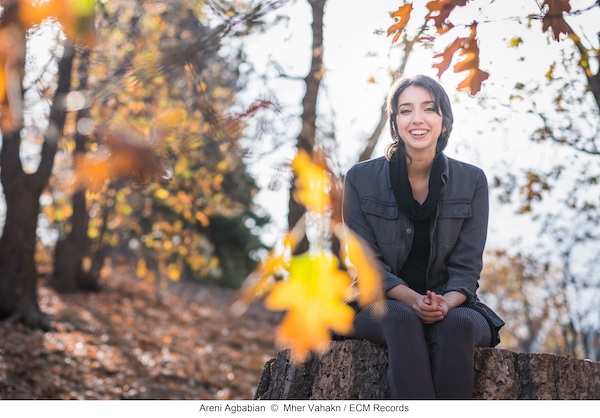 Areni Agbabian
is an experimental improvising vocalist, folk singer, and pianist. As vocalist she has worked in new opera, dance, contemporary jazz, new music and multi-media performance. Since 2009, she toured extensively in the Tigran Hamasyan Quintet throughout Europe, Armenia, Morocco and North America gaining much critical acclaim…"The singing of Areni Agbabian seamlessly spanned from sirenic beauty to angelic purity.", Alex Simu – Jazz Compass Romania. "lush, near-operatic vocals of Areni Agbabian", Chris Barton – LA Times. "….bell-toned singer…"John Fordham – The Guardian. "…singer/keyboardist Areni Agbabian's glowing vocals sustained the rootsy feel in a mercurial, heavily electronic mix. The agile Agbabian began to dart and scat like a Balkan Flora Purim…John Fordham – The Guardian.
Her most recent project was the self produced album "Kissy(bag)", released in 2014 and critically acclaimed by the NY Times' Ben Ratliff as "…intensely focused, moving toward some kind of hidden truth in simple lyrical images and phrases…"
Additional past credits include What To Wear, the contemporary opera by Michael Gordon and directed by Richard Foreman as well as work as a pianist in the Italian Contemporary Music Festival at RedCat Theater in Los Angeles and the James Tenney Festival at California Institute of the Arts. She has also sung for events at the J. Paul Getty Museum, Cotsen Institute at UCLA and the Museum of Jurassic Technology.
Growing up in a world of unique sounds, by age four, she was hitting xylophones and drums, making melodies and rhythms, and singing folk songs and rhymes with her aunt, a trained classical singer and Armenian music specialist, and her mother, a storyteller and Armenian folklorist. These two women imprinted the Armenian language, its tones and inflections, into her body, tongue, and heart. From a very young age, they set her on a musical journey she continues today. At age seven, she began a more strict study of classical piano that lasted for 20 years. By age 15, Areni had given numerous piano recitals, playing sonatas and even a concerto. Throughout, she continued her vocal studies, and by age 22, had sung in many choirs of Armenian sacred, Bulgarian folk and American music. Soon after, she was professionally performing traditional Armenian folklore and music. By age 27, she began fully integrating these various elements into her own original music and improvisations of voice and piano.
Areni lived in New York City from 2008- 2015, where she continued her explorations of voice, piano and creative music with many leading musicians in NY's experimental and jazz community. These included Jesske Hume, Jonathan Goldberger, Butch Morris, Qasim Naqvi, Julia Wilkins, Tony Malaby, Aakaash Israni, Danny Meyer, Sam Yulsman, Connie Crothers and many more. In 2015 and 2016, Areni received study grants from the Gulbenkian Foundation to travel to France. There she studied with a mastersinger of Armenian Litrugical Chant, Aram Kerovpyan and his wife Virginia Kerovpyan. She has since moved back to her home town of Los Angeles and is collaborating with many local musicians both in the creative music and traditional music communities.
Nicolas Stocker
Born 1988 in Zurich. Composer, drummer and percussionist. Raised in a musicians family, he plays piano since the age of five and drums since the age of eleven. Bachelor of arts at ZHdK (2011). Afterwards studies in New York for several month with Jim Black, Mark Giuliana, Kendrick Scott and Dan Weiss. 2011-2013 Master in music education at ZHdK and studies in composition with Felix Profos. 2012 career award of the Friedl-Wald Stiftung. At the moment "Master Jazz Performance" studies at HSLU with Gerry Hemingway, Norbert Pfammatter and Pascal Pons.
Leader of his own Band "Bells for Pony" and Co-Leader of "Marylane". Work with a.o. with Chris Wiesendanger, Dominique Girod, Martin Baumgartner, Florian Favre and Florian Egli. He is band member of "Betapartner", "Ursina", "Philipp Eden Trio" und "Janett´s Jazzmusikbaukasten".