---
Biographie NOVA Guitar Duo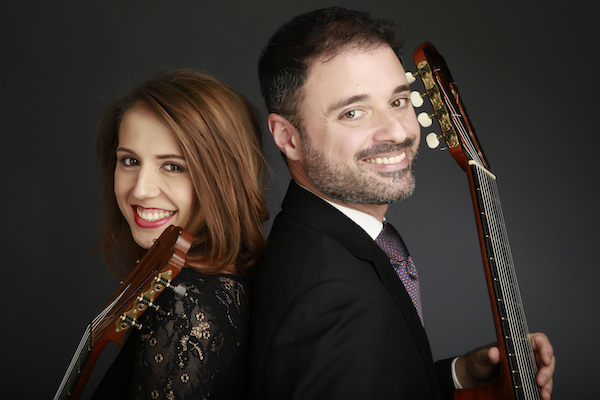 NOVA Guitar Duo
A winner of the Pro Musicis International Award (New York, 2001), Luiz Mantovani has appeared as a soloist and chamber musician in some of the most important concert venues of his native Brazil and abroad. His performance of Walton's Five Bagatelles in Weill Hall/Carnegie Hall was described by The New York Times as "powerful, beautifully shaped and just practically flawless". In 2010, he premiered Israeli composer Lior Navok's Concerto for Guitar and Orchestra with the Israel Sinfonietta Beer Sheva.
Highlights of current and past seasons include performances at Salle Cortot in Paris, Tchaikovsky Conservatory in Moscow, Jordan Hall in Boston, Hong Kong City Hall, 92 St. Y in New York, Beethovensaal in Hanover and Sala Cecília Meireles in Rio de Janeiro, as well as live broadcasts for the National Public Radio – NPR in Boston, Washington, D.C. and Austin. As a soloist with orchestra, he has performed with the New Russia Symphony Orchestra, Boston Modern Orchestra Project, Petrobrás Symphony Orchestra and São Paulo Municipal Orchestra, among others.
With a repertoire spanning five centuries of music, Luiz Mantovani's diverse programs range from his own transcriptions of early music for plucked instruments to works written for him by contemporary composers. Commissions and national/world premieres include works by American David Leisner, Israeli Lior Navok and Brazilians Ronaldo Miranda, Raul do Valle, Acácio Piedade and Liduíno Pitombeira. His first solo CD, Appassionata, was recorded in 1998 and since then he has made a number of recordings, including music for movies and in collaboration with renowned ensembles such as Boston Musica Viva.
An active chamber musician, from 2004 to 2015 Luiz was a member of the Brazilian Guitar Quartet, one of the world's most sought-after guitar ensembles, with which he performed extensively in four continents. With them, he recorded three albums for Delos International: one featuring Isaac Albéniz's Suite Iberia, another with works by Heitor Villa-Lobos (a 2011 Latin Grammy winner for "best classical album"), and a third one featuring works by distinguished Spanish composers, Spanish Dances. He has collaborated with Brazilian flautist Michel de Paula since the '90s and in 2012 their duo commissioned and premiered Brazilian Landscapes No.12 by Brazilian composer Liduíno Pitombeira at Weill Hall/Carnegie Hall in New York. In 2016 he founded the NOVA Guitar Duo with German guitarist Nelly von Alven, an ensemble that explores the unique possibilities available by combining the traditional and the 8-string guitar, also known as "Brahms-guitar". The NOVA GUitar Duo's debut album, Sortilegios, was released in 2019 by Stradivarius.
Luiz Mantovani holds a PhD from the Royal College of Music in London, where he investigated the chamber sonatas of Austrian composer Ferdinand Rebay. He is the first guitarist to receive the prestigious Artist Diploma from the New England Conservatory of Music in Boston, also holding a Master's degree with honours from NEC and a Bachelor's degree from the Federal University of Rio de Janeiro. His guitar teachers were David Leisner, Nicolas Barros and Antônio Guedes.
In addition to his performance career, Luiz teaches guitar and chamber music at the State University of Santa Catarina, in Florianópolis, Brazil, where his educational, performance and outreach projects have deserved local and national recognition.