---
Biographie Mark Lewandowski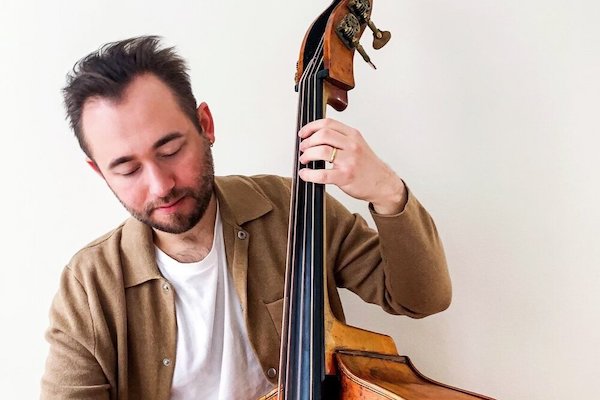 Mark Lewandowski
is an award-winning New York City based bassist and composer, originally hails from Nottingham, England. A graduate of the Guildhall School of Music in London and New York's prestigious Juilliard School, he has earned the respect of his peers and elders alike as a creative, supportive, and individual sideman and bandleader.
It was during these years at the Guildhall School that Mark began rapidly producing a strong name for himself as a fixture of the London jazz scene; playing regularly at the world famous Ronnie Scott's Jazz Club, by only his second year in the capital. After graduating with a first class honors degree from the Guildhall School, Mark had the great honor of being awarded the Yamaha Jazz Award, which was presented to him by the UK Government at the Houses of Parliament. Following his study in London, Lewandowski also embarked on a period of intense private study with American master-bassist, Henry Grimes. While living in London, Mark became a frequent side- person with a diverse range of musicians both established and up-and-coming, including mainstays of the British jazz scene such as Sir John Dankworth, John Surman, Julian Joseph, Alan Skidmore, Bobby Wellins, Peter King, Zoe Rahman, Byron Wallen, Christine Tobin, Liam Noble, Jean Toussaint, Mark Lockheart, Julian Siegel, John Warren, Mark Sanders, Soweto Kinch and Paul Dunmall. He has performed in many of the U.K and Europe's leading concert halls and clubs including The Barbican, Ronnie Scott's Jazz Club, The Queen Elizabeth Hall and Pizza Express Jazz Club.
Since relocating to New York City, Lewandowski's performance credits include such luminaries as Joe Chambers, David Liebman, Lew Tabackin, Cyrus Chestnut, Steve Wilson, Buddy Greco, The Mingus Big Band, Peter Bernstein, The Vanguard Jazz Orchestra, Jeremy Pelt, Billy Drummond, Javon Jackson, Mark Whitfield, Ed Cherry, Jon Faddis, Willie Jones III, Sullivan Fortner, Freddie Hendrix, Joe Magnarelli, Stacy Dillard, Josh Evans, Philip Harper, Nasheet Waits, Dayna Stephens, Mike Ledonne, Vic Juris, Frank Lacy, Rick Germanson, Sherman Irby, Joe Cohn, Joseph Farnsworth, David Hazeltine, Johnny O'Neal, Wayne Escoffery, Eric Alexander, Steve Nelson, Warren Wolf, Philip Harper, Sheila Jordan, JD Allen, Jeb Patton, Grant Stewart, Bruce Harris, Benny Green, Aaron Goldberg, Dave Kikoski and Jerry Weldon.
Lewandowski has also performed frequently as a member of Pulitzer Prize winning trumpeter Wynton Marsalis' quartet including performances in such esteemed venues and festivals as London's Barbican Hall, Cheltenham Festival and The Institute of Peace, Washington D.C.
He has toured internationally in Europe, Asia, Africa, North America and South America and is frequently found on many of New York City's famed stages including Blue Note, Jazz at Lincoln Center, The Village Vanguard, Birdland, The Jazz Standard, 55 Bar, Smalls, Mezzrow, Smoke and Minton's Playhouse.
Mark's work as a bandleader includes two releases - 2017 saw the release of Mark's debut release 'Waller' on the Whirlwind Recordings label. This debut album solidified his reputation as a stellar bandleader and received rave reviews internationally. Featuring two of the most respected musicians on the European jazz circuit, pianist Liam Noble and drummer Paul Clarvis, Waller is an exploration of the music of one of the early innovators of the jazz genre, Thomas 'Fats' Waller. The album featured highly in critical polls ranking at Number 3 in Chris Phillips' Jazz FM Charts.
2021 saw the highly successful release of Lewandowski's second record as band leader, 'Under One Sky' which has attracted press attention and airplay internationally. Comprised of exclusively original material, the album features two of the young stars of the New York City jazz scene - award winning pianist, Addison Frei and Washington D.C born drummer Kush Abadey. Lewandowski's unique and personal compositional style is at the foreground of this album which was described by the UK's renowned critic, John Fordham (The Guardian, Jazzwise Magazine) as 'a sublime confection on compositional class and individual improv skill'.
2022 Saw Lewandowski again on the international stage, as 1st prize winner of the prestigious UNISA International Jazz Strings Competition held in Pretoria, South Africa. In this 40th year of the competition's existence, he was awarded the prize by South Africa's former president, Thabo Mbeki. The Jury also awarded Mark 2 out of 3 of the competition's special prizes - 'Best Performance of a Ballad' and 'Best Performance of a Rhythm Changes' respectively.
Other career highlights include his 2015 commission by the EFG London Jazz Festival, reimagining the music of one of his great influences, Charles Mingus; performing as special guest soloist in Moscow's Tchaikovsky Hall as part of Igor Butman's Future of Jazz Festival; leading his trio at the 2018 Rochester International Jazz Festival as part of the 'Made in the UK series; work for the British Arts Council in the Middle East, and two successful trips to Shanghai, China as a 'Cultural Ambassador' for Jazz at Lincoln Center.
Mark Lewandowski's multiple recording credits occupy a diverse range of the jazz genre, ranging from such major artists as American cult composer and saxophonist John Zorn (with whom Mark is featured on his Tzadik release 'The Book of Beriah') to closer to home in the U.K with the Leo Richardson Quartet, who's record 'The Chase' was selected as one of the Sunday Times 'Best 100 Albums of the Year' in all genres.
Upcoming releases include a record for Blue Note Records, led by master drummer / percussionist / composer, Joe Chambers. And a highly anticipated duo recording under Lewandowski's own name. 'Waller' collaborator, Liam Noble, joins Mark again in an imaginative reimagining of music associated with Billie Holiday. Featuring U.K vocalist Heidi Vogel, the album 'A Bouquet (For Lady Day)' will be released in 2023.
As an educator, Lewandowski is on the faculty of the renowned Jackie McLean Institute of Jazz Studies at the University of Hartford, Connecticut. He has also had experience teaching in a number of major institutions including Torino Conservatory (Italy), Birmingham Conservatoire (U.K) and his position as 'Professor of Bass Studies' at the prestigious Hampton School. Mark has lead workshops in cultural exchange visits to China in-front of 2000 elementary school children. He also has worked for Jazz at Lincoln Center's Jazz for Young People and Essentially Ellington programs in and around New York City.