---
Biographie Alexander Ffinch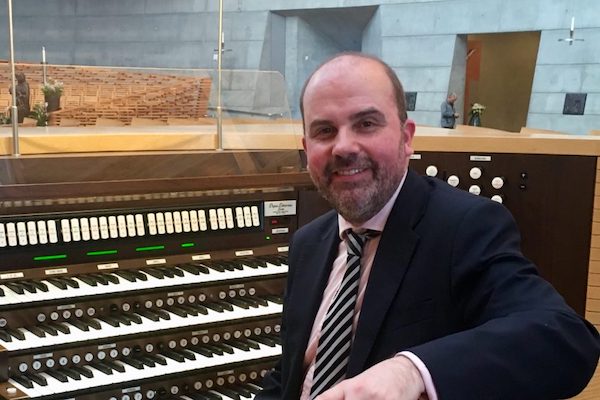 Alexander Ffinch
studied at the Royal College of Music, and was later organ scholar of Keble College, Oxford where he subsequently became a pupil of Thomas Trotter. He was resident organist at Lancaster Town Hall where he gave over 100 recitals in the 1990's and also gained recognition in the St Albans Interpretation Competition in 1999. He has performed in UK, Europe, USA and Asia and his schedule for 2019 includes numerous engagements across the globe.
He was appointed College Organist of Cheltenham College in 2004, after a three-year tenure as Director of Music at St Catharine's College, Cambridge and is responsible for the daily organ playing in the College Chapel as well as accompanying the Choirs.
Throughout his time at Cheltenham, he has continued to give recitals regularly and is resident organist for The Eton Choral Courses and The Rodolfus Choir, appearing with these at both Cheltenham International Music Festival and also live on BBC Radio 3 broadcasts.
At the heart of Cheltenham College Chapel lies the College organ, originally built in 1897 by Norman & Beard. The case was designed by Henry Prothero, architect of the Chapel. The organ was rebuilt and extended by Harrison & Harrison in 1930 and was last restored with minor alterations in 1976. In 2013, a 32-foot 'Double Ophicleide' stop was added.
The organ has been excellently maintained by Harrison & Harrison since the last rebuild, but the time was right for the entire instrument to be taken apart in 2017 for major restoration, which was again undertaken by Harrison & Harrison.
The complete console, soundboards, wind system and pipework were all removed from the organ case and moved to Durham for overhaul, reworking and releathering before being reinstalled. Some pipework was removed and cleaned onsite. The organ has retained all of its valuable historical features and, like its larger cousin at King's College, Cambridge, which has also been newly and successfully restored, it will certainly remain one of the finest examples of British organ building of the period.