---
Biographie Daniel Karlsson Trio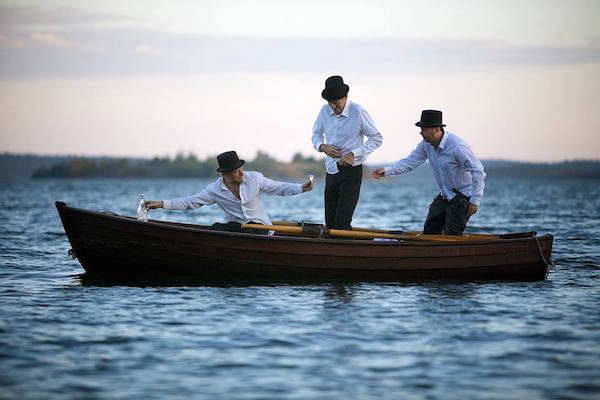 Daniel Karlsson Trio
Noch bevor die Songs des letzten Albums abgemischt sind, befinden sich die Gedanken des Daniel Karlsson Trios bereits beim nächsten Album. Die Musiker setzen bereits auf die schwedische Insel Runmarö über, um dort die nächste Recording Session anzugehen.
Auf den Alben von Daniel Karlsson hört man fließende Klavierklänge, spacig-atmosphärisches, an Unterwasserwelten erinnernde Tracks und swingenden Club Sound: Jazz fürs 21. Jahrhundert eben. Da die Band haptischen Genuss schätzt, erschien die beiden letzten Werke "Fusion for Fish" und "At the Feel Free Falafel" auch auf 180 Gramm schweren Vinyl in gefaltetem Hochglanzcover mit dem Artwork des Künstlers Richard Johansson (www.richardjohansson.com). Johan Månsson verantwortete die grafische Gestaltung des Albums und fotografierte Richard Johanssons Ölgemälde noch bevor diese richtig trocken waren.
Der Pianist und Komponist Daniel Karlsson, Jahrgang 1973, ist einer der etabliertesten schwedischen Jazzmusiker. Er spielte bereits mit schwedischen Größen wie Lisa Nilsson, Nils Landgren, Viktoria Tolstoy, Lennart Åberg, Jeanette Lindström, Rigmor Gustafsson sowie mit internationalen Stars wie Ernie Watts, Peter Erskine und Till Brönner. Er ist Gründungsmitglied von Oddjob und Mitglied der Magnus Öström Band. Im übersättigten Markt der Klaviertrios ragt das ideenreiche Daniel Karlsson Trio weit heraus. Karlsson scheut nicht seine musikalischen Einflüsse einzubringen, ohne sich jedoch durch sie definieren zu lassen. Sein fesselndes Klavierspiel und seine kompositorische Note machen ihn zu einem der spannendsten zeitgenössischen Pianisten…" All about jazz
"Fusion for Fish" wurde 2015 mit dem Schwedischen Grammy als bestes Jazzalbum ausgezeichnet, das Trio mit dem Schwedischen Radio Award Jazzkatten als beste Jazzgruppe.
Der Englische Jazz Kritiker Rob Mallows gab dem Trio ein "Excellent" im Magazin Kind of Jazz und bemerkte: "...Karlsson follows up his first two albums with another sucker punch of Nordic nu-jazz."
2017 erscheint das vierte Album des Trios mit dem Titel "Ding Dong", angereichert mit den neuesten Ideen von Daniel Karlsson, bereit die Zuhörer mit auf eine weitere Reise ins Unvorhersehbare zu nehmen.