---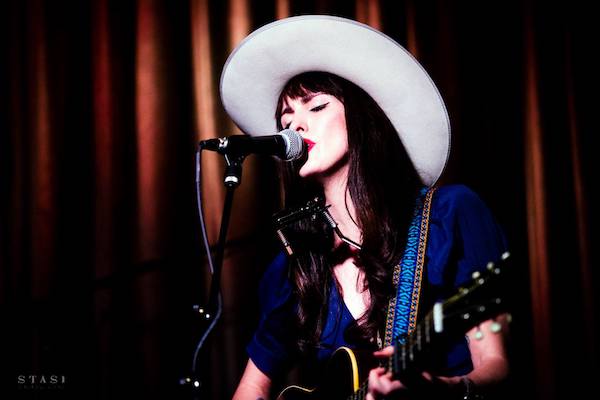 Jaime Wyatt
is a striking figure with an old soul and a voice like a force of nature. Regardless of genre, the Los Angeles-based Wyatt is a dynamic performer, who sails naturally between vintage '60s and '70s country/rock 'n' soul anthems and heartfelt country ballads of love and corruption. Country radio station 95.3 The Bear recently named her, alongside Sturgill Simpson and Margo Price, as "one of the country artists you may not have heard of, but need to hear."
Wyatt got a record deal at the age of 17, with multiple soundtracks and movie placements, but after a second deal went down the tubes, she developed a drug problem.
She got busted for robbing her dealer and took a plea deal for eight months in jail, a felony strike, six months of treatment and three years felony probation. "I stayed out of trouble most the time in jail, by singing songs for people and making them laugh," says Wyatt.
After she served her term, Wyatt, become enthralled with the music of Merle Haggard and Johnny Cash - who had similar struggles with the law and substance abuse. She studied country music and toured in folk and country bands up and down the West Coast.
"I met the hit songwriter John Durrill, who recommended I cover "Misery and Gin," a song he wrote for Merle Haggard in 1979. A dear friend and supporter gifted Jaime with a session at East West Studios in Hollywood, CA, to record with producer, Mike Clink (Guns N'Roses), and this track closes the record.
"For the rest of the record, I tracked in between constant touring, whenever I had a dime or a guitar to trade for recording time at my bass player, Drew Allsbrook's studio in Van Nuys. I joked about calling the album Nickel and Dimin' for this reason."
After completing the record and looking for a label, Wyatt met Forty Below Records head, producer Eric Corne (John Mayall, Walter Trout). Corne fell in love with the songs and agreed to remix the record and release via Forty Below Records.
The musicians on the record include top notch Americana and country pickers John Schreffler Jr and Ted Russell Kamp from Shooter Jennings band; Gabe Witcher of the Punch Brothers on fiddle; fellow Angelino country songwriter Sam Outlaw (who features on the duet "Your Loving Saves Me"); and long time friend and drummer Freddy Bokkenheuser, now the touring drummer for Ryan Adams.
Most songs on Felony Blues are inspired by reckless life choices. "From Outer Space" was originally written for her last EP and produced by Mark Howard (Lucinda Williams, Tom Waits). "After playing the song on tour, a couple different band members helped to give it a 2-step feel and worked up a lot of harmonies," explains Wyatt. "It is about feeling alienated and cast aside by society. And about feeling unable to have a normal romantic relationship, as a touring musician."
"Stone Hotel" is the story of how Wyatt was convicted for strong-armed robbery. She sings about how the LAX courthouse made an example of her, acknowledging that it was a drug house bust, in the lyrics, "Judge said young lady, you never felt the blues, no not yet. And that DA called for restitution for a hustler out on bond."
"When I was researching how to expunge my felony, I got a chance to read the minute orders on my case from seven years prior," says Wyatt. "This felony has always been a source of shame and embarrassment. I hit the streets after jail looking for jobs and no one would hire me because of my criminal record. I eventually got a job at a bicycle shop but couldn't receive a promotion for the same reason. On the bright side, it has prompted me to tour consistently and work hard to make money on the road."
The other prison song on the album is "Wasco," which was inspired by one of Wyatt's cellmates in LA County Jail, who was writing a guy up at Wasco State Prison, near Bakersfield. "The cellmate had never met the guy" says Wyatt, "but they were planning their wedding via love letters back and forth between correctional facilities."
"I'm hoping that the theme of the record will raise awareness about the judicial system in America, since I've been branded with a felony, I know first hand how the system will keep you down. Like the words of Merle Haggard: 'I paid the debts I owed 'em, but they're still not satisfied.' Wyatt identifies as a - "branded woman."
Wyatt grew up on a tiny rural island in the northwest with horses and animals. "I was heavily influenced by my southern hillbilly grandparents Papa Brown and Nana Lo" says Wyatt. "My first job was a at horse breeding farm, where I listened to 90s country music on the radio. Both of my parents were also singers and songwriters in the 80s"
Wyatt spent much of last year on the road, playing clubs and festivals throughout the Pacific Northwest, Southwest and South, such as Wildwood Revival, Bandit Town, Chinook Fest and Long Beach Folk Revival Festival. She can frequently be found at the iconic Grand Ole Echo in her hometown of Los Angeles or playing spontaneous gigs at her favorite vintage clothing stores. An extensive tour in support of Felony Blues is in the works.