---
Blackie and the Rodeo Kings
---
Biographie Blackie and the Rodeo Kings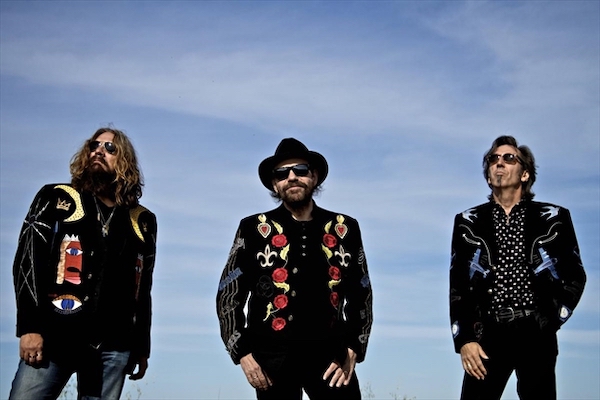 Blackie and the Rodeo Kings
originally formed in 1996 when Colin Linden, Stephen Fearing and Tom Wilson came together to record what was suppose to be a one-off tribute album to the great Canadian songwriter Willie P. Bennett.
At the time, all three members were deeply committed to burgeoning solo careers that they had no intentions of putting on hold, and had no plans to turn Blackie into an ongoing concern.
Now twenty years later, 8 albums, one Juno award and several Juno nominations under their belts, Blackie and the Rodeo Kings have organically evolved into one of the finest roots-oriented bands in North America. Blackie and the Rodeo Kings remains one of Canada's greatest musical treasures.
Colin Linden
Including every Blackie and The Rodeo Kings album, Colin Linden has produced over 100 albums. He has played as a guest musician on countless recording sessions. Recently he has played an integral role in the authenticity of the hit television series Nashville. His employment with Nashville continues as the series moves from ABC to CMT. Colin served as the musical director for the live touring the cast of Nashville that featured the stellar Blackie and The Rodeo Kings rhythm section of John Dymond (bass) and Gary Craig (drums). Somehow, Linden found time to do a string of dates playing guitar for Bob Dylan AND he released his beautiful 2015 album "Rich In Love" on Stony Plain Records.
Stephen Fearing
Stephen Fearing has been doing what he does best – Travelling. Fearing, who has been living in Nova Scotia for the past 8 years, moved in July 2016 with his wife and daughter to Victoria BC and back to where his career began on the West Coast in 1988 with the release of "Out To Sea".
Aside from moving across the country, has been a busy year with solo shows across Canada and a recent tour of Holland, Germany and The UK. (and yes, he did drive the family car from coast to coast, playing festivals along the way).
Tom Wilson
In 2015 Tom Wilson released his third album under his nom de plume LEE HARVEY OSMOND. The Album titled Beautiful Scars has received critical attention in both Canada and the United States leading to extensive touring of North America. In the mix of writing, recording and performing Wilson revealed publicly some new and compelling information about his life and heritage. This led to an offer from Random House for a book about his life and journey. Tom has been immersed in writing his story ….we can't wait to read it!