---
Fabiano Martignago & Luca Ventimiglia
---
Biographie Fabiano Martignago & Luca Ventimiglia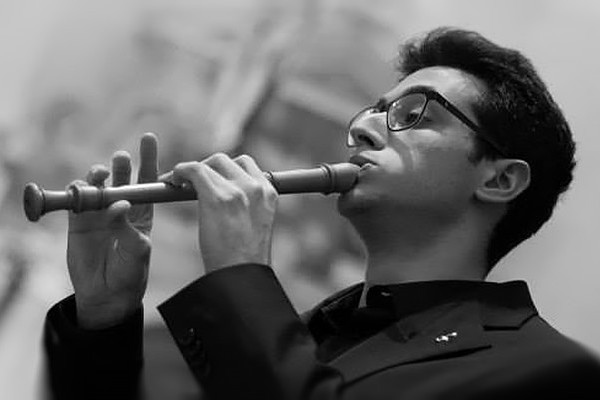 Fabiano Martignago
was born in Montebelluna (Italy) in 1994 and earned his Diploma in recorder with honours in 2012 at the A. Steffani Conservatory in Castelfranco Veneto (Treviso). In 2015 he earned his Doctor of Music Degree in Music Disciplines – recorder with honours at the A. Pedrollo Conservatory in Vicenza.
In 2009 he took first place at the National Recorder Contest organised by the European Recorder Teachers' Association (ERTA) in Padua.
In 2011, as a soloist, he won the 8th Edition of the National Arts Award organised by the Italian Conservatories in the "Music with ancient instruments" section in Benevento.
He has also attended masterclasses, courses and ancient and Baroque music laboratories specialising with Dan Laurin, Kees Boeke, Han Tol, Stefano Bagliano, Lorenzo Cavasanti, Manuel Staropoli, Alfredo Bernardini.
He has executed many concerts in Italy and abroad (Austria, France, Switzerland, Spain, Albania) with chamber music ensembles and as a soloist, both with ancient and Baroque music repertoires; he has taken part in important concert series, National and International Music Festivals including "Steirisches Kammermusik Festival" in Graz (Austria), the XVth Edition of the "Musique de Chambre" Festival in Beausoleil (France), "Ghislierimusica" in Pavia, "L'Orecchio di Giano" in Rome, "Monteverdi Festival" in Mantova, ecc.
In 2013 he executed a concert broadcast live by the VaticanRadio from the Assunta Hall and as a flutist participated to the recording by the Italian Broadcasting Company (RAI) of the television show "Enquiry into Giorgione" at the Museo Casa Giorgione in Castelfranco Veneto (TV).
He collaborates with several groups including the "Il Pomo D'Oro" Orchestra, the "Collegium Pro Musica" Ensemble, "Arco Antiqua" and "Venice Music Project".
He has taken part in CD recordings for Brilliant Classics, Warner Classics & Erato, Glossa and La Bottega Discantica.
In 2019 he recorded with Luca Ventimiglia a cd of duets by the author Josef Bodin de Boismortier published for Brilliant Classics; together they also founded the ensemble "La Mirandola".
He teaches recorder at the "G. Braga" Conservatory in Teramo.