---
Biographie Catherine Graindorge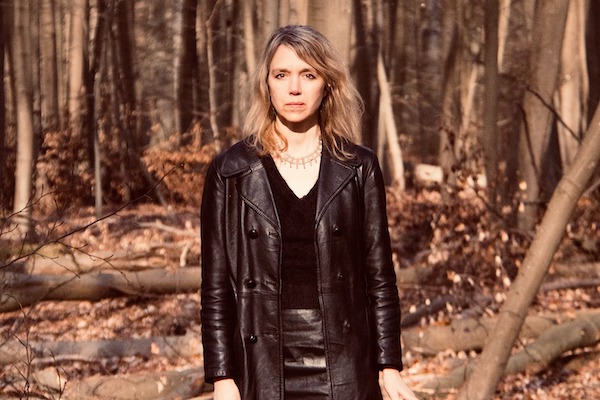 Catherine Graindorge
is a Belgian violinist, violist and composer. Produced by John Parish (PJ Harvey, Rokia Traoré), Eldorado is her second solo album and her first for Glitterbeat's tak:til imprint. Gorgeous and haunting, Graindorge uses strings, harmonium and electronic treatments to explore intimate corners and widescreen vistas.
Eldorado. People believed it was the city of gold. A fable, a legend that pushed the conquistadors further and further across a continent in search of riches. A myth. A grail. Eldorado was all of those things and more. Over the centuries it's become a word weighted down by so many meanings, layer upon layer of possibility and expectation. But it can also be a place to find hope and solace and discover dreams. That's the music of this Eldorado, the second solo album from Belgian violinist and composer Catherine Graindorge.
Although she's best-known for her collaborations - with a range of artists from Nick Cave to Mark Lanegan, as well as her work as part of Nile on waX, and for the music she's written for film and theatre - Graindorge had been intending a second solo release for years. But Eldorado had a much longer gestation period than she expected.
"After my first album, The Secret of Us All, in 2012, I had been planning to release another. But when my father passed away in April 2015, I decided to create and write a show about him that would combine text, images and music. The creation and performances took three years. I also released a pair of albums with my trio and another with Hugo Race. It was only in 2019 that I found time to imagine this new album."
That period paid dividends. The music, she says, became "like a diary," and each page brings new reflections and resonances. She worked with producer John Parish (PJ Harvey, Rokia Traoré), who played various instruments on the album, including the guitar on the homage "Eno." Graindorge had sent him her first album, and they built a friendship that led to her recording most of this disc at his studio. Artistically, it was a perfect match.
"I loved working with him," she explains. "Not only is he an excellent musician but I love his relationship with sound and music: he is curious, always looking for sounds, there is a rough and direct side to his approach to music that I liked. I wanted this new album to be more radical, a hybrid and raw like our thoughts and emotions, perhaps less 'smooth' than the first one so it corresponded more to what I feel today."
Like a series of secret paths, the music of Eldorado takes curious twists and turns, ranging from stillness to frustration. Things aren't quite as they seem; even the violin is disguised, shapeshifted by electronics, so the only certainty and continuity are the emotions Graindorge expresses.
It's intensely personal, a record brimming with tales and reminiscences, like "Rosalie," a track she composed after reading of the death of a Rwandan woman in Belgium. Rosalie had come to Belgium with her husband to escape the genocide in her homeland in 1994, and Graindorge's lawyer father had befriended her.
"They built their life here and had two children. Most of Rosalie's family had been murdered, and in her home village the remains of her family's bodies were finally found in 2019. She left with her daughter and husband to offer them a burial and a ceremony. Three days after her return to Belgium, her heart stopped. She was 51 years old."
The piece is both celebration and a remembrance, the dark foreboding opening up into autumnal, sorrowful tones – a piece of spare, 21st century chamber music, filled with echoes of life and death twined together.
"Rosalie," like so much of the music on Eldorado is earthy, caught among the tangled, breathing shadows of the harmonium and the creak of strings, before slowly breaking free towards the light. Yet at other times here, Graindorge's compositions carry a wispy ghostliness, as on "Ghost Train," where softly spoken words peer through the swirling fog of sound.
There can also be a very physical weight to what she's doing. It's apparent from the very first notes of "Lockdown," as the solid drone of the harmonium creates a foundation for her violin.
During the first lockdown, she was trapped in Belgium, unable to travel to Parish's English studio for the album mixes. The confinement of the pandemic was frustrating, claustrophobic. To relieve that, Graindorge and her daughters would play music in the gardens of nursing homes. It gave them a family project and brought some joy to those who were truly isolated. Out of that came "Lockdown." "I had to borrow a harmonium; mine was still in England," she recalls. "When I was a child, we had a big harmonium with pedals and registers, so playing it connected me to that time. Then the contact with the seniors and all the long moments at home pushed me to open the cupboards and to go back into memories."
It's a slow build, the music exploring the texture of notes, like layers of memory gradually rising to the surface. But looking into the past that way also touched the present in other ways.
"I came across some slides from 1959 that I'd collected from my grandmother after her death. There were beautiful shots of the forest where I still walk regularly. They'd turned sepia magenta over time. I'm very attached to these traces left by the disappeared. I used them as visuals for my album and for the "Lockdown" video which Olivier Pestiaux, a visual artist, sublimated beautifully."
With the music here shaped by her life, it's no surprise that Graindorge's vision of Eldorado is also coloured by her own experiences.
"In December 2017, I decided to host migrants," Graindorge explains. "Through a hosting platform set up by volunteers, we welcomed Filimon and Seleshi, two young Eritreans aged 20 and 17, into our family. I decided to accompany them to the end of their quest: Seleshi to England, and we convinced Filimon to apply for asylum in Belgium; he now has a home, a new life. Eldorado represents their quest for a better world; but it is also about Rosalie who escaped from barbarism in Rwanda. And our concern about climate change and the destruction of our earth."
A dream. A better future. A hope to arrive at that city of gold. Eldorado.