---
Album info
Album including Album cover Booklet (PDF)
1

Sound Your Horn (Live)

04:58

2

Desert Song (Live)

04:21

3

Call Back (Live)

05:12

4

The Fall (Live)

04:53

5

Don't Stay for Breakfast (Live)

05:24

6

My Best Pair (Live)

04:01

7

Song to a Bird (Live)

05:19

8

Make Some Shine (Live)

03:54

9

A Swing of Its Own (Live)

06:28

10

Birdie Blues (Live)

06:16

11

Smile (Live)

04:12

Total Runtime

54:58
Info for A Swing of Its Own (Live)

Home is where the heart is. And Hilde Louise Asbjørnsen's heart has always beaten for Swing. Accordingly, this project with the KABA Orchestra, one of Europe's most exciting Swing bands, was not just another collaboration. It was a passion and an urge and as natural as breathing. These renditions of hand-picked songs from her catalogue aren't just "alternative versions" – this is the way they were always meant to be heard.
A Swing of its Own took Hilde Louise back to the beginning, to a time when she was falling in love with jazz and spinning her mother's old jazz records on a turntable. And yet, nostalgia is notably absent here. Of course, the era of Swing, which first swept the USA and then the rest of the world and created one of the biggest revolutions in the entire history of music, is long gone. The sheer energy and irresistible pull of this music, however, will never die.
Bringing it back to the stage has been a prime concern for both Asbjørnsen and KABA's artistic founders Erik Eilertsen and Kristoffer Kompen. Their connection goes back to 2016, when they teamed up at the Oslo Jazz Festival. And it was refreshed in 2020 for another live gig, focused entirely on some of Asbjørnsen's greatest songs from her decades-spanning career. The latter is the one captured on this album and it "gathers all the threads of inspiration through my years as a songwriter and jazz singer."
If you know the "originals", the effect is similar to watching the same movie on a TV screen versus seeing it in the cinema. And yet, the soul of these tunes, their intimacy and relatability, has remained intact. Which can easily be explained by the fact that her entire backing band, which accompanied her on her previous recordings and in concert, are also members of KABA – like a small energy cell within a larger organism. Nothing gets lost here, it just gets elevated to a higher level.
Hilde Louise explains it best when she describes her feelings about the mesmerising title track: "I wrote it for our 2016 collaboration with KABA. It is a tribute to the beat of the city and the syncopated rhythm pulsating through everybody's veins. On this album, I feel like it has found its place." The same goes for all the songs here which add up to a sweeping and yet personal performance.
Hilde Louise's career has been a long and winding journey, but now, she feels, she has "finally come home". And to those willing to open up to this music - your heart is sure to follow her to that place, too.
Anders Aarum, grand piano
Hilde Louise Asbjørnsen, vocals
Svein Erik Martinsen, guitar
Erik Eilertsen, trumpet
Jørgen Gjerde, trombone
Kristoffer Kompen, trombone
Kåre Nymark, trumpet
Lars Frank, woodwinds
Atle Nymo, woodwinds
Håvard Fossum, woodwinds
Marius Haltli, trumpet
Jens Fossum, double bass
Hermund Nygård, drums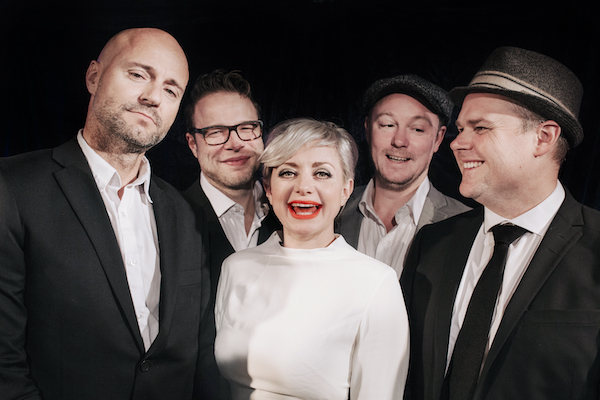 Hilde Louise Asbjornsen
is a Norwegian jazz singer, songwriter, author and actor. Since her first record "Eleven Nights" in 2004, she has released 10 critically acclaimed albums in the jazz genre, starred in numerous award winning musicals and shows and continues to create new material with her own personal touch. Through the years she has formed a second family with some of Norways top jazz musicians, with whom she performs in close communication in all constellations, from duo to big band. The National Jazz stage in Norway describes Hilde Louise as «The great performer known for her finely balanced humor and darkness, wit and energy»
In July 2021 she made her debut as an author with the book "Stardust", a tribute to eight of history's greatest female artists, still drizzling their stardust on us and inspiring Asbjørnsen to write even a new stage show under the same title, which opened to top reviews in July 2021. Broadwayworld.com wrote: "Starpower on every level". The show is touring Norway through 2022, is produced by Starworks and Sweet Morning Music, and was co-written and directed by Teodor Janson.
Hilde Louise's latest album «Red Lips, Knuckles and Bones» was be released on Ozella Music in 2019, and presented at Jazzahead that same year. Presto Music described the album like this: "My Recording of the Week is Hilde Louise Asbjørnsen's highly addictive "Red Lips, Knuckles and Bones"... a moving album of her own material, genre hopping from jazz to americana with style and humour.." Vinyl-fan gave 5/5 stars and wrote: «Die norwegische Musikszene hat immer wieder Überraschungen parat, eine davon ist zweifellos Hilde Louise Asbjørnsen! Mit ihrer LP "Red Lips, Knuckles And Bones" hat die Sängerin und Kabarettistin ein erstaunlich abwechslungsreiches Werk geschaffen.»
«Hilde Louise Orchestra» in 2019 consists of Anders Aarum on keys, Jens Fossum on double bass, Svein Erik Martinsen on guitar and Hermund Nygård on drums. Hilde Louise also performs with her swinging quartet of piano, bass and guitar or in more intimate settings in a duo with Anders Aarum, where they approach the songs with a unique presens that enhances the storytelling.
Hilde Louise's cabaret on finance and world debt; «The Lulu Show» (2015-2017), played several theaters in Norway to top reviews. It quickly became a box office hit and she was rewarded the Norwegian Comedy Award as «Female stage comedian of the year». In 2017, she performed «The Lulu Show" for 23 nights during «Edinburgh Fringe Festival» and received 5/5 stars from BroadwayBaby.com. In 2021, Hilde Louise launched a new major work called Stardust. With a book and a stage show with the same name she presents eight legendary female artist from last century, their lives and their music. The book is a chronological venture through the century, placing the great artists: Bokken Lasson (NO), Mae West (USA), Josephine Baker(US/FR), Bessie Smith (US), Marlene Dietrich (DE/US), Edith Piaf (FR), Billie Holiday (US) and Marilyn Monroe (US) side by side, into history as it evolves. The show received raging reviews and is still touring Norway.
On the musical theater scene she has done the part of «Emcee» in «Cabaret» at Oslo Nye in 2017 (first time the part was played by a woman in a Norway), «Roxie Hart» in «Chicago» and «Ms Adelaide» in «Guys and Dolls» to mention some. She won the Norwegian Comedy Award for her interpretation of «Ulla» in «The Producers - Springtime for Hitler» in 2011.

Booklet for A Swing of Its Own (Live)