---
Album info
Album including Album cover
Johann Sebastian Bach (1685-1750):

1

Prelude

09:19

2

Kyrie, Gott Vater in Ewigkeit

00:45

3

Kyrie, Gott Vater in Ewigkeit, BWV 669

03:52

4

Kyrie, Gott Vater in Ewigkeit, BWV 371: Christe, aller Welt Trost

01:11

5

Christe, aller Welt Trost, BWV 670

05:27

6

Kyrie, Gott heiliger Geist

00:57

7

Kyrie, Gott heiliger Geist, BWV 671

05:43

8

Allein Gott in der Höh sei Ehr, BWV 260

00:52

9

Allein Gott in der Höh sei Ehr, BWV 676

04:57

10

Dies sind die heilgen zehen Gebot, BWV 298

00:42

11

Dies sind die heilgen zehen Gebot, BWV 678

05:48

12

Wir glauben all an einen Gott, BWV 437

02:25

13

Wir glauben all an einen Gott, BWV 680: Wir glauben all an einen Gott, BWV 680

02:34

14

Vater unser im Himmelreich, BWV 416

02:09

15

Vater unser im Himmelreich, BWV 682

07:20

16

Christ, unser Herr, zum Jordan kam, BWV 280

01:12

17

Christ, unser Herr, zum Jordan kam, BWV 684

03:42

18

Aus tiefer Not schrei ich zu dir, BWV 38: Chorale: Aus tiefer Not schrei ich zu dir

01:04

19

Aus tiefer Not schrei ich zu dir, BWV 686

07:08

20

Jesus Christus, unser Heiland, BWV 363

01:37

21

Jesus Christus, unser Heiland, der von uns den Zorn Gottes wandt, BWV 688

03:45

22

4 Duets: Duet No. 1 in E Minor, BWV 802

02:45

23

4 Duets: Duet No. 2 in F Major, BWV 803

03:51

24

4 Duets: Duet No. 3 in G Major, BWV 804

02:56

25

4 Duets: Duet No. 4 in A Minor, BWV 805

02:45

26

Kyrie; Gott Vater in Ewigkeit

00:46

27

Kyrie, Gott Vater in Ewigkeit, BWV 672

01:02

28

Kyrie, Gott Vater in Ewigkeit, BWV 371: Christe, aller Welt Trost

01:08

29

Christe, aller Welt Trost, BWV 673

01:17

30

Kyrie; Gott heiliger Geist

00:53

31

Kyrie, Gott heiliger Geist, BWV 674

01:42

32

Allein Gott in der Höh sei Ehr, BWV 675

04:35

33

Allein Gott in der Höh sei Ehr, BWV 260 (version with melody sung, harmonization played on keyboard)

02:14

34

Fughetta super Allein Gott in der Höh sei Ehr, BWV 677

01:05

35

Dies sind die heilgen zehen Gebot, BWV 298 (version with melody sung, harmonization played on keyboard)

01:32

36

Fughetta super Dies sind die heiligen zehen Gebot, BWV 679

01:50

37

Wir glauben all an einen Gott, BWV 437 (version with melody sung, harmonization played on keyboard)

02:14

38

Fughetta super Wir glauben all an einen Gott, BWV 681

01:07

39

Vater unser im Himmelreich, BWV 416 (version with melody sung, harmonization played on keyboard)

02:01

40

Vater unser im Himmelreich, BWV 683

01:14

41

Christ, unser Herr, zum Jordan kam, BWV 280 (version with melody sung, harmonization played on keyboard)

01:50

42

Christ, unser Herr, zum Jordan kam, BWV 685

01:11

43

Aus tiefer Not schrei ich zu dir, BWV 38: Chorale: Aus tiefer Not schrei ich zu dir (version with melody sung, harmonization played on keyboard)

02:36

44

Aus tiefer Not schrei ich zu dir; BWV 687

04:44

45

Jesus Christus, unser Heiland, BWV 363 (version with melody sung, harmonization played on keyboard)

02:05

46

Fuga super Jesus Christus unser Heiland, BWV 689

04:28

47

Das walt Gott Vater und Gott Sohn, BWV 290

01:34

48

Prelude & Fugue in E-Flat Major, BWV 552 "St. Anne": Fugue

07:00

Total Runtime

02:14:54
Info for J.S. Bach: Clavier-Übung, Book 3 "Orgelmesse"

J. S. Bach's Clavier-Ubung III, which is frequently referred to as the German Organ Mass, is a collection of works for organ which was begun in 1735 and published in 1739. It is considered to be Bach's most important and extensive work for organ, and contains some of his most complex and demanding writing for that instrument. This release presents the work, supplemented by Bach choral settings of the respective chorale melodies. Featured soloists on this release include the Vocal quartet of the J. S. Bach Foundation- soprano Lia Andres, alto Antonia Frey, tenor Raphael Hohn, and bass Philippe A. Rayot. "The author has given here new proof that in this kind of composition he excels many others in experience and skill. No one can surpass him in this sphere, and very few indeed will be able to imitate him. This work is a powerful argument against those who have ventured to criticize the music of the Court Composer." (Lorenz Mizler, Muzikalische Bibliothek 1740)
Johannes Lang, organ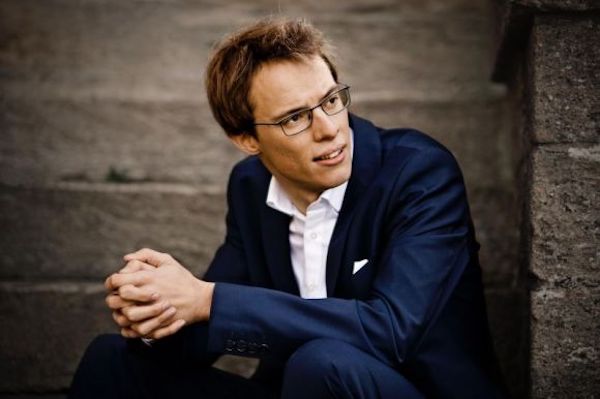 Johannes Lang
Der Organist Johannes Lang studierte historische Tasteninstrumente / Cembalo bei Prof. Dr. Robert Hill, Kirchenmusik sowie Meisterklasse Orgel an der Musikhochschule Freiburg und schloss mit Auszeichnung ab (Orgel bei Prof. Martin Schmeding, Prof. Hannfried Lucke, Prof. Zsigmond Szathmary, Improvisation bei Prof. Karl Ludwig Kreutz, Dirigieren u.a. bei Prof. Manfred Schreier sowie Gesang und Ensemblegesang bei Prof. Torsten Meyer). Nach elf 1. Preisen als Organist, Cembalist und Pianist beim Bundeswettbewerb «Jugend musiziert» gewann er als Organist unter anderem die Wettbewerbe in Lübeck (2009), Bellelay (2011), Leipzig (Bach-Wettbewerb 2012) und war Preisträger der Wettbewerbe in Ljubljana (2007), Herford (2008) und München (ARD 2011). Johannes Lang ist einer der gefragtesten Nachwuchsmusiker in seinem Gebiet und widmete sich einer intensiven, weltweiten Konzerttätigkeit. Seit Oktober 2016 ist er Kreiskantor an der Friedenskirche Potsdam-Sanssouci, an der er ein umfangreiches kirchenmusikalisches Profil pflegt und weiterentwickelt.

This album contains no booklet.