---
Album info
Album including Album cover
Francis Poulenc (1899 - 1963): Violin Sonata, FP 119:

1

Violin Sonata, FP 119: I. Allegro con fuoco

06:10

2

Violin Sonata, FP 119: II. Intermezzo. Très lent et calme

05:52

3

Violin Sonata, FP 119: III. Presto tragico. Strictement la double plus lent

05:16

Ernst von Dohnányi (1877 - 1960): Coppélia:

4

Coppélia: Waltz (Arr. for Piano by Ernst von Dohnányi)

04:58

Bélà Bartók (1881 - 1945): Violin Sonata No. 2, Sz. 76:

5

Violin Sonata No. 2, Sz. 76: I. Molto moderato

08:41

6

Violin Sonata No. 2, Sz. 76: II. Allegretto

11:50

Maurice Ravel (1875 - 1937): Tzigane, M. 76:

7

Tzigane, M. 76

10:10

Total Runtime

52:57
Info for Deux (Bartók, Poulenc & Ravel)

For her third album on Alpha, Patricia Kopatchinskaja is joined by a highly talented pianist whose approach to music is as extremist as hers, Polina Leschenko. Together they explore pieces that have many points in common. The Hungarian violinist Jelly d Arányi, grandniece of Joseph Joachim, was a muse to both Bartók and Ravel. In 1922 and 1923, she premiered the two Bartók sonatas for violin and piano and Ravel dedicated Tzigane to her. He wrote to Bartók: You have convinced me to compose for our friend, who plays so fluently, a little piece whose diabolical difficulty will bring to life the Hungary of my dreams; and since it will be for violin, why don't we call it Tzigane? Of course, Tzigane by Patricia Kopatchinskaja, who has been playing and dancing this music since her childhood in Moldova, does not sound like salon music... After a much-fêted recital at Wigmore Hall in 2017, the Financial Times wrote: In another life, Patricia Kopatchinskaja might have been a rock star. This is a violinist who loves taking risks . . . But the final reward was worth waiting for: a denouement of astonishing force.Debussy's Sonata, with its Arab and Javanese influences, completes this voyage, along with a piece for piano solo by Dohnányi,the Valse Coppélia after Léo Delibes, another symbol of the relations between France and Hungary.
Patricia Kopatchinskaja, violin
Polina Leschenko, piano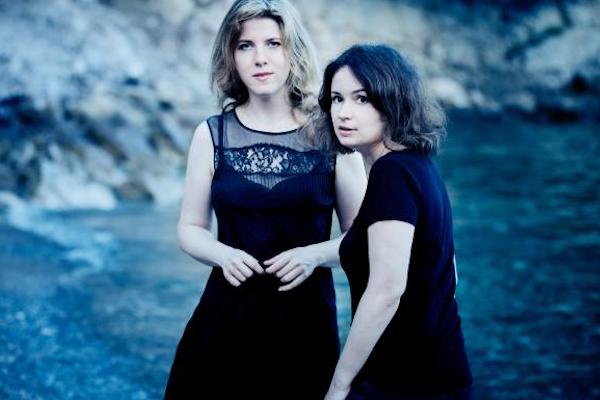 Patricia Kopatchinskaja
versatility shows itself in her diverse repertoire, ranging from baroque and classical often played on gut strings, to new commissions and re-interpretations of modern masterworks.
Kopatchinskaja's 2017/18 season commences with the world premiere of her new project Dies Irae at the Lucerne Festival where she will be 'artiste étoile'. Dies Irae is her second staged programme following the success of Bye Bye Beethoven with Mahler Chamber Orchestra in 2016, and uses the theme from the Latin Requiem Mass as a starting point for her new concept featuring music from Gregorian Chant and Early Baroque to Giacinto Scelsi and Galina Ustwolskaja. The North American premiere will take place at the Ojai Festival in June 2018 where Patricia will be Music Director.
György Ligeti's Violin Concerto is again a feature of Kopatchinskaja's season – she will perform it with the Mahler Chamber Orchestra at the Enescu Festival in Bucharest under Rafael Payare, Orchestra Sinfonica Nazionale della RAI, and Aurora Orchestra under Nicholas Collon as part of the Southbank Centre's Ligeti weekend where she will also perform the Horn Trio with Pierre-Laurent Aimard and Marie-Luise Neunecker. The Stravinsky Violin Concerto will also be a prominent work which she will perform with the London Philharmonic Orchestra under Alain Altinoglu in London, on tour around Europe, with Teodor Currentzis and the Tonhalle-Orchester Zürich and with Gustavo Gimeno and the Rotterdam Philharmonic Orchestra.
Last season's highlights included Kopatchinskaja as Artist in Residence at four major European venues and festivals: at the Berlin Konzerthaus, the Lucerne Festival, London's Wigmore Hall and the Kissinger Sommer Festival. She also embarked on two major European tours; with Orchestre Philharmonique du Luxembourg under Gustavo Gimeno and with Wiener Symphoniker and Musica Aeterna both under the baton of Teodor Currentzis. She performed the Ligeti Violin Concerto with Sir Simon Rattle and the Berliner Philharmoniker, Filharmonica della Scala under Andrés Orozco-Estrada, and the Finnish Radio Symphony Orchestra under Jukka-Pekka Saraste. She also made her debut with the Gothenburg Symphony and Peter Eötvös performing his Violin Concerto DoReMi. Continuing her regular collaboration with the London Philharmonic Orchestra, she appeared with them in London and New York under Vladimir Jurowski.
Chamber music is immensely important to Kopatchinskaja and she performs regularly with artists such as Markus Hinterhäuser, Polina Leschenko, Anthony Romaniuk and Jay Campbell appearing at such leading venues as the Berlin Konzerthaus, London's Wigmore Hall, Vienna Konzerthaus and Concertgebouw Amsterdam. She is also an Artistic Partner with The Saint Paul Chamber Orchestra and performs with the ensemble regularly, both in Saint Paul and internationally. They undertook a major European tour together in November 2016, to coincide with the release of a new CD recording of Schubert's Death and the Maiden. In 2017/18 she will partner with cellist Jay Campbell in an eclectic programme at New York City's Armory in October, and for a series of recitals around Europe with pianist Polina Leschenko including London's Wigmore Hall, Berlin's Boulez Saal and the Vienna Konzerthaus.
A prolific recording artist, the last few seasons have seen a number of major releases; an album of Kancheli's music with Gidon Kremer and the Kremerata Baltica, a disc of duos entitled TAKE TWO on Alpha Classics, a recording of Schumann's Violin Concerto and Fantasy with WDR Sinfonieorchester Köln under Heinz Holliger for Audite, and Tchaikovsky's Violin Concerto with Teodor Currentzis and Musica Aeterna on the Sony label. Kopatchinskaja's release for Naïve Classique featuring concerti by Bartók, Ligeti and Peter Eötvös won Gramophone's Recording of the Year Award in 2013, an ECHO Klassik Award and a 2014 Grammy nomination. Her latest release Death and the Maiden, for Alpha with The Saint Paul Chamber Orchestra has received great critical acclaim.
Polina Leschenko
was born in St Petersburg into a family of musicians and began playing the piano under her father's guidance at the age of six. Two years later she made her solo début with the Leningrad Symphony Orchestra in St Petersburg. She studied with Sergei Leschenko, Vitali Margulis, Pavel Gililov, Alexandre Rabinovitch-Barakovsky and Christopher Elton. At the age of 16 she received her Higher Diploma with the greatest distinction from the Royal Conservatory in Brussels.
Leschenko works with orchestras around the world including Camerata Salzburg, Hallé, London Mozart Players, Scottish Chamber, Britten Sinfonia and Russian National Orchestra. A regular visitor to the Hallé, she performed in their 150th birthday celebration concert in February 2008, and in September 2008 she toured South America with the orchestra and Sir Mark Elder.
An accomplished and admired chamber musician, Polina Leschenko also performs frequently at many festivals. Regular collaborations with artists include Patricia Kopatchinskaja, Alissa Margulis, Priya Mitchell, Daniel Rowland, Alexander Sitkovetsky, Heinrich Schiff and Torleif Thedéen. Leschenko has given major solo recitals in Vienna's Konzerthaus, Amsterdam's Concertgebouw and New York's Carnegie Hall as well as in Salzburg, Milan, London, Paris, Brussels, Minnesota and Atlanta.
In 2009 Leschenko began a new position as International Chair in Piano at the Royal Welsh College of Music &Drama in Cardiff, where she has a three-year residency.
In 2003 Polina Leschenko recorded a début CD for EMI in the series "Martha Argerich presents …" with works by Liszt, Chopin, Kreisler/Rachmaninov, Brahms and Bach/Feinberg. After her well received disc of Prokofiev chamber music with Martha Argerich, Christian Poltéra and Roby Lakatos, her recital disc – featuring an all-Liszt programme – was released in 2007. Recently released was a recording of works by Rachmaninov and Medtner.

This album contains no booklet.