---
Album info
Album including Album cover
I`m sorry!
Dear HIGHRESAUDIO Visitor,
due to territorial constraints and also different releases dates in each country you currently can`t purchase this album. We are updating our release dates twice a week. So, please feel free to check from time-to-time, if the album is available for your country.
We suggest, that you bookmark the album and use our Short List function.
Thank you for your understanding and patience.
Yours sincerely, HIGHRESAUDIO
1

Hollow Bones Pt. 1

02:52

2

Tied Up

03:27

3

Thundering Voices

02:52

4

Baby Boy

03:36

5

Pretty Face

03:23

6

Fade Out

04:49

7

Black Coffee

05:33

8

Hollow Bones Pt. 2

06:50

9

All That I Want

03:39

Total Runtime

37:01
Info for Hollow Bones

Hugely anticipated 5th studio album from the best Rock N Roll band on the planet.
Rival Sons are a raucous, maximum-blues-infused, hard rock band from Los Angeles, CA, who explode with the rhythm and roughness of some of the greatest rock acts of all time. Hailed as "The unlikely saviours of American Rock"(Classic Rock) lead vocalist Jay Buchanan, guitarist Scott Holiday, bassist Robin Everhart, and drummer Mike Miley were brought together by a love of music, but also, in their own words, they "want to give the people the rock and roll they deserve by keeping it honest, visceral, and dangerous." Hollow Bones is the follow-up to 2014's acclaimed Great Western Valkyrie. Buchanan explains, "Each record we've made has been part of a distillation toward revealing the band's essence. This record, finally is the release of the unapologetic, wild beast that has long lived within the ribs of Rival Sons howling to be freed."
The album was recorded in Nashville's LCS Studios with two-time Grammy winning go to producer Dave Cobb, who raves about the band: "Rival Sons are the best rock 'n' roll band on the planet." As a band that has always been convinced that the artwork is just as important a part of the overall experience as the music, Rival Sons also teamed up with highly figurative artist Martin Wittfooth.
Rival Sons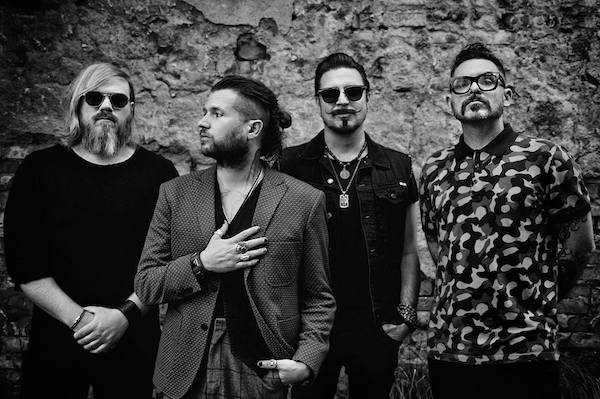 Rival Sons
Released in June 2014 via Earache Records, Great Western Valkyrie puts Rival Sons freewheeling fuzz and improvisational stage ethos to wax and cements their position as America's next great rock'n'roll band. With a 'conscious decision for this band to be just what it is' (Jay Buchanan) this album is more cohesive than any Rival Sons album before.
From the beach cities of Southern California, the time was ripe for Rival Sons. Guitarist Scott Holiday had long been searching for something that would fit his psychedelic vision and fuzzy garage rock tones, then things fell into place when blues singer/songwriter Jay Buchanan put the solo career on the backburner and gave rock 'n' roll a chance. Scott Holiday: 'a random find on the Internet points me to Jay Buchanan. In 13 seconds I realize I have just come across the singer I've looked for over the last 10-12 years of my life.' Jay was invited to record vocals on the band's debut release 'Before the fire' 'Singing On My Way in a single take. We never even ran tape a 2nd time. That was a first to witness for me. And so it was born... Rival Sons.'
Four albums on, with an ever-growing fan base the band go from strength to strength and have never looked back.
Emerging from a scene where over-production was commonplace, writing and recording in a hotbox of activity without prior discussion or preparation came to be what Rival Sons is about. 'We have a reputation for recording our albums very quickly and keeping things very live - off the floor.'
As Holiday puts it after recording Before The Fire: 'This is just the simplest way to not cheat ourselves or the listener. Rock and Roll can't be over-thought, and if it is, it loses its immediacy and instinct … it needs to be a knife fight, not a choreographed knife dance'
The Rival Sons EP was recorded soon after Jay Buchanan joined the band and it caught the attention of Earache Records founder Digby Pearson who signed a deal in November 2010 that led to the recording of Pressure & Time in early 2011. The album was recorded in Los Angeles with producer Dave Cobb (who has worked on all Rival Sons albums) and released worldwide in May 2011. The band committed to creating an experience that closely matches the attitude and excitement of one of their live performances. Coming straight off a 4 week stint on the road, Rival Sons wrote, recorded, and mixed the album in just 20 days; ensuring a rawness for both the listener and the band; explains Buchanan, 'in the code of the Samurai, any decision must be made between 3 and 5 breaths … writing by that code forces us to act, go with our instincts and really, truly listen to each other. Creatively, you're bringing your most immediate instincts.'
Pressure & Time opened a door to Europe where from their first European show at Camden Barfly to Shepherds Bush Empire in 2012, there has hardly been a show that was not sold out. The band quickly picked up European shows and festivals and became known for a wild improvisational live show.
Jay Buchanan "Each one of us is coming at this thing we call a band for different reasons and with a very different approach. It's an unlikely collective really but when it all comes together there's an energy I don't see happening anywhere else. If rock'n'roll is our base form I would say, that transparent energy in our performance and solid writing are our highest functions as a band. Give everything you have, every time. Each time you approach that stage, every night, you're waiting for someone to call you out for the fraud you really are so you empty your pockets and give them everything you have inside of you just trying to prove that you've come there for a greater reason than just wanting to be the center of someone's attention. Music is fucking heavy business."
Seeing the creative process as a snapshot, only spending less than a month in the studio for each album, writing and recording live under one roof to keeps the process raw but also grueling. Straight off the back of more touring early 2012 the band went into Honey Pye studios in Nashville in February 2012 for 22 days to write and record their new album again with Dave Cobb and Vance Powell (Jack White, Kings of Leon etc). Experimenting with old analog equipment from legendary studios that producer Dave Cobb had collected the band found a warmth in their sound for the album that would be Head Down.
With growing accolades and chart success the band were presented with "Breakthrough Artist" award by Vic Reeves at the Classic Rock awards at the end of 2012, they also graced the cover of the magazine as well as several other publications.
Between albums Rival Sons have a taxing tour schedule, original bassist Robin Everhart left the band in August 2013, finding that the touring life didn't agree with him. Playing club shows, stadiums and festivals, the band find new fans wherever they are. Continuing with their touring schedule long-time friend of the band Dave Beste (Maroon5, Rocco Deluca and The Burden) joined on bass before the band returned to the studio January 2014 again with producer Dave Cobb in Nashville, the band recorded their 5th release 'Great Western Valkyrie' "Opting to keep the sound in-tact and very accurate as to deliver to the listener exactly what was happening in the room when we put it down. We also felt a big desire to make a few left turns musically on this record - which we did. You will get the rock n roll…but on several tracks you get something much more hybrid." – Scott Holiday
Called 'A vital force in the modern age' by The Guardian, Rival Sons often approach their music as if they were on a mission. Drummer Michael Miley: 'We're pushing the envelope of modern music; forcing it to stay awake and active through instinctive and honest music delivered with a blistering live performance'
'In a ideal world, I want our records and live shows to envelop the listener to the level of forgetting daily worries. Just be free and lose (or FIND) yourself in the music.' – Scott Holiday

This album contains no booklet.