---
Album info
Album including Album cover
1

My Angel

10:10

2

Blasé

10:20

3

There Is A Balm In Gilead

05:56

4

Sophisticated Lady

05:10

5

Touareg

09:12

Total Runtime

40:48
Info for Blasé (Remastered)

Digitally mastered from original BYG tapes by Nick Robbins. Florida-born saxophonist, composer, poet, actor and playwright Archie Shepp was one of the most articulate exponents of politicized black culture in the late '60s, a time of enormous upheaval and radical thought.
Relocating to Paris he made a number of highly influential albums, such as Blasé, that broached the essential themes of freedom and racial equality, and tapped into the bedrock of African-American music. Gospel and blues were a major part of the work, which also had a strong avant-garde sensibility. The band featured stellar vocalist Jeanne Lee and members of Art Ensemble Of Chicago. These trailblazing artists who combined jazz, poetry and radical politics made a definitive musical statement.
Blasé crosses the sacred-profane divide and liberally traveling through time and space, to create as much pre-jazz as free jazz, the tag given to Shepp for which he had much ambivalence. His artistic outlook was always broad, taking him from a graceful reprise of Duke Ellington's Sophisticated Lady to the upbeat bustle of Touareg, a rhythmic tour de force for the Shepp-Jones-Favors trio that reflects the great inspiration Shepp drew from his appearance at the historic Pan-African festival in Algiers in July, 1969, shortly before he went into the studio to record Blasé.
Black music has always had a fascinatingly complex relationship with its own history. Echoes of the past are continually heard in the present. What was once deemed old quickly becomes new. A song from one generation can enjoy a revival in another.
If Blasé teaches us one thing it is that younger artists have always felt the spirit of their elders in heaven and on earth. As the Duke said 'all god's chillun got rhythm.'
"This re-mastered version of a seminal album still has great musical and emotional power..." Kevin Le Gendre, 2022.
Archie Shepp, tenor saxophone
Jeanne Lee, vocal (except on track 5)
Dave Burrell, piano (exc. on track 5)
Chicago Beau, harmonica (on track 1 & 2)
Julio Finn, harmonica (on track 1 & 2)
Lester Bowie, trumpet, fluegelhorn (on track 3)
Malachi Favors, bass
Philly Joe Jones, drums
Digitally remastered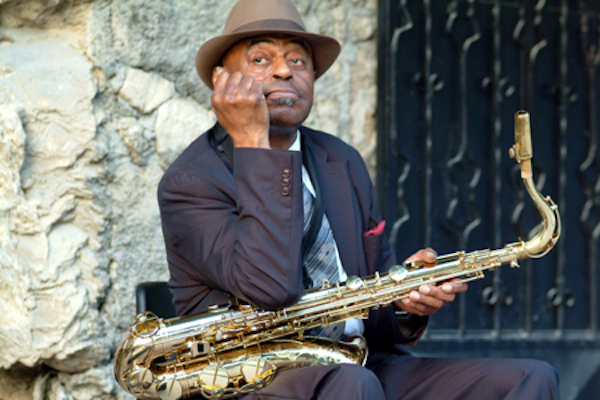 Archie Shepp
is a New York City native and alumnus of Goddard College. Archie started playing jazz in the early 60's and continues to dazzle audiences around the world playing tenor saxophone and piano, accompanied by his soulful voice. Currently residing in Massachusetts, he teaches music history as a professor at the University of Massachusetts, Amherst. Archie has collaborated with Cecil Taylor, John Coltrane and Yusef Lateef, as well as countless other jazz greats. Mr Shepp received the distinguished New England Foundation for the Arts Achievement in Music Award in 1995. The following is an excerpt from Scott Cashman during the award presentation:
"Archie Shepp really began his career as a professional musician when Cecil Taylor gave him an opportunity to join his group in 1960. John Coltrane's appreciation of his artistry led to Shepp's recording contract with Impulse!. Throughout the 1960s he participated in a collective innovation which introduced a new set of possibilities for African American music. Known as either "Free Jazz" or "Avant-Garde Jazz" this music spoke to a generation not content with the status quo in terms of music and social equality. As a spokesperson for this new music Shepp proved to be intelligent, educated, forceful and controversial. Through it all, in his music, spoken and written words, and non-musical jobs, he was a forceful advocate for equality and justice.
Beginning in the 1970s Archie Shepp began to experiment with the various forms of his African American musical heritage. Mainstream jazz, traditional spirituals and blues, and original compositions were explored in settings ranging from duos to his Attica Blues Big Band.
Today, in addition to being a master of the tenor saxophone, I believe that through his performances he has become one of the most profound bluesmen on the scene. I don't have to wait for his old age to proclaim my belief that he is one of our national treasures."

This album contains no booklet.