---
Album info
Album including Album cover Booklet (PDF)
Lalo Schifrin (b. 1932):

1

Mission impossible (Arr. for. Piano, Violin & Cello)

03:14

Ennio Morricone (1928 - 2020):

2

Lolita (Arr. for. Piano, Violin & Cello)

04:17

Astor Piazzolla (1921 - 1992):

3

Libertango (Arr. for. Piano, Violin & Cello)

03:00

John Williams (b. 1932):

4

Fantaisie sur les thèmes de « Sabrina » (Arr. for. Piano, Violin & Cello)

04:53

Ennio Morricone:

5

L'estasi dell'oro (Arr. for. Piano, Violin & Cello)

03:24

Nigel Hess (b. 1953):

6

Olga (Arr. for. Piano, Violin & Cello)

03:45

Guy Farley (b. 1963):

7

My reason (Thème de « Modigliani ») [Arr. for. Piano, Violin & Cello]

03:32

Layne Fox:

8

Wrong Enemy !? (Arr. for. Piano, Violin & Cello)

02:35

John Williams:

9

Thème de « La liste de Schindler » (Arr. for. Piano, Violin & Cello)

04:21

Gerard Schwarz (b. 1947):

10

Les nuits blanches de Leningrad (Arr. for. Piano, Violin & Cello)

03:59

Astor Piazzolla:

11

La Muerte del Angel (Arr. for. Piano, Violin & Cello)

03:22

12

Oblivion (Arr. for. Piano, Violin & Cello)

04:44

Ennio Morricone:

13

Fantaisie sur les thèmes de « Cinema Paradiso » (Arr. for. Piano, Violin & Cello)

05:03

Max Richter (b. 1966):

14

November (Arr. for. Piano, Violin & Cello)

05:24

Total Runtime

55:33
Info for Grand Écran

A trio of soloists from the great Russian school who interpret with flames spectacular arrangements of 15 famous musics from American and Russian films – a tribute to Enio Morricone!
Fascinated by the world of cinema, the musicians of TRIPTIKH, by the way they look at these « great classics » of film music and the strength of their talent, strive to give it an existence of its own, a dimension in its own right. Its evocative power, its pictorial dimension, the richness of the emotional and expressive registers make it a rich field of exploration, perfectly adapted to a classical trio formation. The musicians give her a treatment that is at once warm, powerful and mastered, which transports us into this universe that we love so much …
Natacha Medvedeva, piano
Dimitri Maslennikov, cello
David Galoustov, violin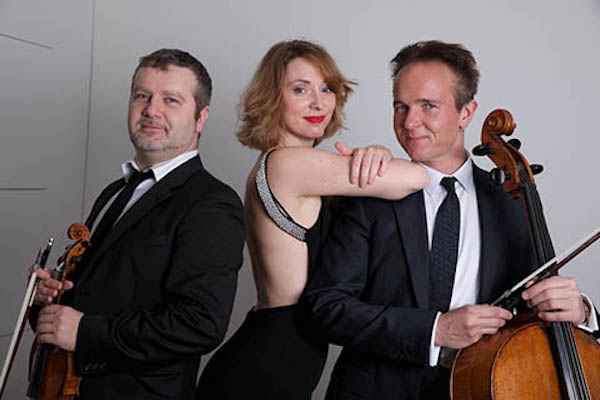 Ensemble Triptikh
These three classical musicians - Natacha Medvedeva (piano), Dimitri Maslennikov (violincello) and David Galoustov (violin) – are all from the famous "Russian School", renowned for its demanding exactitude.
Natacha Medvedeva
Born in Volgograd, she started her piano studies in the local music school in 1986. She graduated from the Volgograd Institute of Arts in 2001. After coming to France in 2003, she joined the class of Germaine Mounier at the Ecole Normale de Musique de Paris. In 2006 she was unanimously awarded the superior diploma in chamber music from the Ecole Normale de Musique de Paris. She appears regularly as a chamber music artist, notably during le Festival Classique au Vert au Parc Floral de Paris, at Le Théâtre de Fontainebleau, Le Festival musical des Grands Crus de Bourgogne, Le Festival des Rencontres Musicales Internationales in Enghien, Belgium (IMUSE), and in many concert halls in France and abroad. In 2017 she won first prize at the Festival of Jewish Music in Amsterdam with the soprano Mélanie Gardyn.
Dimitri Maslennikov
Born in St Petersburg in 1980, he proved his considerable musical talent when, between the ages of 11 and 13, he won the Moscow International Young Soloist competition, the International "Concertino Praha" in Prague, a prize at the Tchaikovsky Competition as well as in the Rostropovich cello competition. At the age of 14 he received a grant from the French government to study at the Paris Conservatoire which he left having won a unanimous first prize. Very soon, some of the most prestigious orchestras invited him: the Moscow Soloists, Moscow Virtuosos, Russian Symphony Orchestra, Prague Radio Orchestra, Israel Philharmonic, Montreal Symphony Orchestra and Strasbourg Philharmonic Orchestra... Under the direction of Christoph Eschenbach, he made numerous tours. He also began a fruitful collaboration with the Saint Petersburg Philharmonic Orchestra under the direction of Maestro Youry Temirkanov.
David Galoustov
Born in Moscow in 1980 he gave his first concert as a soloist at the age of 9. In 1991 he arrived in Paris with his parents to study with Gérard Poulet at the CNSM of Paris, where he was awarded First Prize for the violin and a Diploma of Higher Studies. He has since received an impressive series of distinctions: Finalist in the Yehudi Menuhin International Violin Competition, Prix d'honneur in La Maison de Radio France Competition, Second Prize in the Kharkov Young Musician Competition, Prize winner in the Fondation de France (Drouet-Bourgeois Prize), in the International Alexander Glazunov Violin Competition, and in la Fondation Natexis Banque Populaire. His touring career has taken him across France (Strasbourg, Lille and Limoges Operas, Le Festival des Serres d'Auteuil, La Criée Theatre in Marseille, La Salle Poirel in Nancy, L'Orangerie de Bagatelle and Les Salles Pleyel and Gaveau.) He has also toured Switzerland, Russia, Ukraine, England and Canada. At the same time, David Galoustov's talent has been recognised by writers of film music: he has recorded two productions by Jerome Lemonnier and Vladimir Kosma has engaged him for various projects such as the musical comedy "Rabbi Jacob". He is the soloist in many scores by Phillipe Rombi ("Bienvenue chez les Ch'tis" and "Swimming Pool") who has composed almost all the scores for the films of François Ozon.

Booklet for Grand Écran