---
Album info
Album including Album cover Booklet (PDF)
Camille Saint-Saëns (1835 - 1921): Symphony No. 3 in C Minor, Op. 78, R. 176 "Organ":

1

Symphony No. 3 in C Minor, Op. 78, R. 176 "Organ": Ia. Adagio - Allegro moderato

10:25

2

Symphony No. 3 in C Minor, Op. 78, R. 176 "Organ": Ib. Poco adagio

09:55

3

Symphony No. 3 in C Minor, Op. 78, R. 176 "Organ": IIa. Allegro moderato - Presto

07:48

4

Symphony No. 3 in C Minor, Op. 78, R. 176 "Organ": IIb. Maestoso - Allegro

08:16

Francis Poulenc (1899 - 1963): Organ Concerto in G Minor, FP 93:

5

Organ Concerto in G Minor, FP 93: Ia. Andante

02:56

6

Organ Concerto in G Minor, FP 93: Ib. Allegro giocoso

02:14

7

Organ Concerto in G Minor, FP 93: Ic. Andante moderato

06:59

8

Organ Concerto in G Minor, FP 93: Tempo allegro, molto agitato

09:52

Charles-Marie Widor (1844 - 1937): Organ Symphony No. 5 in F Minor, Op. 42 No. 1:

9

Organ Symphony No. 5 in F Minor, Op. 42 No. 1: V. Toccata

06:43

Total Runtime

01:05:08
Info for Saint-Saëns, Poulenc & Widor: Works for Organ

The monumental and colourful sounds of the organ and symphony orchestra blend together perfectly on this splendid recording of Saint-Saëns's "Organ" Symphony, Poulenc's Concerto for Organ, Strings and Timpani and the Toccata from Charles-Marie Widor's Organ Symphony No. 5. The majestic organ chords at the start of the final movement of Saint-Saëns's symphony equal the sublime effect of Beethoven's choral conclusion of his Ninth, and have made it an audience's favourite straight from the moment of its 1886 premiere. Poulenc's organ concerto shows the composer's retrospective side, while simultaneously offering flashes of his stylistic playfulness. After Poulenc's serene concerto, Widor's Toccata offers a vibrant conclusion to this programme.
The Geneva Victoria Hall organ is played by Christopher Jacobson, who has already released a solo album with performances on the Aeolian Organ at Duke University Chapel, as well as a recording of Tyberg Masses with the South Dakota Chorale on PENTATONE. On this album, he works with the Orchestre de la Suisse Romande and conductor Kazuki Yamada, who have a vast PENTATONE discography.
Christopher Jacobson, organ
Orchestre de la Suisse Romande
Kazuki Yamada, conductor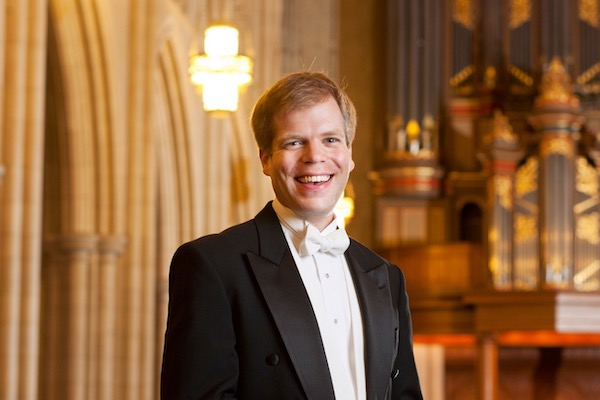 Christopher Jacobson
Duke University Chapel Organist and Organist at Duke Divinity School, Christopher Jacobson, FRCO, is active as a versatile concert organist, conductor, accompanist, guest clinician, and teacher. At Duke he founded and directs the Duke Evensong Singers in services and concerts, oversees the training of the Chapel's organ scholars, and is responsible for the organ playing at all services and concerts.
As a soloist, Mr. Jacobson has presented organ recitals across North America, Europe, and Australia. His recordings appear on PENTATONE both as an organ soloist and accompanist. He has won top prizes in numerous organ competitions, including the National Young Artist Competition of the American Guild of Organists, the Miami International Organ Competition, and the John R. Rodland Competition in sacred music. In addition to maintaining an active recital schedule, he has presented performances of the complete organ works of Johann Sebastian Bach across the United States to critical acclaim.
An active ensemble performer Mr. Jacobson is in demand as an accompanist and continuo player. He is a 2017 Grammy-nominated organist for his work with conductor Brian A. Schmidt and the South Dakota Chorale in the world premiere recording of Marcel Tyberg's two Masses. His work as an accompanist has taken him all over the world working regularly with choirs and orchestras in the United States, United Kingdom, France, and Germany. Recent engagements have included performing and recording at Victoria Hall with the Orchestre de la Suisse Romande in Geneva, Switzerland, and with early music ensembles including Three Notch'd Road in Charlottesville, Virginia.
One of the few Americans to hold the Fellowship Diploma from the Royal College of Organists (FRCO), Mr. Jacobson is in demand as conductor, organist, and adjudicator, and has led choirs on cathedral residencies in North America and England. Most recently he conducted the Duke Evensong Singers in choral residencies at Gloucester Cathedral and Westminster Abbey in July 2018. Before moving to Duke Mr. Jacobson was previously Associate Organist and Choirmaster at Trinity Episcopal Cathedral, Columbia, South Carolina, and Assistant Organist and Assistant Director of Music at Washington National Cathedral where he assisted in the daily training of the choirs of Men and Boys and Men and Girls and playing the organ for numerous services including the State Funeral of President Gerald Ford.
Mr. Jacobson is a 2006 graduate of the Eastman School of Music where he earned the Master of Music degree in Organ Performance and the Sacred Music Diploma. He graduated with a Bachelor of Music degree with highest distinction in Organ Performance from St. Olaf College. His teachers and mentors have included David Higgs and William Porter at Eastman, and John Ferguson at St. Olaf. Mr. Jacobson is a graduate of Woodberry Forest and the American Boychoir School where he was a treble chorister under James Litton.
Orchestre de la Suisse Romande
Founded in 1918 by Ernest Ansermet, who was its principal conductor until 1967, the Orchestre de la Suisse Romande (OSR) is made up of 112 permanent musicians. It gives subscription concerts in Geneva and Lausanne, symphonic programmes for the City of Geneva, the annual United Nations Day concert and accompanies operatic performances at the Grand Théâtre of Geneva. Over the decades, the OSR has built up an international reputation thanks to its historic recordings and its interpretation of the 20th-century French and Russian repertories.
The British conductor Jonathan Nott has served as the OSR's Music and Artistic Director since January 2017, following in the steps of the OSR's founding head and successive music directors: Paul Klecki (1967-1970), Wolfgang Sawallisch (1970-1980), Horst Stein (1980-1985), Armin Jordan (1985-1997), Fabio Luisi (1997-2002), Pinchas Steinberg (2002-2005), Marek Janowski (2005-2012), Neeme Järvi (2012-2015) and its principal guest conductor Kazuki Yamada (2012-2017). Under their guidance, the OSR has been a key player in the history of music through its discovery, first performance and support of contemporary composers. Works by Igor Stravinsky, Darius Milhaud, Arthur Honegger, Frank Martin, André-François Marescotti, Benjamin Britten, Witold Lutoslawski, Heinz Holliger, William Blank, Peter Eötvös, James Macmillan, Pascal Dusapin and Michael Jarrell constitute just some of the OSR's world premières. The OSR has continually pursued as one of its important missions the promotion and performance of new symphonic music, especially by Swiss composers.
With Swiss Radio and Television as its close partner since its beginnings, the OSR had its programmes broadcast on the airwaves already early on, bringing them to millions of listeners throughout the world. Its partnership with Decca (over 100 albums) gave rise to truly legendary recordings, enhancing its position on the international music scene. The orchestra has made prize-winning recordings for around a dozen international labels. In 2019, Decca plans a major re-release of the OSR's complete recordings with Ansermet for the 50th anniversary of the conductor's death. The orchestra currently makes two to three recordings each season for PENTATONE, and Jonathan Nott will make his recording debut with the OSR in June 2019 at Geneva's Victoria Hall with music by Johann and Richard Strauss for PentaTone.
The OSR's international tours have taken it to the leading concert halls in Europe (Berlin, London, Vienna, Salzburg, Paris, Amsterdam) and Asia (Tokyo, Seoul, Beijing), as well as the most important music centres in the Americas (Boston, New York, San Francisco, Washington, São Paulo, Buenos Aires and Montevideo). During the 2011-2012 Season, the OSR played for the first time in Moscow and St. Petersburg, and July 2014 saw appearances at Tokyo's Suntory Hall and the SeongNam Arts Center in Seoul. In February 2015, it gave seven concerts on the US East and West Coasts, and in April/May 2016 it was invited to China and India. In January 2017, the OSR under Jonathan Nott made guest appearances in Madrid and elsewhere in Spain. The OSR was in South America in May 2018 for six concerts, and returns to Asia in April 2019 for nine concerts.
The OSR is highly sought after by prestigious festivals, including, since 2000, the Budapest Spring Festival, the Chorégies d'Orange, the Música de Canarias Festival, the Lucerne Easter Festival, Les Nuits Romantiques in Aix-les-Bains, the Radio France and Montpellier Festival, the Menuhin Festival Gstaad, the Musical September in Montreux, the Robeco Zomerconcerten in Amsterdam, the Music Festival Grafenegg in Austria and the BBC Proms in London.
The Orchestre de la Suisse Romande enjoys the support of the City of Geneva, the Republic and Canton of Geneva, the Canton of Vaud, Swiss Radio-Television, the Genevan and Vaud Friends of the Orchestra, and many other sponsors and patrons. It benefits from the support of the Canton of Vaud for its subscription concerts in Lausanne.
Kazuki Yamada
is Principal Conductor and Artistic Director of Orchestre Philharmonique de Monte Carlo, and has been appointed Principal Guest Conductor of the City of Birmingham Symphony Orchestra, starting in the 2018/2019 season. In Japan he holds further titles of Principal Guest Conductor of Yomiuri Nippon Symphony Orchestra (from January 2019), Permanent Conductor of Japan Philharmonic, Music Director and Chairman of The Philharmonic Chorus of Tokyo as well as Music Director of Yokohama Sinfonietta, an ensemble he founded whilst still a student.
Yamada appears as a guest with such orchestras as Orchestre de Paris, Staatskapelle Dresden, St. Petersburg Philharmonic, Czech Philharmonic, Helsinki Philharmonic, Royal Stockholm Philharmonic, Bergen Philharmonic, Orchestra Sinfonica Nazionale della RAI, Philharmonia Orchestra and Tonkünstler-Orchester at the Vienna Musikverein. Soloists with whom he is working include Emmanuel Ax, Boris Berezovsky, Håkan Hardenberger, Nobuko Imai, Daishin Kashimoto, Alexander Kniazev, Xavier de Maistre, Steven Osborne, Vadim Repin, Baiba Skride, Jean-Yves Thibaudet, Simon Trpčeski and Frank Peter Zimmermann.
In the current season, alongside his regular weeks in Monte Carlo, Birmingham and Japan, Kazuki Yamada makes debuts with Orchestre Philharmonique de Radio France, RTVE Madrid, Stavanger Symphony, Royal Flanders Philharmonic, Berner Symphonieorchester and RTÉ Orchestra Dublin. Further afield, he maintains his regular relationship with NHK Symphony Orchestra and Tasmanian Symphony Orchestra. With Orchestre Philharmonique de Monte Carlo, he tours to Zurich Tonhalle, Victoria Hall Geneva, Theater Basel, Grosses Festspielhaus Salzburg and Het Concertgebouw Amsterdam.
He is active in the field of opera and this season will perform 'Samson et Dalilah' at Opera de Monte Carlo. He is strongly supported by Seiji Ozawa and, in August 2012, he conducted a semi-staged production of Honegger's 'Jeanne d'Arc', with Saito-Kinen Orchestra; a project that was also a huge success in spring 2015 in Côme de Bellescize's staged version at the Philharmonie de Paris, with Orchestre de Paris under Yamada. Committed to music education, Yamada appears as guest artist every summer with the students at the Seiji Ozawa International Academy in Switzerland.
Yamada was Principal Guest Conductor of Orchestre de la Suisse Romande 2010-2017 and together they have released a hugely popular series of albums inspired by dance, on the Pentatone label. Yamada is also Tokyo Philharmonic Chorus' Music Director who have released ten albums on Fontec. Now resident in Berlin, Yamada was born in Kanagawa, Japan, in 1979. In 2009 he was the winner of the 51st Besancon International Competition for young conductors.

Booklet for Saint-Saëns, Poulenc & Widor: Works for Organ