---
Album info
Album including Album cover Booklet (PDF)
1

Candide Overture

05:05

2

Freedom

06:41

3

White Moon

06:05

4

She Said She Was a Painter

04:41

5

Africa

07:17

6

Summertime

07:53

7

Fiesta

08:05

Total Runtime

45:47
Info for Piano Night (Jazz at Berlin Philharmonic VII - Live)

"Three men, three pianos, one emotion – jazz". These were the words with which German national TV news succinctly summed up the piano summit on 31st May 2016 in a sold-out main hall of the Berlin Philharmonie. And the TV news reporter continued: "Iiro Rantala, Leszek Możdżer, Michael Wollny. Each in a class of his own. Together, they're a miracle". Is there perhaps an element of déjà vu in this story? Yes, certainly. Because these were the same three jazz piano greats who had performed at the very first 'Jazz at Berlin Philharmonic' in December 2012, the event which triumphantly set in motion the concert series curated by Siggi Loch at the German capital city's classical music shrine.
Making this second appearance together were three of the most outstanding and established representatives of European jazz, each with a host of awards to their name. Możdżer, Rantala and Wollny are from a generation which mostly went through the rigours of classical study and therefore have a knowledge of that canon and tradition. Each of them has ventured from there into the freedom of jazz, and have not just loved it, but also thrived on it. They also grew up, almost inevitably, living and breathing rock and pop music. In other words, these are musicians who have garnered experiences in all genres and style, and who simply 'make music' that transcends technical barriers, and do it "in the spirit of jazz", which puts them at one with the basic tenet of the ACT label.
After more than a dozen 'Jazz at Berlin Philharmonic' concerts – all of them completely sold out, with all three pianists returning, individually, from other formations – it was exciting to listen out for how the three had developed in the interim since that first concert together. Finnish pianist Iiro Rantala has been integrating completely new colours into his playing – "melodies full of clarity and beauty", as the Stern, one of Germany's leading magazines, described them, have become a focus for his artistry.
The two solo albums 'Lost Heroes' (from 2011) and 'My Working Class Hero' (a tribute for what would have been the 75th birthday of John Lennon in 2015) finally gave him a major international profile. Artistic integrity, a respect for the power of melody and the freedom he has when soloing – Rantala brings all of these elements to the fore with total conviction in his composition 'Freedom'.
Michael Wollny has also found his artistic freedom – something he has worked towards for ten years. It was with 'Weltentraum' (2014) and 'Nachtfahrten' (2015), however, that word really started to get round that there was a quite exceptional pianist in Germany, a "complete master of the piano" (Frankfurter Allgemeine Zeitung, FAZ), a musician who seems to be able to find his own surprising solution to every kind of musical or aesthetic proposition. He certainly does that on this album in a duo with Iiro Rantala – 'White Moon', a composition by his most important early teacher Chris Beier, who was also the first to spot Wollny's potential.
There remains the Polish "phenomenon" (Süddeutsche Zeitung) Leszek Możdżer, who is the great romantic among European jazz pianists. His "filigree virtuosity with its light and shade is fascinating, hugely entertaining and nobody gets even close to what he can do as a craftsman of the contemporary piano" was the verdict of the German broadsheet FAZ. Możdżer's ability to combine the simple with the difficult is something he demonstrates incomparably in the pictorial, almost filmic composition 'She Said She Was A Painter'.
The piano summit concert has its shape, its dramaturgy, building inexorably towards a grand finale with all three pianists on the stage together. First there is the soulful heat of Gershwin's 'Summertime', and then a wild ride through Chick Corea's 'La Fiesta'. It is in moments like these, as the pianists play their multi-dimensional games of pursuit and avoidance, that the true spirit of this concert series emerges. The thrill, the tingle and the danger of these exceptional live encounters are part of the jazz tradition, but have been updated to send a buzz of excitement around today's technology-fixated audience. Iiro Rantala's 'Olé!' at the end of this concert didn't just resonate in the hall in Berlin at the moment of triumph. It is a powerful and durable expression of the effect of live music at its absolute best.
Leszek Możdżer, piano, Fender Rhodes
Iiro Rantala, piano
Michael Wollny, piano
Recorded live May 31, 2016 in concert at the Berlin Philharmonie
Recorded and mastered by Klaus Scheuermann
Mixed by Klaus Scheuermann & Bartek Kapłoński
Produced by Siggi Loch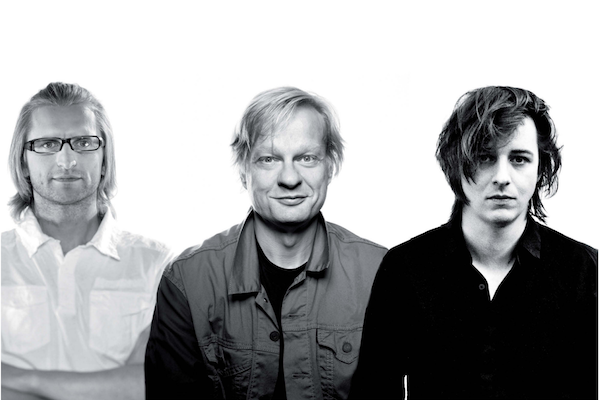 Leszek Możdżer
born 1971, is regarded as the most important discovery in Polish jazz during the past 10 years. His international reputation as one of the outstanding pianists in jazz is founded on his groundbreaking and smooth interweaving of sound aesthetics and mixing the culture of classical music with the openness and energy of jazz. He became famous as the romanticist among the European jazz pianists for his improvisations on themes by Frédéric Chopin, and his sparkling and technically unrivalled playing style has been connected to lyrical and emotional melodies ever since.
Możdżer didn't start playing jazz until he was 18, but he managed to build up his reputation remarkably quickly and was soon collaborating with the most important musicians in contemporary Polish jazz, such as Tomasz Stanko and Michal Urbaniak. The Polish jazz magazine Jazzforum has lauded him as the best Polish pianist nearly every year since 1994.
Możdżer's international career was strongly influenced by playing with Swedish bassist Lars Danielsson. Their collaboration on the albums "Pasodoble" (2007) and "Tarantella" (2009) fascinated their audience with melodious jazz sounds in a chamber musical style. In 2011 his ACT debut "Komeda" was released and awarded "Album of the Year" by Jazzforum. "Komeda" is Możdżer's personal and very self-contained tribute to legendary Polish pianist Krysztof Komeda, who became famous for composing soundtracks for movie director Roman Polanski. Soon after its release the album reached #1 in the Polish Pop (!) charts and went platinum in that country. The album was celebrated by critics and fans around the world. Leading German newspaper "Sueddeutsche Zeitung" simply called Możdżer a "phenomenon" and British newspaper "The Guardian" wrote on his playing on "Komeda": "Możdżer's swaying swing and slow-melody nuances suggest Keith Jarrett at times, but his outburst of percussive playing, flinty treblenote parks and staccato drum pattern sounds are all his own."
The duo album "The Last Set – Live at the A-Trane" (released in fall 2012) is an impressive and worthy legacy of a unique musician full of curiosity and versatility: US pianist Walter Norris. While two-piano albums often have an all-you-can-eat tangle of notes to them and nearly always seem too busy, this album like the very best of this specialised area within jazz has a lucidity to it. Możdżer clearly adapts his very easily distinguishable playing, which is grounded in Komeda and Wayne Shorter, with his own arsenal of gracenotes and little leaps and bounds to fit Norris' style, which is more opaque but very stimulating.
On "Jazz at Berlin Philharmonic I" (April 2013) three world class pianists met on December 11, 2012, at the prestigious classical concert hall to play solo, in duos and trio. Together with Iiro Rantala and Michael Wollny, Możdżer succeed in creating a defining moment in music, in which "jazz and classical meet as equals" (Tagesspiegel), little wonder really, with all three of them being such crossover fans.
In fall 2013 "Polska" will be released on ACT. The new album by the magical trio: Leszek Możdżer, Lars Danielsson and Zohar Fresco (percussion).
Iiro Rantala
After touring the world for 18 years with Trio Töykeät, Finnish jazz piano virtuoso Iiro Rantala is refreshingly still at the forefront of international pianism. The energetic keyboard lion crosses musical genres and styles with ease and excitement, playing at his exhilarating and adventurous best. Definitely entertaining, zany,unconventional and occasionally wicked, yet always uncompromising.
Iiro Rantala is among the most internationally visible Finnish jazz musicians, and is second to none when it comes to unsurpassable keyboard technique and flaring showmanship. The pianist first became infected by music in the children's choir Cantores Minores at the age of seven and soon afterwards was already taking piano lessons... And the rest, as the cliché goes, is history.
Iiro began his piano studies at the Käpylä Music Institute, took private lessons from Seppo Kantonen, and went on to study at the Oulunkylä Pop/Jazz Institute and the Jazz Department of the Sibelius Academy. His musical education also included studying classical piano at the Manhattan School of Music in New York for two years beginning in 1991. Iiro Rantala is best known as the founder and pianist of Trio Töykeät, Finland's most famous jazz group, which became one of the biggest success stories in Finnish jazz. Töykeät gave over 2,500 performances in 60 countries between 1988 and 2006, and released 8 albums - a formidable achievement. The development of Iiro Rantala as a creative pianistic improvisor has been one of the most astonishing phenomena in the Finnish music world, and he has been the winner of all major jazz awards in Finland during his 22 year career.
Exploring the boundaries between musical genres is characteristic of Iiro Rantala's artistic personality. He has appeared in Finland with symphony orchestras, performing the Cartoon Concerto by Riku Niemi, Gershwin's Rhapsody in Blue, Mozart's No.23 piano concerto, and Iiro's Concerto in G#majAs, was premiered in Finland in 2003 with the Tapiola Sinfonietta, and released on the Finnish Ondine label. Iiro's creative diversity has seen him also intensively engaged with music for children's theatre, as well as performing with cross-over classical musicians, including the popular a cappella Finnish vocal group Rajaton. Iiro recently formed a tango duo with world renowned virtuoso violinist Pekka Kuusisto. Since 2010 Iiro has focused also on the development of his solo piano career. Iiro's 'talk-and-meet' series on Finnish national television started in 2006, and continues today
Michael Wollny
Michael Wollny, born in 1978 in Schweinfurt, internationally successful jazz pianist, music inventor, unconventional thinker, popular figure. Nobody plays piano like him. His trademark: the unpredictable, the quest for the never-before-heard, the courage to devote himself to the moment, to make the unforeseen sound self-evident. His desire to keep reinventing himself, both in terms of sound and composition; that is what makes him a "consummate piano maestro" (FAZ) and "the biggest (jazz) musician personality that Germany has produced since Albert Mangelsdorff" (Hamburger Abendblatt).

Booklet for Piano Night (Jazz at Berlin Philharmonic VII - Live)