---
Jameson Cooper & Eli Kalman
---
Biography Jameson Cooper & Eli Kalman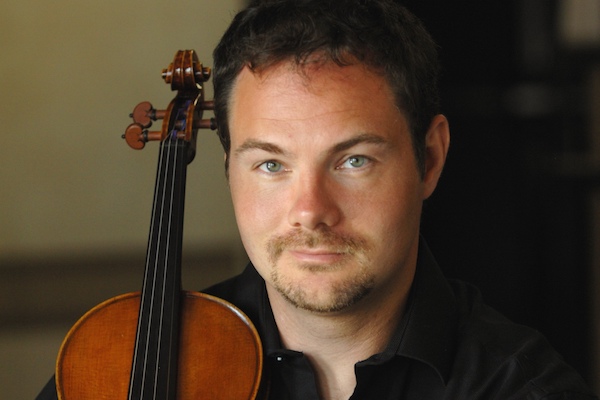 Jameson Cooper
Originally from Sheffield, England, Jameson Cooper began playing the violin at age 6. At 13 he joined the National Youth Orchestra of Great Britain and later became concertmaster of the National Youth Chamber Orchestra. He studied with Malcolm Layfield and Wen Zhou Li at The Royal Northern College of Music, where he earned a Graduate of Music Degree with Honors and a Professional Performance Diploma. He first came to the US as a participant in the Aspen Music Festival. Since then, he has studied with Dorothy DeLay, Masao Kawasaki, and Roland and Almita Vamos.
Jameson earned Master's degrees in Violin and Conducting from Kent State University, where he later served as Assistant Professor of Violin and Viola at the University's Hugh A. Glauser School of Music. He has performed as soloist with orchestra, recitalist, and chamber musician throughout the U.S. and Europe. In the 2001-02 season, Jameson played in the Audubon Quartet in its Beethoven Quartet cycle series.
Recipient of numerous prizes, including the Prince's Trust Award, and first prize in the Tuesday Musical Club of Akron and Kent State University Concerto Competitions, Jameson has also recorded Icelandic music for Musart, and new music by Kent State University composers on Innova. Jameson has given masterclasses at Virginia Tech, Michigan State University, and Morningside College, and is a former faculty member of the Lyceum Music School of Oldham, England.
He currently serves on the faculty of the Ernestine M. Raclin School of the Arts at Indiana University South Bend, where he teaches violin and chamber music.
Eli Kalman
has performed extensively in Romania, Israel, Germany, Hungary, Japan, United States and Canada. Hailing from Romania and Israel, he was the recipient of the Paul Collins Wisconsin Distinguished Graduate Fellowship for Excellence at UW-Madison. Prior to his teaching appointment at UW-Oshkosh in 2006, he has held educator positions on the piano faculty at the Center of Arts, Mizra in Israel and previously at the Lyceum of Arts, Baia Mare in Romania.
As a performer, his lifelong passion for chamber music has been featured at the Carnegie Hall in New York, the Kennedy Center for Performing Arts in Washington D.C., on "San Francisco Performances" and "Tuesday Evening Concert Series" in Virginia, on the Emmanuel Music-Schumann Chamber Series in Boston, the Connoisseur Series at Wichita State University, the Myra Hess Series in Chicago, in addition to other venues. He was an enthusiastic artist-in-residence at the Chamber Music Festival at Banff, Canada, and a guest artist for five years at the Token Creek Festival directed by celebrated American composer John Harbison.
Solo and chamber appearances have included the Weill Hall at Carnegie Hall with tubist Marty Erickson, the Krieger String Series at the Kennedy Center for Performing Arts with cellist Amit Peled, soloist with the Water City Chamber Orchestra, the Sylvia Adalman Artist Recital Series at the Peabody Institute in Baltimore, "Sunday Afternoon Live from the Chazen" live on NPR, WFMT in Chicago, Farley's House of Pianos Series in Madison, and Bach Dancing & Dynamite Society. Since 2003, he performs frequently with Pro Arte Quartet's inspiring cellist Parry Karp from UW-Madison in concert series within the University of Wisconsin system and other national venues.
As a recording artist, he offers the works for solo piano and cello and piano by Erwin Junger (2001) and Robert Schumann's Sonatas for Violin and Piano with violinist Rose Mary Harbison (2006) and "The Jewish Soul" CD with cellist Amit Peled from the Peabody Institute on Centaur Records (2009). His latest recording highlights solo piano music of Russian-American pianist-composer Lera Auerbach, released on Centaur in 2015. Other recordings of his recitals have been broadcasted on Jerusalem Radio and for the most part on Wisconsin Public Radio and WFMT in Chicago. Currently, his Respighi CD with violinist Jameson Cooper from the Euclid Quartet is in progress, waiting for release on Centaur label in early 2018.
As a scholar, Dr. Kalman's research interests focus on neglected repertoire for strings and piano, the compositions of Romanian pianist Dinu Lipatti and Israeli composer Erwin Junger, as well as on unpublished chamber works by Ottorino Respighi. His research in the field has led to the world premier publication of Respighi's first Sonata for violin and piano (1897) published on A-R Editions/Special Publications, 2011.
Dr. Kalman earned his Diploma in Piano Performance from the Academy of Music "G. Dima" in Cluj-Napoca, Romania, and the Master of Music and Doctor of Musical Arts degrees from the University of Wisconsin-Madison.