---
Bent Frequency Duo Project
---
Biography Bent Frequency Duo Project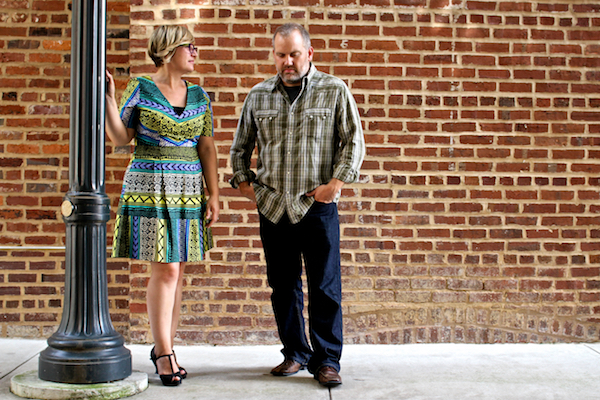 Bent Frequency Duo Project
Percussionist Stuart Gerber and saxophonist Jan Berry Baker are The Bent Frequency Duo Project. Stuart and Jan havecommissioned over 20 new works for their duo and have given over 30 performances of this new repertoire across the US and Europe since 2014.
The first iteration of this project was truly international in scope, including commissions from seven American composers ( Robert Scott Thompson, Chris Burns, Devin Maxwell, Jeff Herriott, Roshanne Etezady, Kevin Schlei, and Chris Arrell) and two European composers (Vivienne Olive from Germany and Stefano Pierini from Italy). They performed across the East Coast (Worchester, Boston, Storrs, Hartford, and New York), the Midwest (Milwaukee, Chicago, Champaign, Oshkosh, Dekalb, Whitewater and multiple cities in Indiana), Texas (Huntsville) and Nuremberg, Germany.
In 2014/15 theypremiered works by Mark Engebretson (commission funded by a grant from the Barlow Foundation), Amelia Kaplan, Amy Williams, andPaul Elwood, giving numerous performances across the Midwest, Southeast and in Colorado.
In 2015/16 they will continue touring in the United States, in North and South Carolina in the fall and in Pennsylvania, New York and Omaha in the spring, and will perform across France in January. Premieres this season include works by Laurent Durupt (commission funded by a grant from the French American Cultural Exchange), Klimchack, Dorothy Hindman, Olivia Kieffer, Adam Scott Neal and Lowell Fuchs.
Stay tuned to hear about our most recent commissions for the 2016/17 season!
Bent Frequency
Hailed as "one of the brightest new music ensembles on the scene today" by Gramophone magazine, Bent Frequency (BF) is a performance ensemble possessing a vision to redefine the traditional music experience - ushering it from the strict formality of the concert hall into the fresh air of contemporary artistic expression and experimentation. Founded in 2003, the group brings the avant-garde music tradition to life through adventurous programming, the promotion of New Music, and a creative synthesis of music and media. At the heart of the ensemble is the unparalleled musicianship of the Bent Frequency performers, an eclectic mix of the most adventurous and impassioned players from the greater Atlanta area. This includes musicians from the Atlanta Symphony, Opera and Ballet as well as Atlanta's fertile independent music community. As an ensemble-in-residence at Georgia State University, BF has become the most active and visible contemporary music ensemble in the Southeast.
BF does not have a fixed instrumentation. Instead it is a modular group that is flexible enough to present everything from large-scale chamber concerts to smaller, more intimate performances. We have collaborated with some of the most ground-breaking composers working today (including Lei Liang, Tristan Murail, Jennifer Walshe, and Ricardo Zohn-Muldoon), and have produced large-scale events such as Ricardo Zohn-Muldoon's chamber opera Comala at the International Cervantino Festival and Fiestas de Octubre in Mexico, an appearance as ensemble-in-residence at the Tage Aktueller Musik in Nürnberg, and a 3-day festival celebrating the music of Steve Reich on the occasion of his 70th birthday. In 2013, BF created the Bent Frequency Duo Project (Jan Berry Baker and Stuart Gerber). Together, they have commissioned over 20 new works for saxophone and percussion and have given over 30 performances of this program across the US, Germany and France.
BF has been awarded numerous prestigious and competitive government and foundation grants to fund the creation and promotion of New Music. Recent awards include the French American Cultural Exchange (FACE), Barlow Foundation, Georgia Council for the Arts, Copland Foundation, Fulton County Arts Council, Mid Atlanta Arts Foundation (National Endowment for the Arts and the Andrew Mellon Foundation), and Culture Ireland to name a few.
BF has partnered with many ensembles, dance groups, and visual artists in creating unique productions. Recent collaborations include producing Zohn-Muldoon's Comala with PUSH Physical Theater, a John Cage MUSICIRCUS in celebration of the centenary of Cage's birth with the Goat Farm Arts Center, Atlanta Poet's group and visual artist Craig Dongoski, and two three-night series entitled Secret and on love with CORE Performance Company at the Callanwolde Arts Center. Always looking for new ways to present music to reach as wide an audience as possible, Bent Frequency has performed in traditional concert halls, art museums, galleries, and even on the Atlanta Streetcar!