---
Vince Mendoza & Czech National Symphony Orchestra
---
Biography Vince Mendoza & Czech National Symphony Orchestra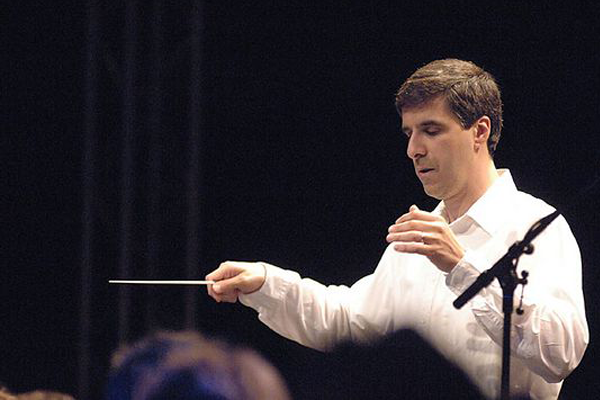 Vince Mendoza
has been at the forefront of the Jazz and contemporary music scene as a composer, conductor and recording artist for the last 25 years. According to All about Jazz Mendoza "daringly expands the vernacular by including elements of abstract impressionism, romanticism and a highly unorthodox palette to position him as the clear and natural successor to the late Gil Evans." He has written scores of compositions and arrangements for big band, extended compositions for chamber and symphonic settings while his jazz composing credits read like a "who's who" of the best modern instrumentalists and singers in the world today. Mendoza was recognized as 'Best Composer/Arranger' by Swing Journal's critics poll in Japan. His CD "Epiphany" features his compositions played by the London Symphony Orchestra. "El Viento" and "Jazzpaña" further push the boundaries of Jazz and Flamenco Music. His 2011 solo release "Nights on Earth" features Mendoza compositions arranged for small and large ensembles, with guest appearances by Luciana Souza, Malian vocalist Tom Diakite, and musicians from Spain, Africa, and Brazil. Mendoza's Grammy nominated big band release "Homecoming" celebrates his compositions for the WDR big band in Koln, Germany. His Trumpet Concertino, "New York Stories", and his "Concerto for Orchestra" commissioned by the Czech National Symphony weave his individual approach to Jazz rhythms and instrumental colors through a grand symphonic tapestry.
Mendoza's arranging has appeared on many critically acclaimed projects that include dozens of albums with song writing legends and vocalists such as Björk, Gregory Porter, Chaka Khan, Al Jarreau, Robert Glasper, Bobby McFerrin, Diana Krall, Melody Gardot, Sting and Joni Mitchell. He has 6 Grammy awards and 34 nominations.
Mendoza is the composer in residence with the West Deutsche Rundfunk in Koln. He is also the Conductor Laureate of the Netherlands Metropole Orkest, of which he was Chief Conductor for 9 seasons. In addition, he appeared as a guest conductor with the Los Angeles and New York Philharmonic, as well as other orchestras throughout Europe, the U.S., Japan, Scandinavia, and the U.K.
Mendoza has also written commissioned compositions and arrangements for the Turtle Island String Quartet, Brooklyn Rider, the Los Angeles Guitar Quartet, the Metropole Orchestra, the Berlin Philharmonic, The Hollywood Bowl, West Deutsche Rundfunk, The Czech National Symphony and the BBC. His music was featured at the Berlin Jazz Festival. He has frequently performed at the Monterey, Montreux and North Sea Jazz Festivals.