---
Album info
Album including Album cover Booklet (PDF)
I`m sorry!
Dear HIGHRESAUDIO Visitor,
due to territorial constraints and also different releases dates in each country you currently can`t purchase this album. We are updating our release dates twice a week. So, please feel free to check from time-to-time, if the album is available for your country.
We suggest, that you bookmark the album and use our Short List function.
Thank you for your understanding and patience.
Yours sincerely, HIGHRESAUDIO
Maurice Yvain (1891 - 1965):

1

Yvain: Gosse de riche: Ouverture

01:58

Moïse Simons (1889 - 1945):

2

Simons: Toi c'est moi, Act 1: "Vagabonde" (Viviane) [Arr. Perrine]

02:43

Raoul Moretti (1893 - 1954):

3

Moretti: Un soir de réveillon, Act 2: "Quand on est vraiment amoureux" (Gérard Cardoval) [Arr. Melchior]

01:56

Reynaldo Hahn (1874 - 1947):

4

Hahn: Ô mon bel inconnu, Act 2: "Ô mon bel inconnu" (Marie-Anne, Antoinette, Félicie)

03:44

Moïse Simons:

5

Simons: Toi c'est moi, Act 2: "Et si nous allions faire un tour dans la forêt vierge ?" (Honorine, Pedro)

00:10

6

Simons: Toi c'est moi, Act 2: "Sous les palétuviers" (Honorine, Pedro)

02:24

Henri Christiné (1867 - 1941):

7

Christiné: Dédé: Ouverture

02:52

Reynaldo Hahn:

8

Hahn: Ciboulette, Act 2: "Nous avons fait un beau voyage!" (Ciboulette, Duparquet)

02:21

Raoul Moretti:

9

Moretti: Trois jeunes filles nues, Act 2: "Est-c'que je te demande" (Hégésippe)

04:08

André Messager (1853 - 1929):

10

Messager: Passionnément !, Act 1: "Dès que l'âge" (Hélène, Ketty, Robert)

04:21

Maurice Yvain:

11

Yvain: Pas sur la bouche: Ouverture

03:00

12

Yvain: Ta bouche, Act 2: "Non, non, jamais les hommes" (Eva, Marguerite, Margot)

04:05

Henri Christiné:

13

Christiné: PLM, Act 1: "Paris, Lyon, Méditerranée" (Le contrôleur) [Arr. Melchior]

03:10

14

Christiné: Phi-Phi, Act 2: "Ah ! cher Monsieur, excusez-moi" (Aspasie)

02:28

Maurice Yvain:

15

Yvain: Pas sur la bouche, Act 2: "À propos mon cher Faradel" (Faradel, Charley)

00:09

16

Yvain: Pas sur la bouche, Act 2: "Sur le quai Malaquais" (Gilberte, Huguette, Mademoiselle Poumaillac, Charley, Faradel, Valandray, Thomson)

02:25

Henri Christiné:

17

Christiné: Phi-Phi: Ouverture

03:20

André Messager:

18

Messager: Coups de roulis, Act 1: "Qu'ai-je donc ? Je suis comme grise" (Béatrice, Kermao)

03:21

Maurice Yvain:

19

Yvain: Gosse de riche, Act 2: "Quand on est chic !" (Patarin) [Arr. Melchior]

01:58

Moïse Simons:

20

Simons: Toi c'est moi, Act 1: "Étrange et douce chose" (Maricousa, Bob) [Arr. Perrine]

03:31

21

Simons: Toi c'est moi, Act 2: "C'est ça la vie, c'est ça l'amour" (Viviane) [Arr. Perrine]

03:00

Maurice Yvain:

22

Yvain: Ta bouche: Ouverture

02:17

23

Yvain: Pas sur la bouche, Act 1: "Comme j'aimerais mon mari s'il était mon amant..." (Gilberte)

03:53

André Messager:

24

Messager: Passionnément !, Act 2: "Moi, toute la vie" (Julia)

02:03

Henri Christiné:

25

Christiné: J'adore ça !, Act 2: "Cannes et parapluies" (Bomboli, Pafoska, Blanche)

02:19

Total Runtime

01:07:36
Info for Croisette

Taking its name from la Croisette, the beachside boulevard in glamorous Cannes on the Côte d'Azur, this album evokes the fun-loving 1920s. It takes a trip around opérettes, French musical comedies of the era, composed by Maurice Yvain, Henri Christiné, Moisés Simons, Reynaldo Hahn, André Messager and Raoul Moretti. Joining the Orchestre national de Cannes and its music director, Benjamin Levy, are eight leading French singers, all admired in opera: sopranos Patricia Petibon, Amel Brahim-Djelloul and Marion Tassou; mezzo-soprano Pauline Sabatier; tenors Philippe Talbot and Rémy Mathieu; baritone Guillaume Andrieux, and bass-baritone Laurent Naouri.
Amel Brahim-djelloul, soprano
Patricia Petibon, soprano
Marion Tassou, soprano
Pauline Sabatier, mezzo-soprano
Philippe Talbot, tenor
Rémy Mathieu, tenor
Guillaume Andrieux, baritone
Laurent Naouri, bass-baritone
Orchestre National De Cannes
Benjamin Levy, conductor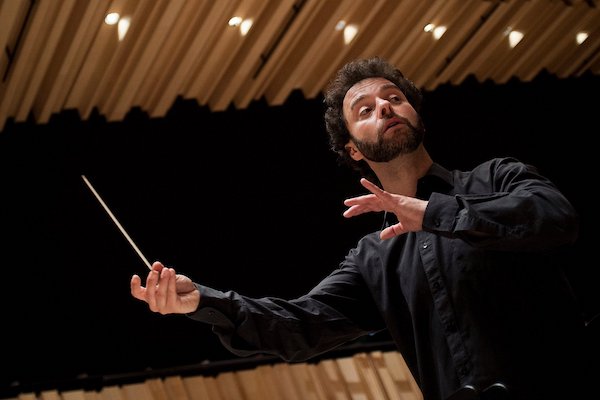 Benjamin Levy
A highly active presence on the European concert and operatic scene, Benjamin Levy recently began his fifth season as music director of the Orchestre National de Cannes - Provence Alpes Côte d'Azur, which has extended his contract until 2025.
Guest appearances have included the Rotterdam Philharmonic Orchestra, the Orchestre de la Suisse Romande, Nederlandse Reisopera, the Stanislavsky Theatre in Moscow, the Moscow Philharmonic Orchestra, NorrlandsOperan in Umeå, the Orchestre de Chambre de Lausanne, the Radio Filharmonisch Orkest and Radio Kamer Filharmonie in the Netherlands, and Icelandic Opera. In France he has conducted a large number of orchestras, among them the Orchestre National d'Île-de-France, the Orchestre National de Lyon, the Orchestre Colonne, the Orchestre Symphonique et Lyrique de Nancy, the Orchestre Lamoureux and the Orchestre de chambre de Paris and numerous opera orchestras.
Recent engagements and projects include the Philharmonie Südwestfalen, the Kraków Philharmonic, the Orquesta Filarmónica de Bogotá, the Polska Filharmonia Bałtycka in Gdańsk, recordings with the Orchestre National du Capitole de Toulouse, the Royal Scottish National Orchestra, the Orchestre de Picardie and Phion in the Netherlands, and a video series with the Orchestre de Cannes (Benjamin & the Orchestra Factory) on how musical interpretations are created.
Benjamin Levy voted Musical Discovery of the Year in 2005 by the Syndicat de la Critique Dramatique et Musicale (French Critics' Circle) and awarded the ADAMI Young Talent - Conductor prize in 2008. Benjamin Levy was trained at the Conservatoires Supérieurs de Musique et de Danse of Lyon (Premier Prix in percussion) and Paris where he attended the analysis and conducting classes. He studied at the American Academy of Conducting in Aspen (USA) with David Zinman and at the Accademia Chigiana in Siena. After this, he regularly worked as assistant to Marc Minkowski (Paris Opéra, Oper Leipzig, Salzburg Festival). For two seasons he was assistant conductor of both Dutch Radio orchestras.
Benjamin Levy first drew the public's attention with the touring opera company "Les Brigands" with which he was a fervent advocate of rarely performed works from the light opera repertoire and for which he was awarded twice a Diapason d'Or.
Benjamin Levy is also the founder of the Orchestre de Chambre Pelléas, an ensemble that functions on a collective basis. They have given numerous concerts together in France and Europe (notably at the Amsterdam Concertgebouw in 2011 and 2014, in Debussy's Pelléas et Mélisande at the Théâtre des Champs-Élysées in 2018, and at the Bucharest Enescu Festival in 2019). Their Beethoven album with the violinist Lorenzo Gatto has been unanimously acclaimed by the press and music critics. They recently recorded Paris est une fête with long time partner violinist Alexandra Soumm (to be released in 2022 by Fuga Libera).

Booklet for Croisette