---
Album info
Album including Album cover Booklet (PDF)
John Rutter (b.1945):

1

All Bells in Paradise

04:59

2

Shepherd's Pipe Carol

02:52

Elizabeth Poston (1905 - 1987):

3

Jesus Christ the Apple Tree

03:20

Felix Mendelssohn (1809 - 1847):

4

Festgesang, WoO 9, MWV D4: II. Vaterland, in deinen Gauen (Adap. W.H. Cummings as "Hark! The Herald Angels Sing") [Arr. D. Willcocks]

03:28

Hector Berlioz (1803 - 1869):

5

The Childhood of Christ, Op. 25, H. 10, Pt. 2 "The Flight to Egypt": The Shepherds' Farewell

04:50

Traditional:

6

Unto Us Is Born a Son (Arr. D. Willcocks)

02:17

Harold Darke (1888 - 1976):

7

In the Bleak Mid-Winter

04:25

Bob Chilcott (b.1955):

8

The Shepherd's Carol

03:32

Patrick Hadley (1899 - 1973):

9

I Sing of a Maiden

02:25

Franz Xaver Gruber (1787 - 1863):

10

Silent Night, H. 145 (Arr. J. Rutter)

03:20

Adolphe Adam (1803 - 1856):

11

O Holy Night (Arr. J. Rutter)

05:20

Traditional:

12

It Came Upon the Midnight Clear (Arr. A. Sullivan & D. Willcocks)

02:53

Bob Chilcott:

13

The Bird of Dawning

03:22

William J. Kirkpatrick (1838 - 1921):

14

Away in a Manger (Arr. D. Willcocks)

02:27

Traditional:

15

In dulci jubilo (Arr. R.L. Pearsall)

03:13

Thomas Hewitt Jones (b.1984):

16

What Child Is This?

04:21

John Francis Wade (1711 - 1786):

17

O Come, All Ye Faithful (Arr. D. Willcocks)

04:59

Morten Lauridsen (b.1943):

18

O magnum mysterium

06:06

Total Runtime

01:08:09
Info for O Holy Night: A Merton Christmas

The Choir of Merton College joins forces with the Oxford Philharmonic Orchestra for a recording of director Benjamin Nicholas's favorite popular carols. Two of John Rutter's most exquisite works are complemented by orchestral versions of well-loved traditional fare. From the ecstatic brass fanfares that introduce O come, all ye faithful and Hark! The Herald Angels Sing to the intimate performances of Elizabeth Poston's beautiful Jesus Christ the apple tree and Morten Lauridsen's O magnum mysterium, Christmas old and new is celebrated with a fresh sense of all its magic and glory. The choir and orchestra loved making this recording, and it shows. The Choir of Merton College is one of Oxford's leading mixed-voice choirs and sings the services, during term-time, in the thirteenth century chapel. The choir consists of thirty undergraduates and post-graduates, many of whom hold choral scholarships at Merton College.
Choir of Merton College, Oxford
Oxford Philharmonic Orchestra
Benjamin Nicholas, conductor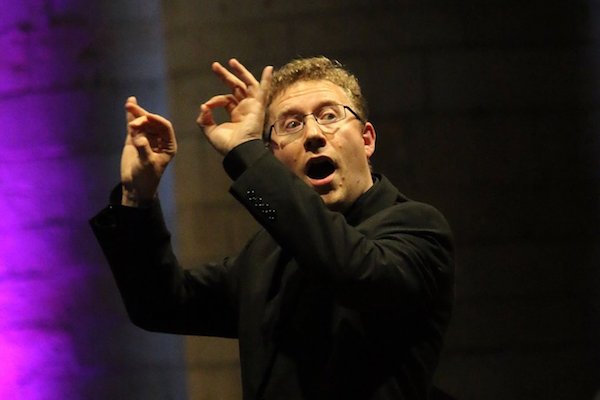 Benjamin Nicholas
is Director of Music of Merton College, Oxford and is well-known as a conductor. He made his debut with the City of London Sinfonia in a programme of Fauré, Debussy and Ravel in April of this year. In that same month his recording of Elgar's Organ Sonata was released on the Delphian label and he also directed Merton College Choir in concerts in the USA. His recent work has been with the Holst Singers who he will conduct in a concert celebrating Vaughan Williams at St John's Smith Square, London in October.
Benjamin Nicholas's work at Merton College has included the founding of the annual Passiontide Festival, the installation of the new Dobson Organ and the creation of the College's new Girls' Choir, which will sing for the first time in October 2016. He has conducted the College Choir in concerts in the USA, Sweden and France, on BBC Radio 3 & 4 and BBC TV, and on recordings for Delphian, the first of which was a Gramophone Editor's Choice. Recent concerts include appearances at the Cadogan Hall and St John's Smith Square, London.
Benjamin has recently worked with the Oxford Philharmonic Orchestra, Oxford Baroque, The Trondheim Soloists and numerous other groups in the performance of many of the large-scale choral works including Beethoven's Missa Solemnis, Elgar's The Dream of Gerontius, Vaughan Williams' Sea Symphony and Verdi's Requiem. He has appeared in the Cheltenham Music Festival in a rare performance of Holst's Savitri with Sarah Connolly, and conducted Merton College Choir in four premieres in a concert in Gloucester Cathedral in the 2014 Cheltenham Festival. Benjamin has premiered choral works from many of the leading composers including Birtwistle, Dove, Jackson, MacMillan, Martin and Weir.
Benjamin was a chorister at Norwich Cathedral and has held organ scholarships at Chichester Cathedral, Lincoln College, Oxford and St Paul's Cathedral. He worked at Tewkesbury Abbey from 2000 until 2012, and was partly responsible for the founding of Tewkesbury Abbey Schola Cantorum in 2006. As an organist he has played in the Southern Cathedrals' Festival and the St Endellion Festival and has broadcast live on BBC 1 as well as on BBC Radio 3. He has recently given concerts in Westminster Abbey, York Minster and St Paul's, Westminster, Norwich, Southwark, Gloucester, Worcester and Hereford Cathedrals.
Oxford Philharmonic Orchestra
is one of the leading orchestras in the UK. Praised as 'excellent' by Gramophone Magazine and 'thoroughly impressive' by BBC Music Magazine, the Orchestra's reputation is based on the uncompromising artistic standards of its founder and music director, Marios Papadopoulos, and maintained by some of the finest musicians in the UK.
Established in 1998 and formerly known as Oxford Philomusica, the Oxford Philharmonic Orchestra occupies a unique position within the UK orchestral landscape. As an orchestra of the highest quality, the Oxford Philharmonic attracts some of the world's greatest artists to appear in its series at Sir Christopher Wren's Sheldonian Theatre, including Sir András Schiff, Martha Argerich, Valery Gergiev, Lang Lang, Janine Jansen, Maria-João Pires, Renée Fleming, Pinchas Zukerman, Vladimir Ashkenazy, Anne-Sophie Mutter and Nigel Kennedy.
Following his remarkable Oxford debut with the Orchestra in 2013, world-renowned violinist Maxim Vengerov became its first Artist in Residence. Over an unprecedented four-season collaboration, Vengerov and the Oxford Philharmonic performed across the UK and have recorded the violin concertos of Brahms and Sibelius. With a commercial release pending, both recordings have received exclusive plays on BBC Radio 3, Classic FM and the leading classical station in the United States, WQXR. Future projects with Vengerov include a recording of Mendelssohn's Octet and an appearance at a major UK summer festival in July 2018 with the Soloists of the Oxford Philharmonic - a tight-knit group of musicians described by The Times as the ensemble's 'glorious individual players'.

Booklet for O Holy Night: A Merton Christmas