---
Album info
Album including Album cover Booklet (PDF)
George Whitefield Chadwick (1854 - 19319): Symphonic Sketches:

1

Symphonic Sketches: I. Jubilee

08:33

2

Symphonic Sketches: II. Noël

08:22

3

Symphonic Sketches: III. Hobgoblin

06:34

4

Symphonic Sketches: IV. A Vagrom Ballad

07:57

Edward Elgar (1857 - 1934): Variations on an Original Theme, Op. 36 "Enigma":

5

Variations on an Original Theme, Op. 36 "Enigma": Theme

01:43

6

Variations on an Original Theme, Op. 36 "Enigma": Var. 1, C.A.E.

01:48

7

Variations on an Original Theme, Op. 36 "Enigma": Var. 2, H.D.S-P.

00:50

8

Variations on an Original Theme, Op. 36 "Enigma": Var. 3, R.B.T.

01:33

9

Variations on an Original Theme, Op. 36 "Enigma": Var. 4, W.M.B.

00:33

10

Variations on an Original Theme, Op. 36 "Enigma": Var. 5, R.P.A.

02:19

11

Variations on an Original Theme, Op. 36 "Enigma": Var. 6, Ysobel

01:32

12

Variations on an Original Theme, Op. 36 "Enigma": Var. 7, Troyte

01:02

13

Variations on an Original Theme, Op. 36 "Enigma": Var. 8, W.N.

02:09

14

Variations on an Original Theme, Op. 36 "Enigma": Var. 9, Nimrod

04:18

15

Variations on an Original Theme, Op. 36 "Enigma": Var. 10, Intermezzo. Dorabella

02:57

16

Variations on an Original Theme, Op. 36 "Enigma": Var. 11, G.R.S.

01:01

17

Variations on an Original Theme, Op. 36 "Enigma": Var. 12, B.G.N.

03:08

18

Variations on an Original Theme, Op. 36 "Enigma": Var. 13, Romanza. ***

03:05

19

Variations on an Original Theme, Op. 36 "Enigma": Var. 14, Finale. E.D.U.

05:41

Total Runtime

01:05:05
Info for Elgar: The New England Connection

This new release from the BBC National Orchestra of Wales presents Edward Elgar's Enigma Variations and George Chadwick's Symphonic Sketches. George Chadwick and Edward Elgar lived almost parallel lives on opposite sides of the Atlantic. Born in rural Massachusetts in 1854, Chadwick was Elgar's senior by three years. Elgar, born in Worcester in 1857, was to become everything Chadwick aspired to be yet wasn't. Successful and respected as an academic, Chadwick was appointed director of Boston's New England Conservatory in 1897. Whilst he helped establish the NEC as a major international conservatory, it was recognition as a great composer that he sought most. Elgar, on the other hand, maintained a lifelong suspicion of academics and yet rose to become one of the most venerated composers of his era.
BBC National Orchestra of Wales
Andrew Constantine, conductor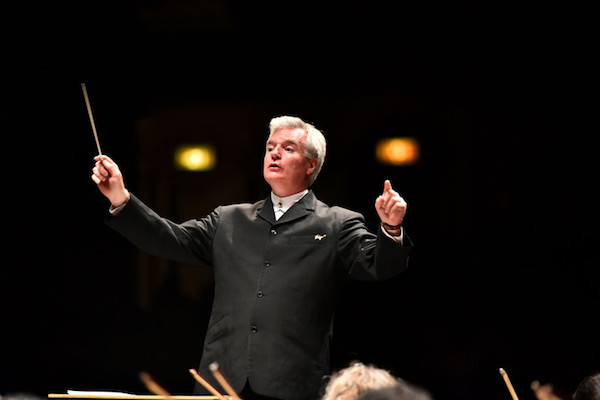 Andrew Constantine
currently serves as music director of both the Fort Wayne Philharmonic Orchestra and Reading Symphony Orchestra in the United States and was previously associate conductor of the Baltimore Symphony Orchestra. He began his conducting career in Leicester with the Bardi Orchestra and was later awarded an Honorary Doctorate of Music degree by the University of Leicester for his "services to music." After winning the first Donatella Flick Conducting Competition he studied at the Leningrad State Conservatory with the legendary teacher Ilya Musin who described him as, a "brilliant representative of the conducting art", and at the Academia Chigiana in Siena. Prior to his move to the US in 2004 he had already gained an enviable reputation as a conductor of great style and charisma, and also performed and recorded with most of the prestigious London orchestras including the Philharmonia, London Symphony and Royal Philharmonic. With a strong commitment to education and to bringing great music to as wide an audience as possible, Andrew Constantine has developed numerous creative and innovative programs and was awarded a British NESTA Fellowship in recognition of his achievements.
BBC National Orchestra
of Wales gave its first performance in April 1928 and occupies a special role as both a broadcast orchestra and the national symphony orchestra of Wales. The Orchestra is supported by the Arts Council of Wales.
The Orchestra is based at BBC Hoddinott Hall, which is named after Welsh composer Alun Hoddinott, and is part of the Wales Millennium Centre in Cardiff Bay.
The Orchestra presents an annual season at St David's Hall, Cardiff, where it is Orchestra-in-Residence, as well as concerts in venues across Wales and beyond; including annual performances at the BBC Proms and biannually at BBC Cardiff Singer of the World.
As one of the six BBC Performing Groups the Orchestra has a busy schedule of recordings, broadcasts and concerts, for BBC Radio 3, BBC Radio Wales, BBC Radio Cymru and BBC television. The Orchestra can also be heard on a number of BBC programmes, providing the music for the BBC Natural History Unit's Hidden Kingdoms, BBC Cymru Wales's Atlantis and of course as the Doctor Who orchestra.

Booklet for Elgar: The New England Connection